Jump to more rockhound sites and adventures.
Valley of Fire, NV
Red Rock, NV
Summerville, GA
Dahlonega, GA
or scroll down to see them all!
Attention Rock, Mineral, and Fossil Lovers...
Visit the rockhounding page on our new PB&J Adventures website for full details on these rockhounding destinations. The page includes a brief description of the destination, lists and descriptions of amenities (if any), local attractions and activities, Downloadable Google maps to rockhounding sites, pictures of finds (rough and polished), tips, and related articles.

The list of rock, mineral, and fossil collecting sites is growing!
Background
We bought the kids a rock tumbler for Christmas in 2006, and started what has become a constant in our family adventures. Rocks, minerals, and fossils seem to be a common denominator for most of our destinations. We collect and polish rocks because they are beautiful, they tell a story about geological history, and they take you places you might not have discovered otherwise. When we pull out the collection and admire our shiny colorful treasure, we are reminded of the places we have been, and the things we have done together.

When we travel, we are constantly looking at the ground for all sorts of unique stones. We have found some really beautiful rocks and minerals. Our collection is growing with every little trip we take. This page will show some of the rock collecting locations, including the beautiful scenery along the way, and some of the rocks we have collected, rough and polished. If you would like more information about these sites including directions, click here.

Fossils of Taylor's Ridge - Gore, Georgia
I read at the Sherpa Guides website about some fossils and geodes that could be found near Summerville, Georgia, a place where the Tribe has previously collected agate. We went to the first site and found several small geodes, and dozens of crinoid stem fossils. There are apparently other types of fossils there as well, but we could only stay for a little while. We collected over 100 specimens in about a half hour. We might have stayed longer, but ripe muskadines had fallen on the road attracting lots of yellow jackets. From there, we rode to the top of the ridge and turned onto another old road. This road is called a "Jeep Trail" on Daddy's GPS unit, but other than being rather narrow, the road was in quite good condition. There was gravel in the tracks and lots of shade and vegetation, so it wasn't dusty at all. We could tell that the view would be great when the leaves fall. We drove several miles until our progress was stopped by a fallen tree. Mommy and Daddy tried to move it, but it was just too big. Daddy knows he needs to install those tow hooks on the front of the Jeep. We could have hooked up and pulled the tree out of the way. MSaybe that'll be done by the time we visit again. We didn't really have the time to do any archaeology on this trail, but Daddy did find some of the iron ore deposits described in the Sherpa Guide article. Anyway, we had a lot of fun. We still made it home in time to cookout steaks, get our baths, and get the papooses in bed before 9pm. What a great way to end a great weekend.!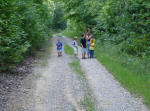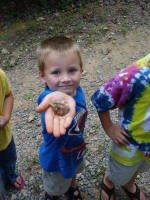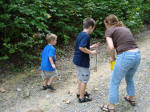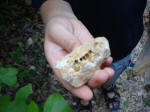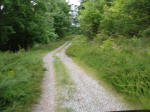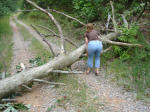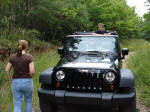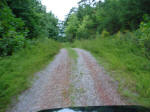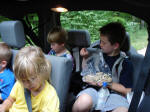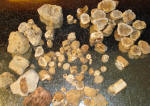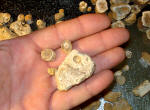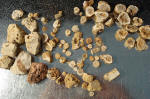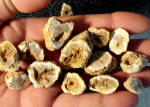 Gold N Gem Grubbin' - Cleveland, GA
We spent two days grubbin for gems and panning for gold at Gold n Gem Grubbin' near Cleveland, Georgia. We learned about this place by watching "Best Places to find Cash and Treasure" on the Travel Channel. I'm not sure if that particular episode is available anymore, but the host found a large gold nugget and a big chunk of amethyst (as did we).

The first day was spent panning for gold in the creek. This proved to be a lot of fun, but we found very little gold. Lee Thomas found a large amethyst, and Mommy found a couple of really nice quartz crystals. Panning in the creek is a good value for a family of six. We spent four hours playing in the creek and looking for treasure for about $37 total. Not bad!

On the second day at the mine, we bought some of the enriched buckets for gem grubbing. The picture at the bottom shows our finds for the second day. The bag (corner at top of of picture) contains rubies. We also found sapphire, amethyst, nicely formed quartz crystals, rose quartz, pyrite, blue topaz, fluorite, calcite, emerald, tiger eye, etc. The facility at Gold N gem Grubbin' is the nicest we've been to, and the people there load you up with all the equipment you need for some good n dirty fun.

Note: We camped here in our small motor home. Geld N gem Grubbin' has a half dozen sites with full hookup (no cable). There is a lot of tent camping available even down on the creek. There are also lots of things to do in the area. For more about the whole weekend experience, click here.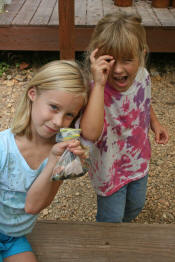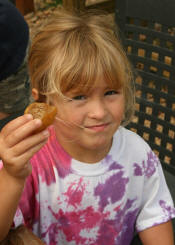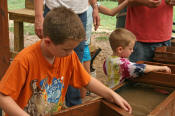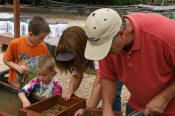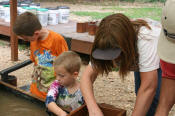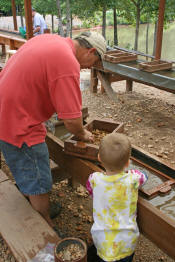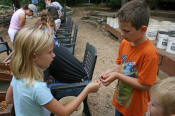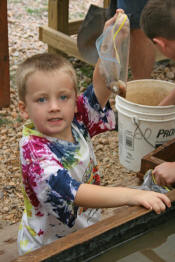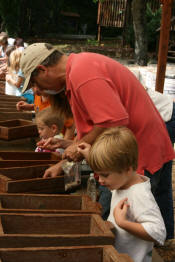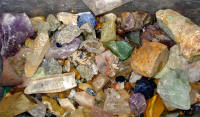 Old Pressley Sapphire Mine - Canton NC (between Asheville and Maggie Valley, NC)
We visited the Old Pressley mine (a REAL old working mine) while camping in Maggie Valley. It is way back on a small country road, so I'd recommend NOT taking a large RV or trailer when you go. There is very little parking. However, it was not crowded in the least, and the screening flume is much better than the Sheffield Ruby mine we had visited on another trip. What's most important is WE ACTUALLY FOUND SOME SAPPHIRES! One of the largest star sapphires (1,445 carats) ever discovered was found at this location. The lady tending the shop was very nice and helpful. We were allowed to dig our own rocks from tailings brought directly from the mine on the property. Also, we didn't have to pay full price for all the kids. Everyone got to have a lot of fun, and our cost was under $8.00 each for the entire afternoon. My only regret was that we ran out of time. Now that I know what to look for, I'm going back (someday).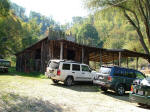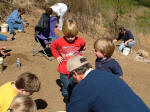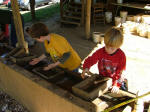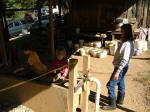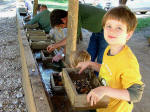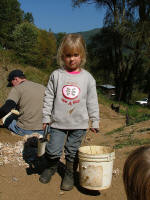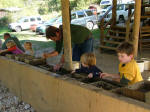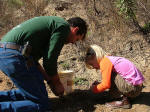 North Georgia Gem & Mineral Show - NW Georgia Trade & Convention. Ctr., Dalton, GA - Aug, 12 2007
We saw this show advertised and decided to take a little drive to Dalton to check it out. It was a lot of fun to walk around an check out all the great rocks. We now want to investigate the "wire wrapping" techniques for creating jewelry.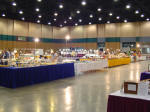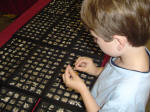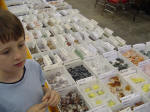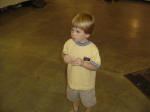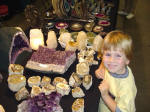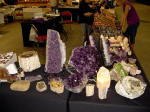 Coker Creek, Tennessee - Heritage Festival
Enriched bags of ruby mine tailings. I liked it because, while we found lots of gemstones that had been seeded (good for the kids),, we also found lots of garnet, and what we thought were rubies, but turned out to be garnet too. This was a relatively inexpensive fun time.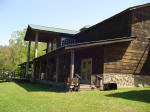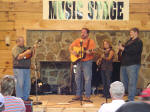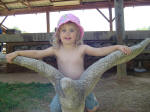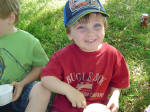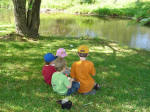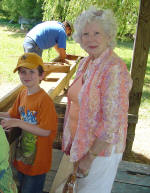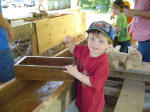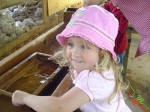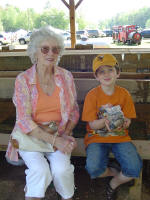 Valley of Fire and Red Rock Canyon, near Las Vegas, Nevada
This was a working trip for me. I had to exhibit at a conference in Vegas. I'm not a big gambler, so I started investigating rockhound sites near there. When my responsibilities were completed on that first day, I headed for the Valley of Fire via a Nevada Backcountry Byway. None of the Byway is hard 4wd terrain, but you need some ground clearance. A pickup or jeep works well. I rented a Jeep Wrangler from a local agency I wouldn't recommend. I would recommend the book "Rockhounding Nevada" though. It identifies a number of good locations throughout the state. I also visited Red Rock Canyon, but found no rocks of any interest. I did find some other cool minerals (yet to be identified) near the Two Kids mine (mine area is now closed and gated, went to the easterly adjacent property) southeast of Vegas.
The first pictures are the account of my "Valley of Fire" adventure. As you can see, there are a lot of unusual pink and red banded sandstone formations. From what I gather, the purple stone you see in the seam and the collection of rocks pictured is a chalcedony. I found this material in a variety of different shades ranging from light blue to dark purple. Maybe it's not all the same stuff. I'd love someone to identify it for sure. I'll display the polished stones when they're done. I have just put them back in the tumbler with #1 grit to round them some more. They are very hard!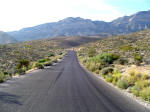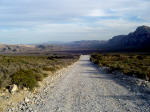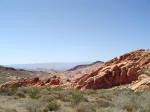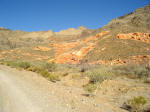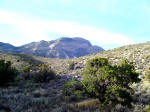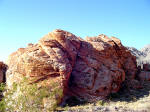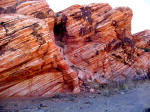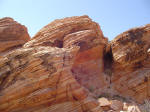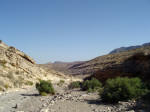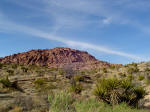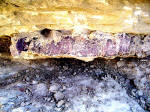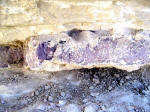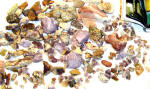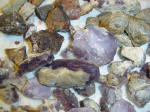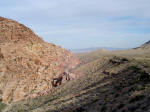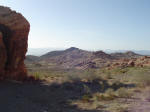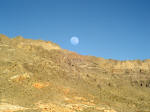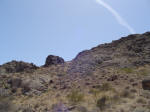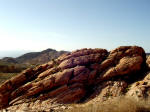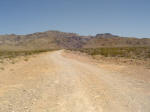 Red Rock Canyon: I didn't have much daylight when I headed for Red Rock Canyon ( I had to work the booth until 5:00, then go change), so I didn't get many good pictures. It is awesome though. It is paved all the way which means you can drive the family sedan. Found nothing of real interest here other than the view. There are supposed to be some burros and other animals in there, but I didn't see any. Ate a buffalo steak at Bonnie Springs Old Desert Inn and Restaurant, or something like that. the atmosphere was "different", but the steak was pretty good. Note: They only sell Pepsi..Yuk!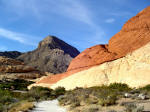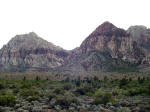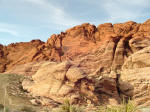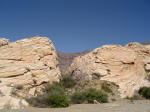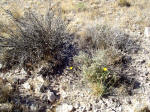 James H (Sloppy) Floyd State park and surrounding area, Summerville, GA
Taylor's Ridge and James H (Sloppy) Floyd State Park are covered with rocks. They're all over the ground. It's like a bomb went off, scattering a finely banded agate all over the place. I've heard it called "crazy lace" agate, "angel lace" agate, and even "Summerville Agate". The rock polishes very nicely and is considered a gemstone. You will also find some quartz and marble around the area. There is an old marble mine in the park. The trail leading to the mine from the south entrance parking area is scattered with lots of nice agate. Many of the rocks have cavities with druzy quartz crystal growing inside. I have lots of this stuff rough and polished. I'll take some pictures.

The best site to collect agate is in the rock quarry on highway 27 just north of the entrance to Sloppy Floyd State park. You could literally haul tons of the stuff out of there. There are boulders of agate. This site is privately owned, but the owner is very nice and allows rock collection at the site. I would strongly recommend getting his permission first though. His office is located on the property, but you probably won't find him around on the weekend.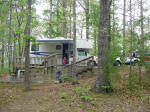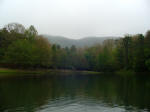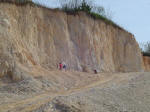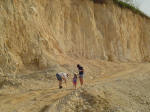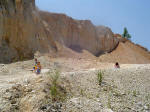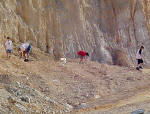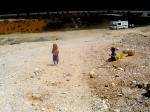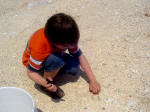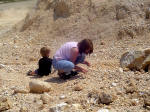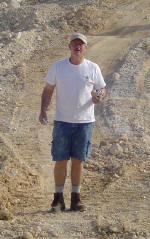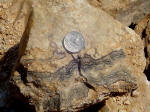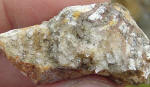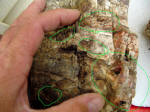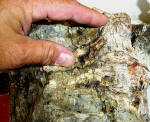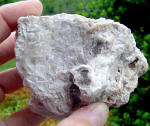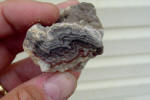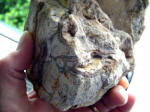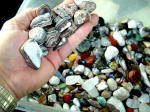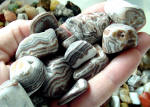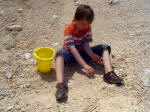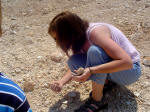 Consolidated Gold Mining Company, Dahlonega, GA - Commercial (tourist) mine. Mine tour, panning, and gem grubbin', the touristy way, but still fun!
First we hit the Dahlonega Gold Museum which is located in the oldest courthouse in the state of Georgia. We looked at some really cool old mining equipment, watched a video, then headed for lunch at the "world famous" Smith House. One of the coolest things about the Smith House (besides the food) is the old mine they found (in 2006) hidden below the floor for over 100 years. Apparently, mine owners were taxed for their mine shafts, so this smart home owner decided to hide his under the house. After lunch we headed for the Consolidated Gold Mine Company for a tour, gem grubbing, and gold panning. The gems were placed in the sand, so i was a little disappointed, but the gold panning is for real (I think). Altogether, I figure the gold we got from panning cost us about $18,000 an ounce.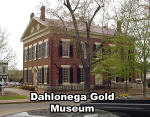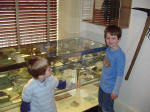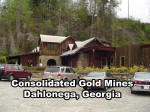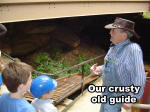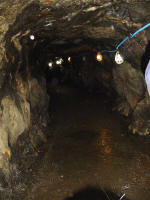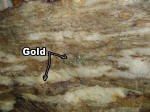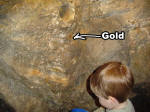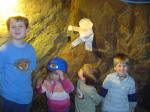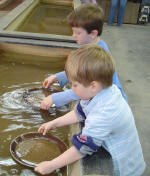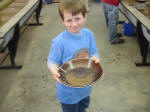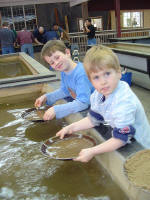 Sheffield Ruby and Sapphire Mine- Franklin, NC -
On one of our PB&J trips we visited the Sheffield Mine in Franklin North Carolina. The Sheffield Mine is a little different from most of the other commercial "pay to grub" sites in that the rubies and sapphires found there are actually from that location. The dirt you screen is dug from that site, and it is possible to find a real valuable stone, what they call "honkers". Although the visit was a little pricy with the number of kids we have ($10 for adults, $8 for the kids), I'd recommend this activity to others because the kids enjoyed playing in the mud very much, and their buckets were enriched (seeded), so they found lots of semi-precious stones. Take a change of clothes! We had to strip the kids down to their undies before letting them in Homer.
Note: If you are in an RV or pulling a trailer, be careful. The mine is up a narrow dirt road and has virtually no parking and very little room to turn around. We couldn't have left early because we couldn't have turned around with all the cars parked along the road. You might say we were a captive audience.