On this page, we celebrate our family's and friends' Birthdays, or at least the parties we are able to attend. To see other birthday events, scroll down.

2010 BIRTHDAYS
January - Heath's 7th Birthday - January 28, 2010
Heath's Birthday happened several times in several places. It started at Church on Wednesday before his Birthday. Then at School for lunch on his Birthday, and at home with the family (including Nanny and Paw Paw and Mother Goose). Finally, Mommy took Heath, Lainey, and John Micah to the Tennessee Aquarium with some friends to top off his Birthday celebration. Mommy also bought a family annual pass, so we'll be back!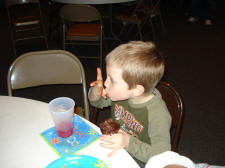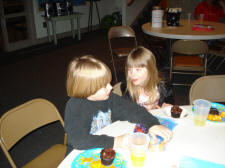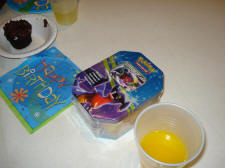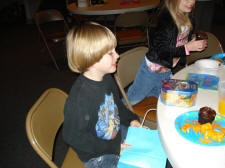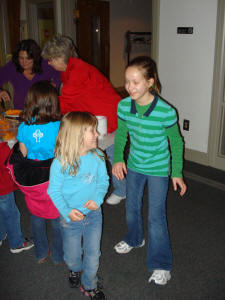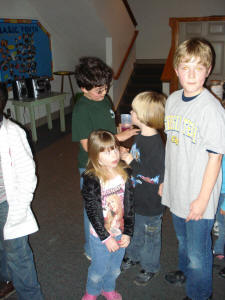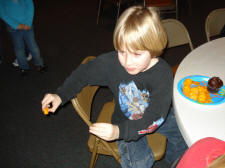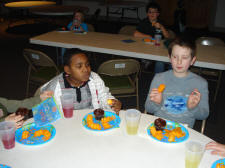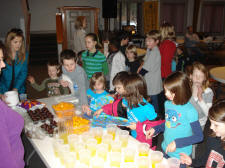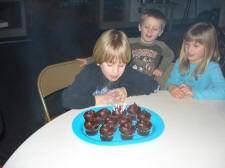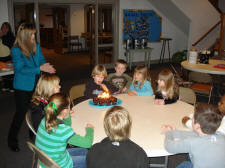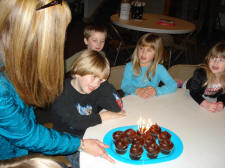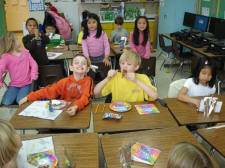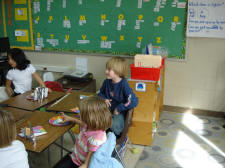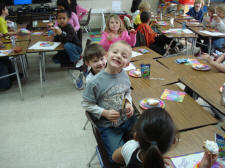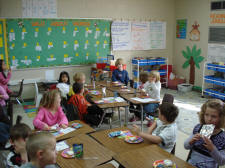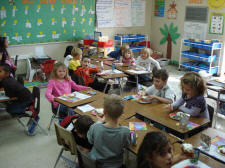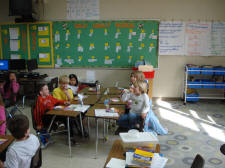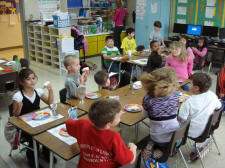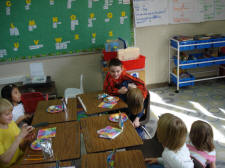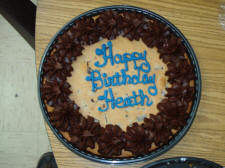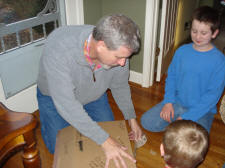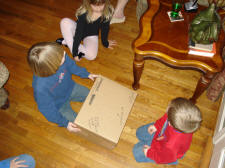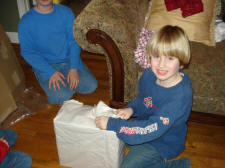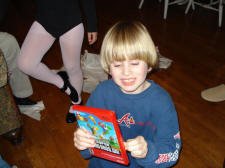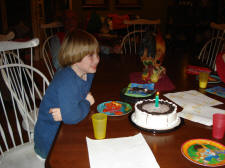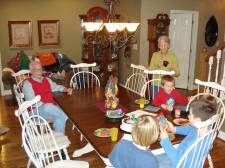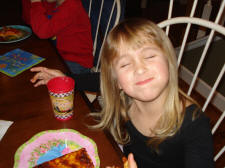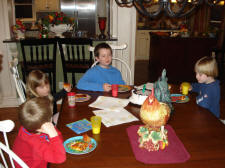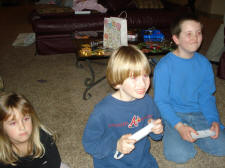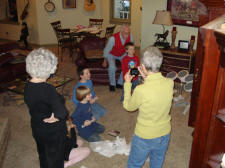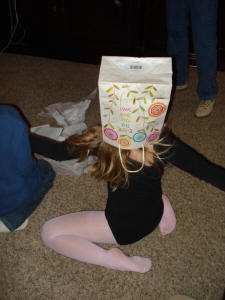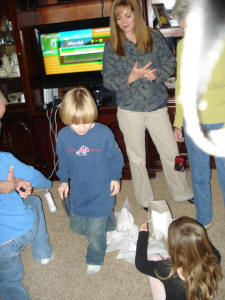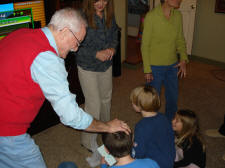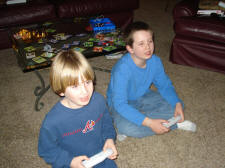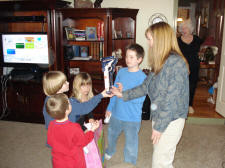 Paw Paw's 80th Birthday - February 2, 2010
A bunch of the family got together at Uncle Mark's and Aunt Brenda's to celebrate Paw Paw's 80th Birthday. We were lucky to have some old family there, and some new family too. It was Kenzie's first Richardson family get together, and she survived! She certainly was not lacking for attention.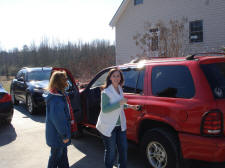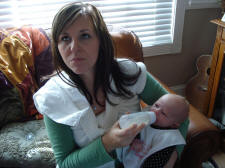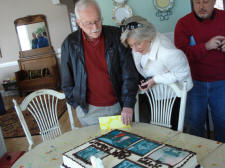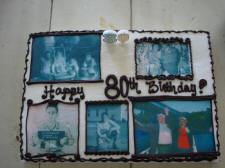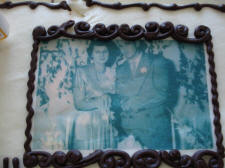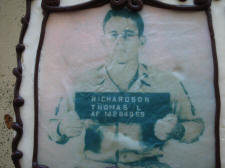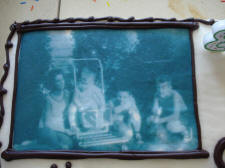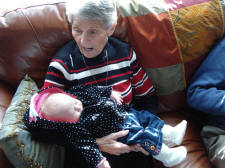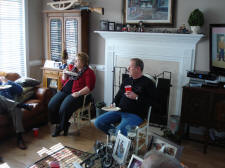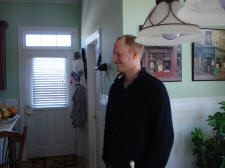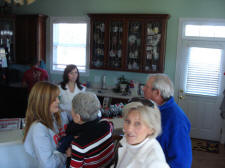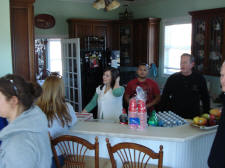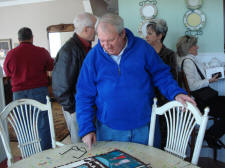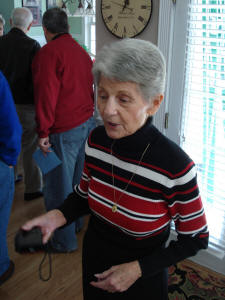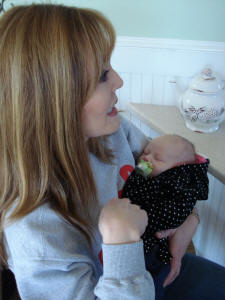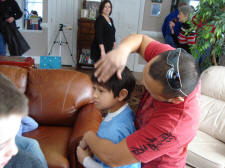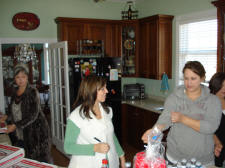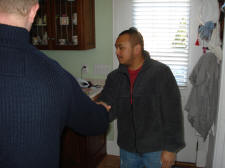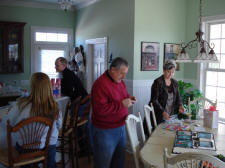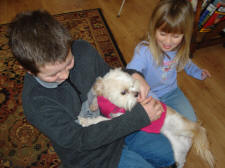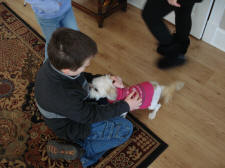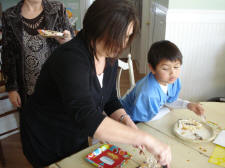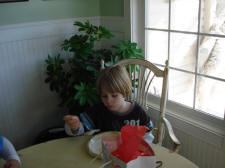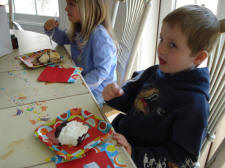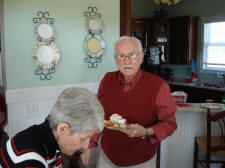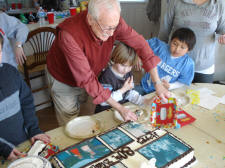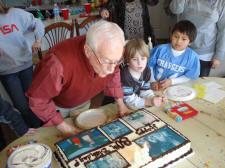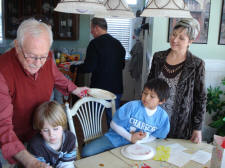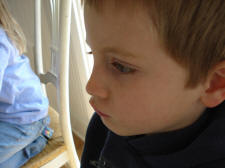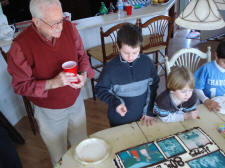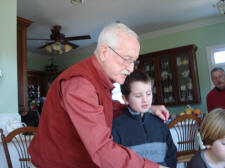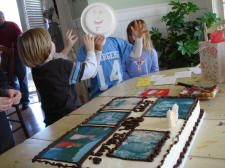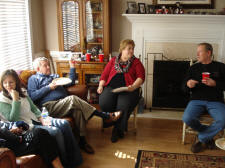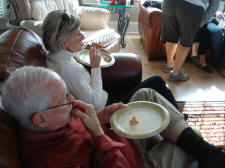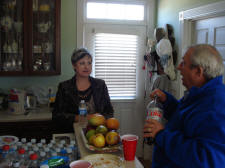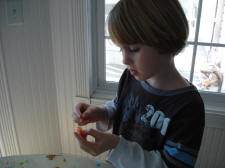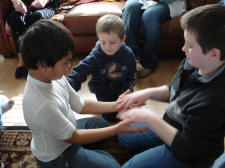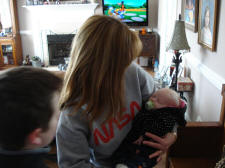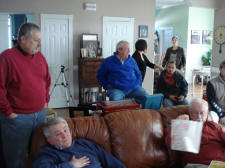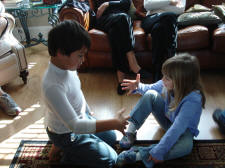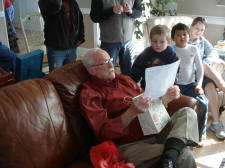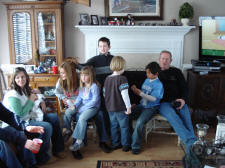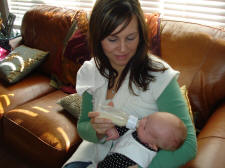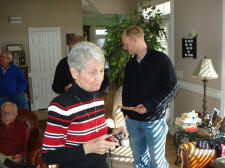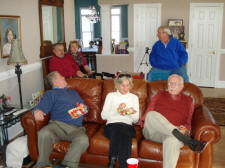 Lee Thomas' 10th Birthday - February 15, 2010
Lee Thomas' Birthday started with the receipt of a go cart as a gift (no, he will not ride any more without a helmet). Then he had a sleep over with a few of his friends at our house. They slept in the camper and kept daddy up all night. The next day, we played Wii, Nintendo DS's, shot arrows at targets, and froze trying to fish. Altogether a fun and exciting weekend! More to come (we have a PB&J Adventure to add to his Birthday)...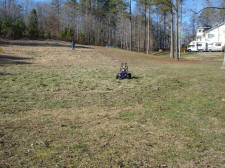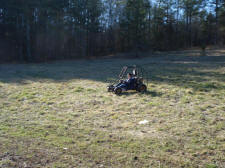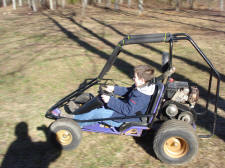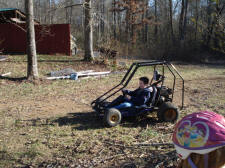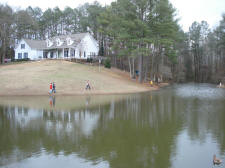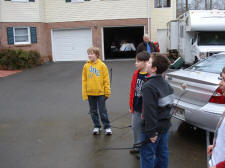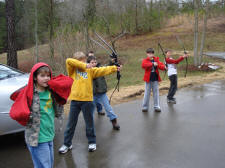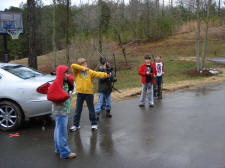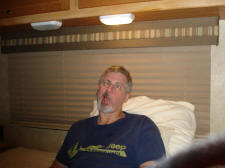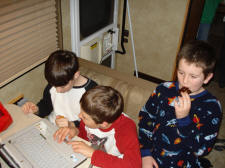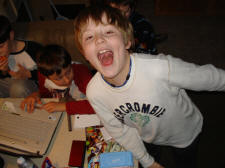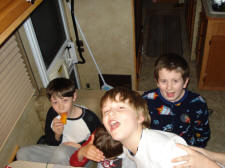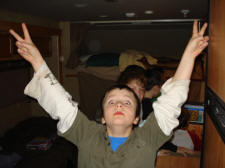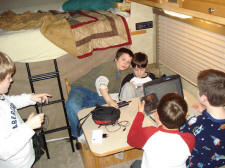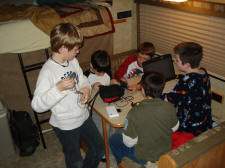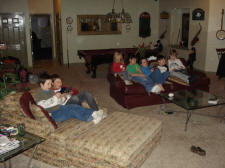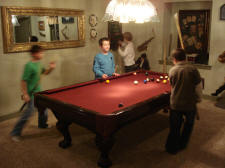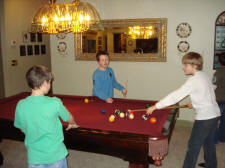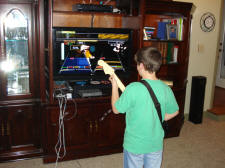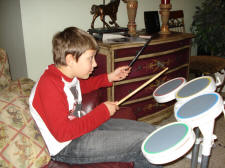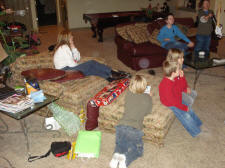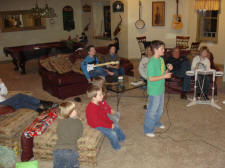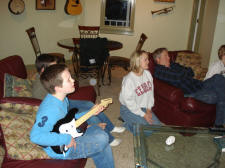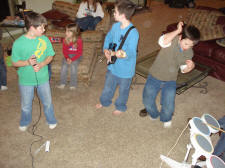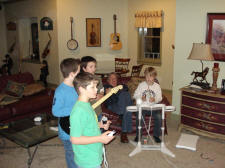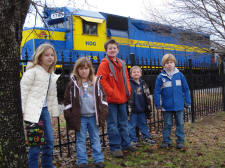 Click the last picture on the bottom row to see what we did on Lee Thomas' actual Birthday, February 15, 2010

Lainey Grace's and John Micah's Birthday - June 8, 2010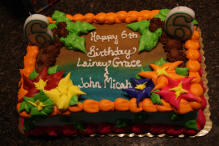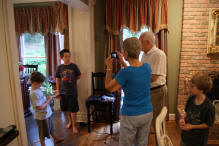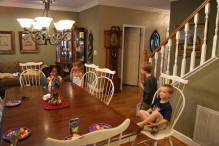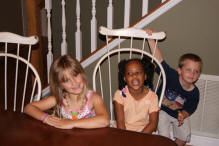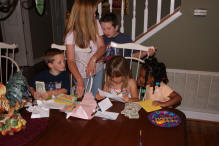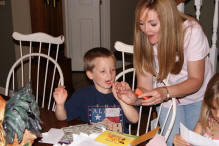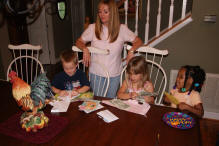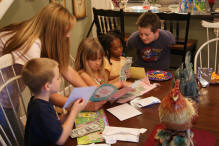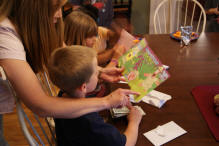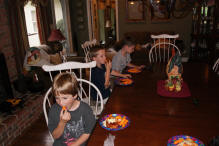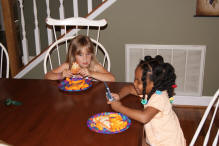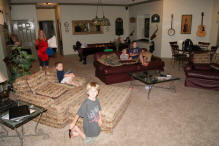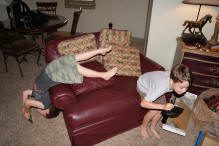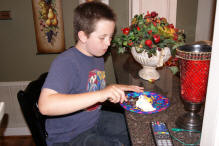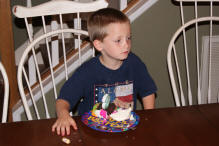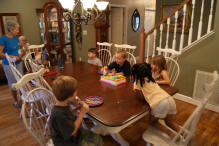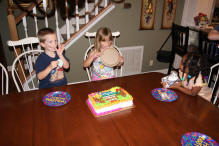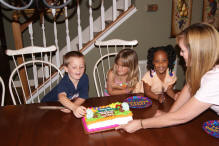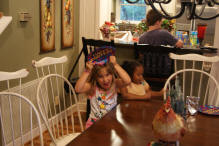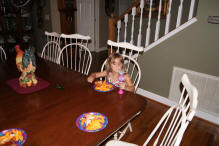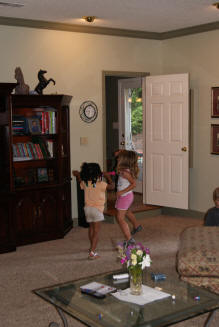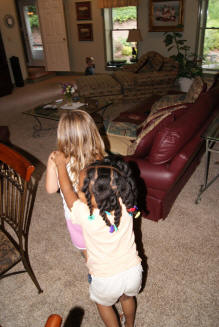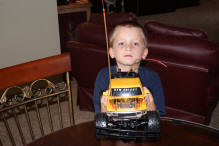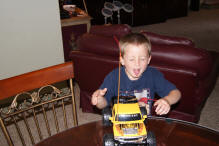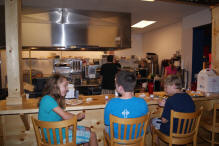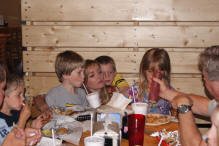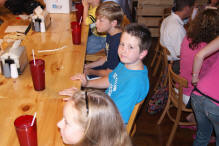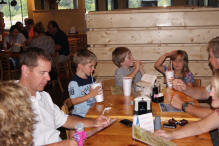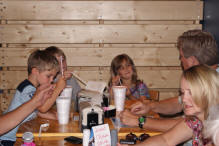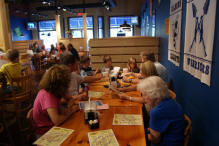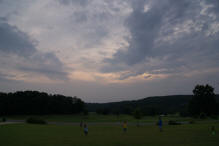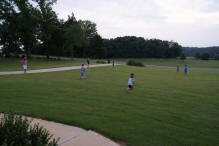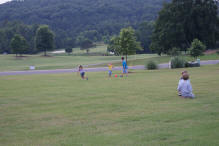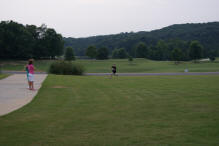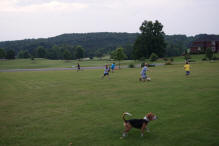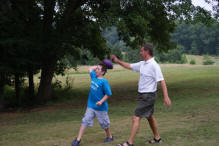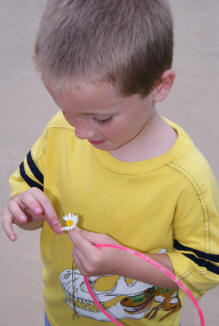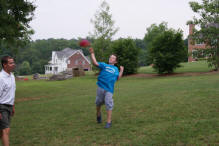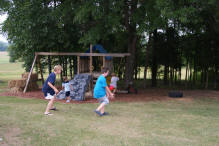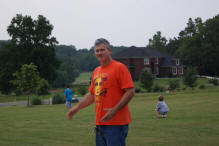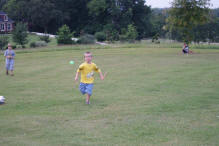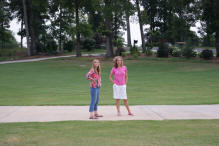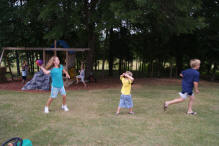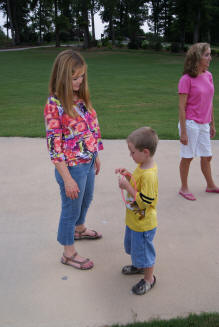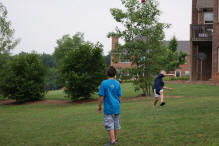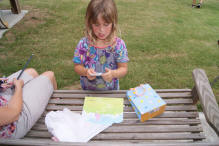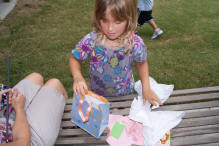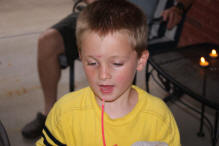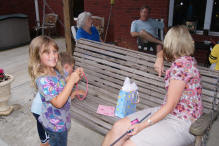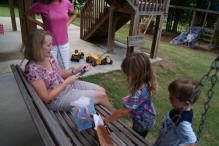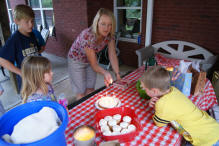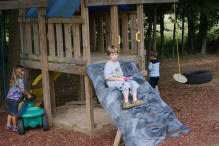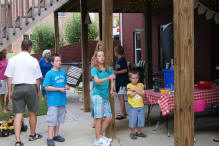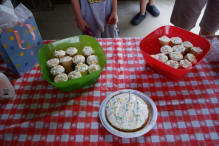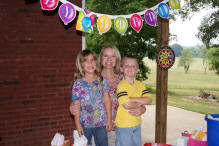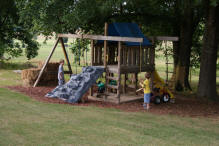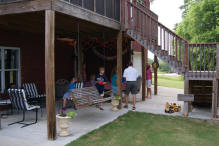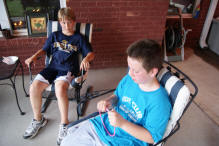 Granny's Birthday - August 3 (Party on the 1st) 2010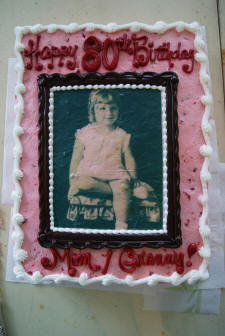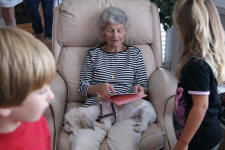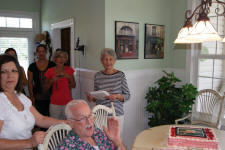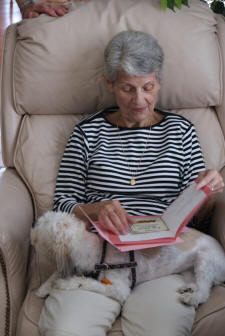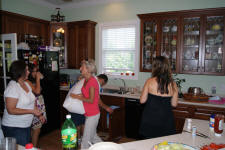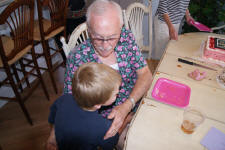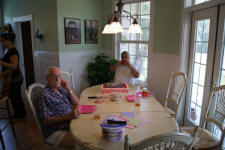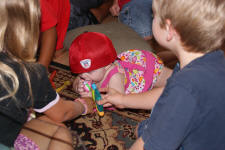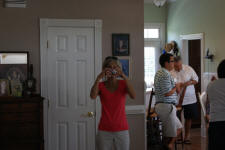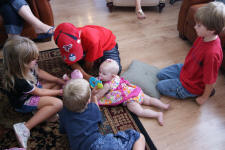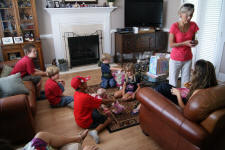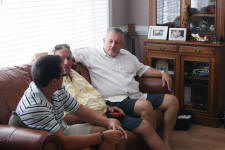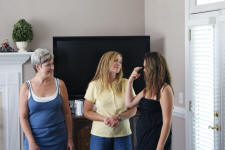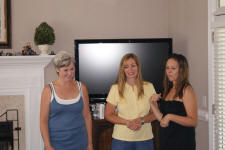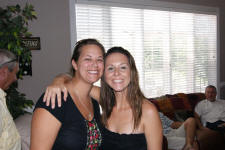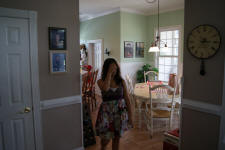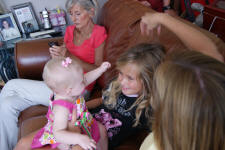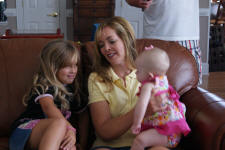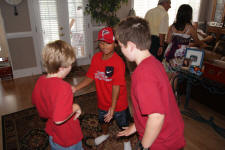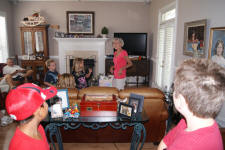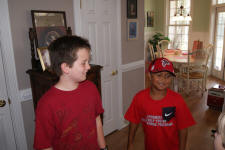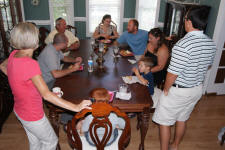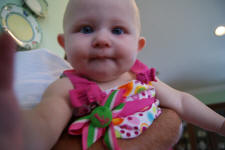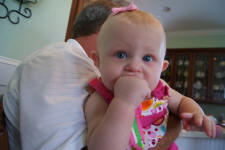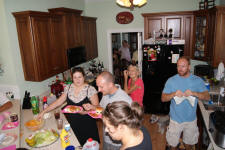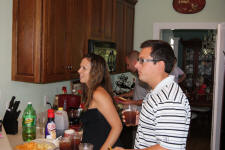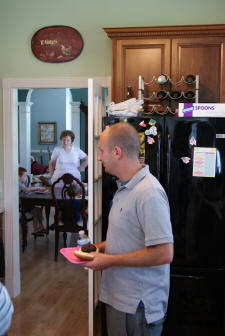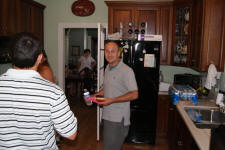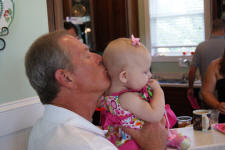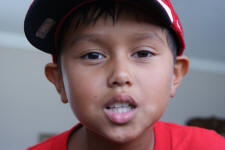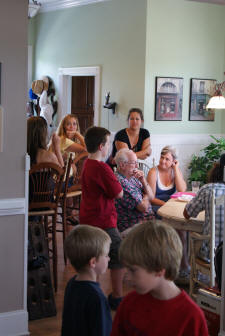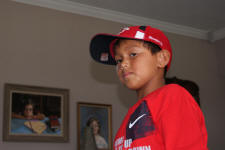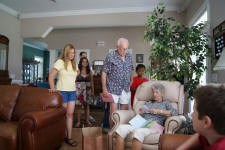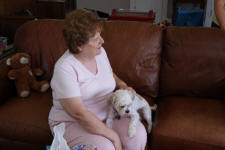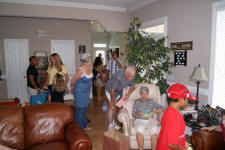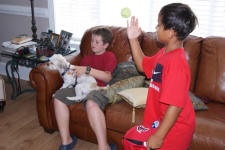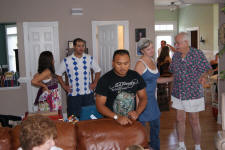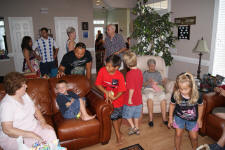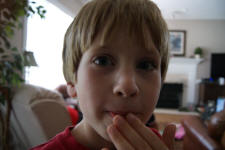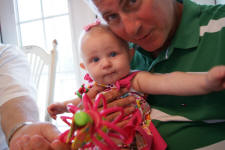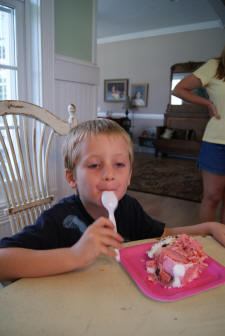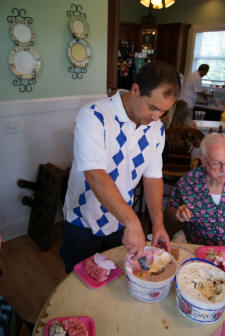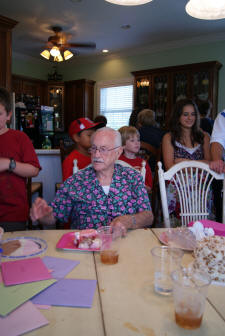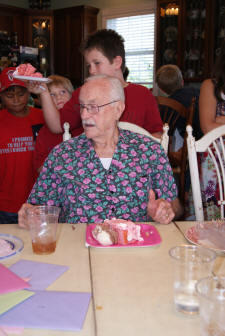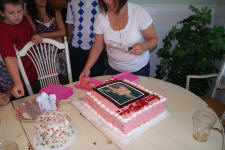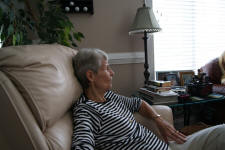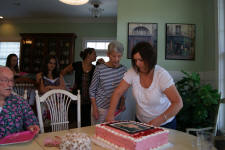 2009 BIRTHDAYS
Heath's 6th Birthday - January 28, 2009
When Daddy was a kid, he had one "BirthDAY" per year. A DAY! Now, kids get like a week! I guess they deserve it. Heath's 6th Birthday included a visit to the Atlanta RV show, dinner with the Bishops and Browns at Pappasito's (Daddy's favorite), tennis at GCA, Dinner with the Parkers at Provino's, Tennis at GCA, and cake and Wii play at home.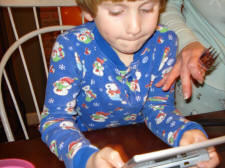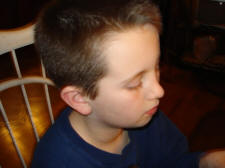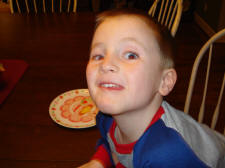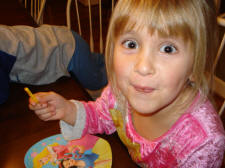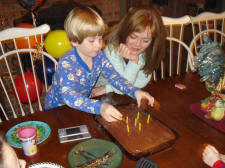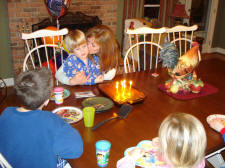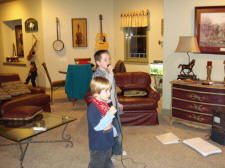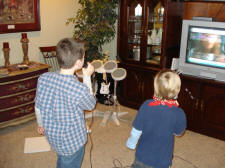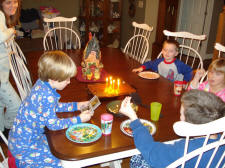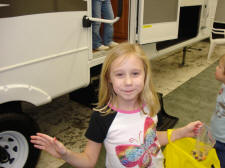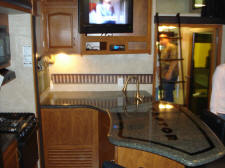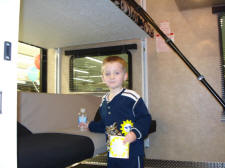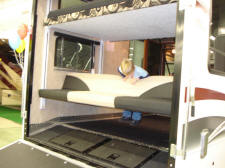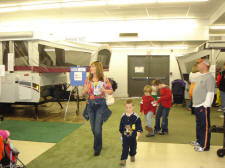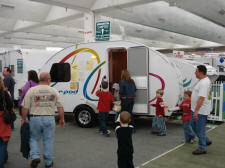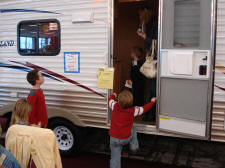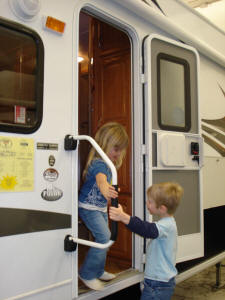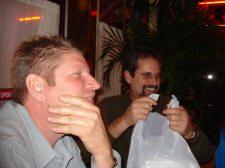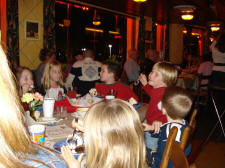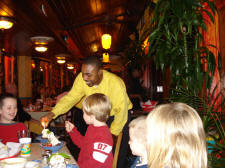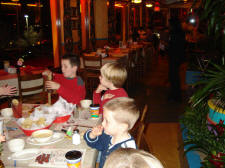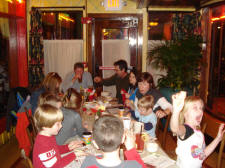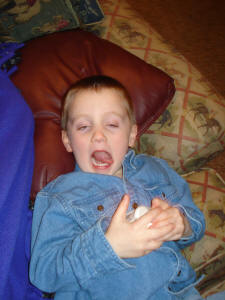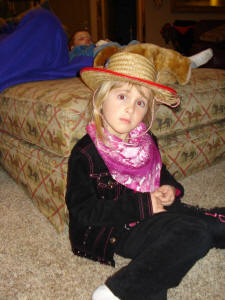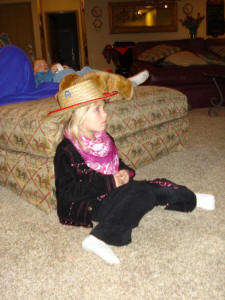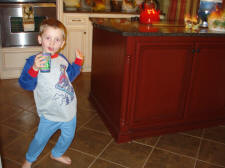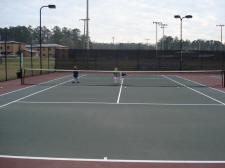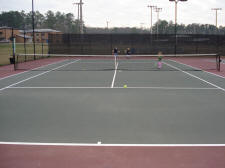 Daddy's 47th Birthday - February 13 - 2009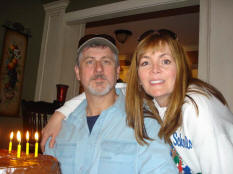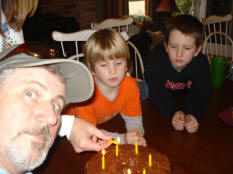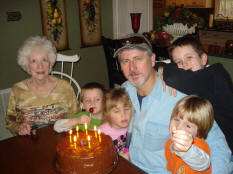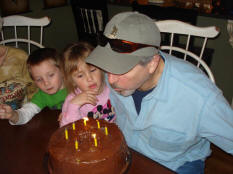 Lee Thomas' 9th Birthday - February 15, 2009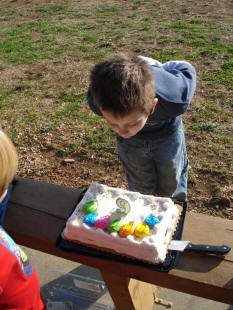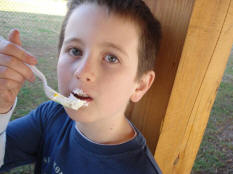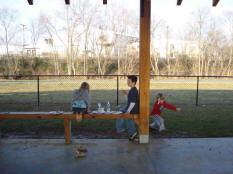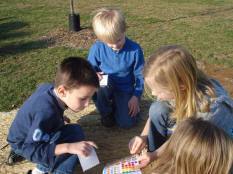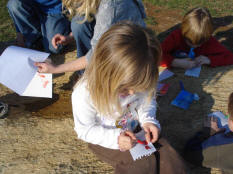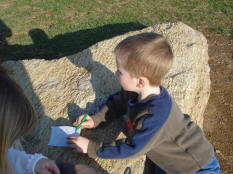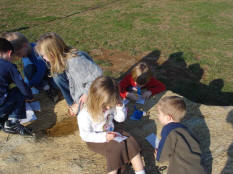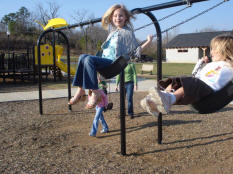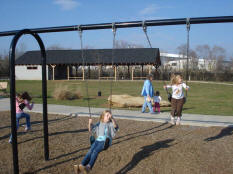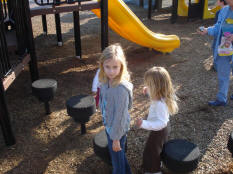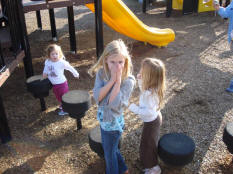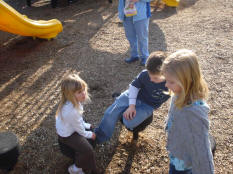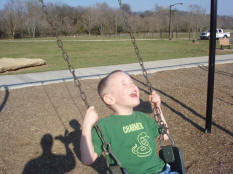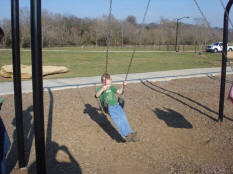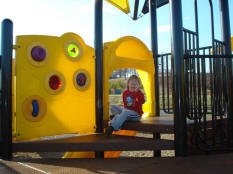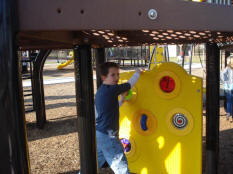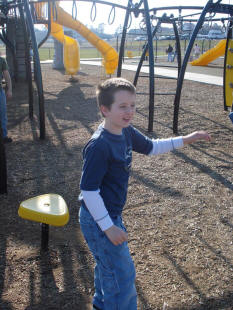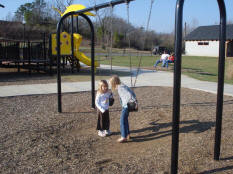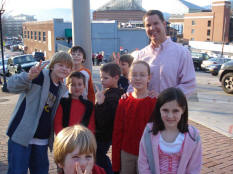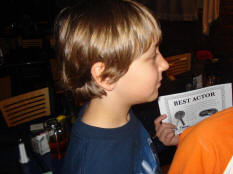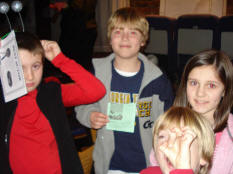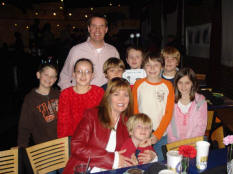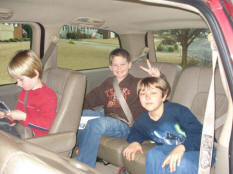 John Micah's and Lainey Grace's 5th Birthday
Well, we originally planned to picnic before going to the main event, but we started at the Varsity instead. Click here to see the MAIN EVENT!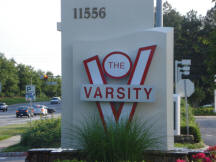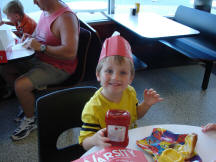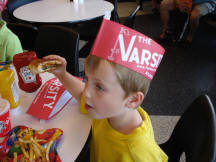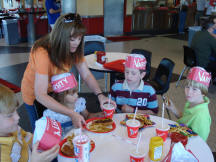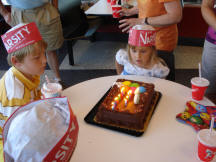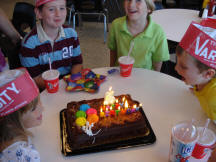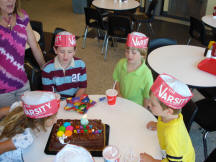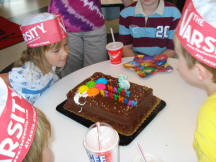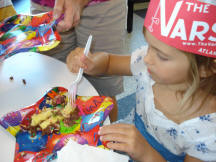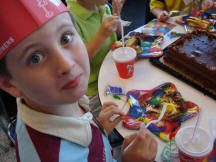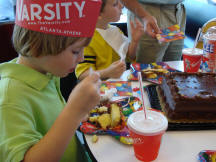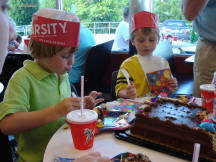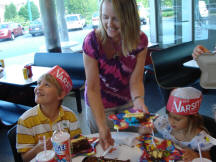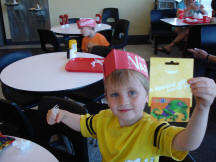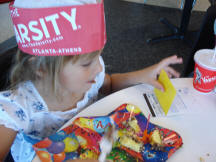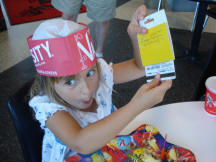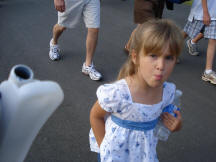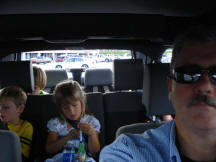 2008 BIRTHDAYS
Cousin Julian's Birthday Party - September 13, 2008
Because our friend Jaxon and cousin Julian had their Birthday parties at the same time, we had to split up. Daddy took the twins to Julian's party, and Mommy took the big boys to Jaxon's. We had hoped to swap at some point, but that didn't work out. These pictures are from Julian's Birthday party. It was held at one of Gordon County's playgrounds near Calhoun, Georgia. The kids played a lot, then had chips, cake, and drinks. It was mega fun!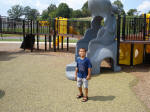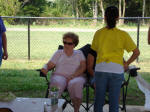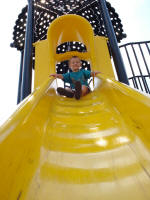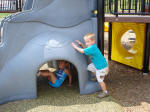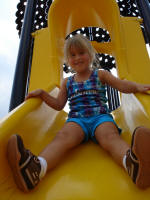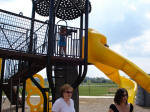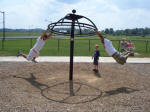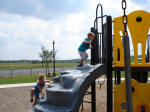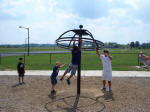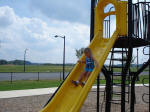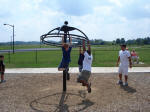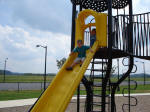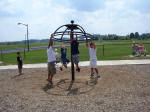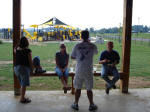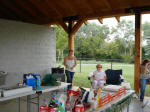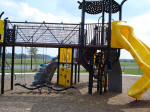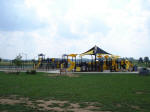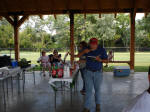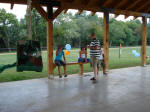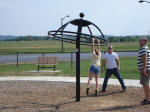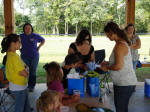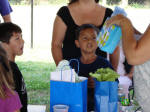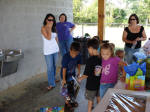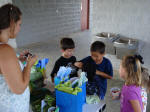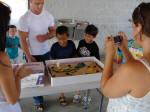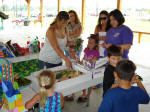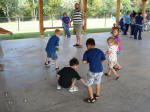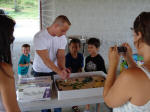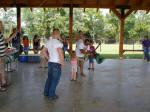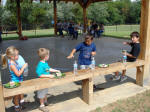 Granny's Birthday Party (Most of the extended Richardson Tribe was there) - August 03, 2008
We celebrated Granny's Birthday at Nanny's and Paw Paw's pool. As you can see from the pictures, Granny has lots of family that loves her very much. We enjoyed pizza and cake along with lots of swimming and sunshine.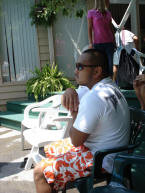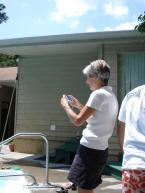 Our friend Cal's 9th Birthday Party (just us and the Parkertop Clan) - July 10 (his Birthday is on the 15th)
We celebrated Calbert's Birthday at Fort Mountain this year. We celebrated our friend Cal's birthday on this trip, and Daddy kind of took a vacation from the camera. Ranger Ruby was there, so we were able to pan for gold for a while. The Tribe gave Cal a guitar for his birthday, and he seemed to be very happy to receive it.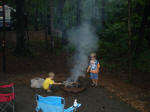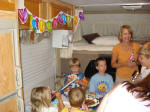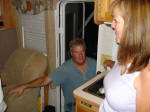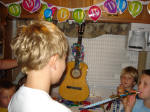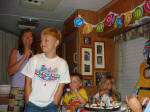 Twin's 4th Birthday - June 8, 2008
The twin's Birthday started in the Breakfast Room with a few presents as usual. They got sleeping bags and various other goodies. We had big plans for friends and swimming later in the day, but first we went to church to see Alison, Jake and Yvette get baptized. After lunch, we headed for Nanny's and Paw Paw's pool for swimming, cake, ice cream, and tie dyeing t-shirts. We had lots of company (I won't even start to list everyone), and we want to thank everyone that showed-up. We missed Super Dave's clan because they were on vacation in Myrtle Beach (but we have t-shirts for Carson and Diana to tie dye). Everyone seemed to have a great time and got plenty of exercise. (The Jeep is one of Olivia's daddy's latest projects). That evening, Jillian came by to wish the twins "Happy Birthday. She brought Lainey some makeup, and John Micah some astronaut toys (which he and Heath played with till bedtime).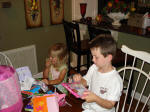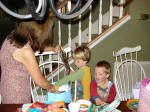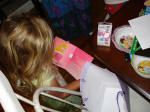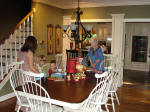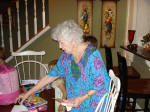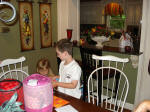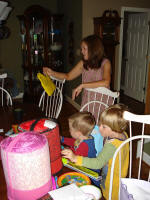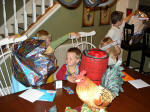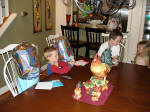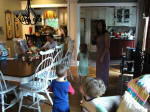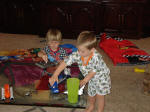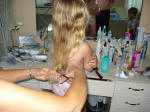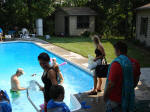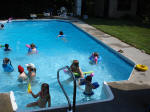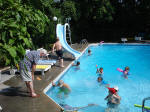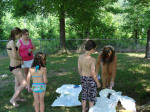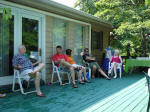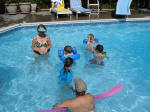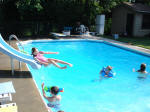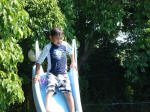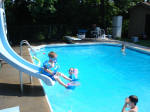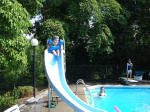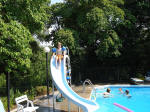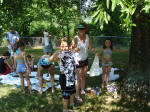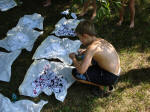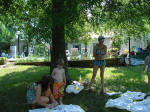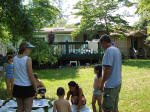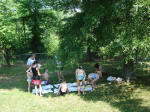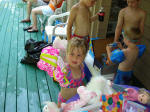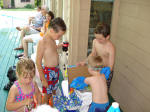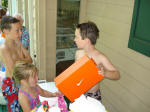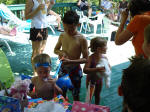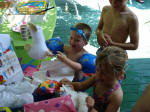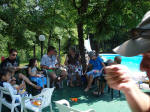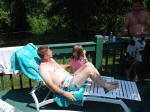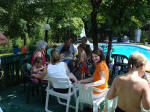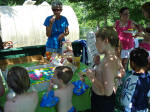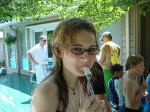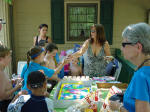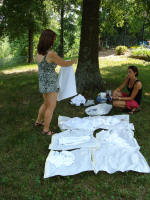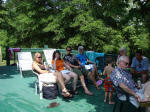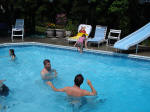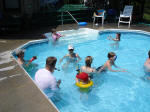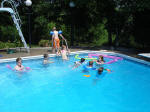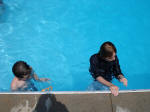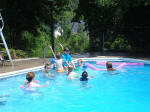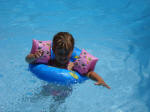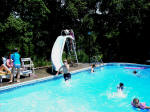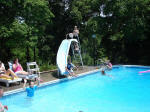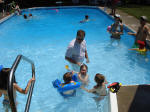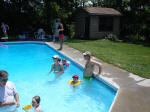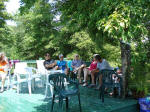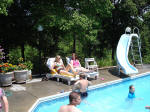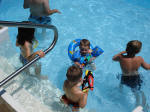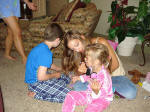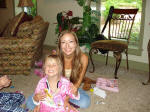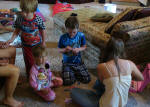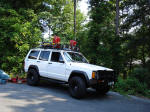 Lee Thomas' 8th Birthday - February 15, 2008
Our PB&J Adventure to Disney World and Lee Thomas' 8th birthday coincided this year, so we celebrated LT's birthday at the Rainforest Cafe at Animal Kingdom. Super Dave, Carly Sue, Diana, and Carson joined in the festivities. Super Dave's cuz Frank and his family also joined us for dinner and sweet treats. Rainforest Cafe is all about atmosphere, and not necessarily about good food, but everyone had fun.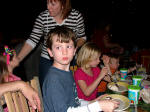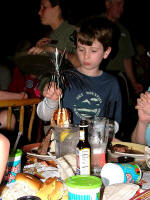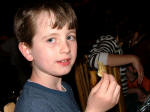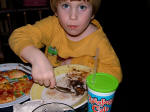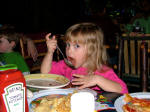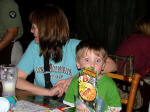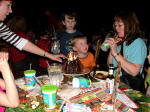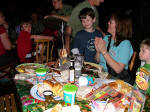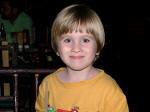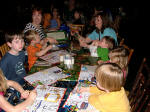 Heath's 5th Birthday - January 28, 2008
We hadn't planned a big party for Heath, just a few frames at the bowling alley. Heath's teacher and her kids came, Cal and Jon came by, and our friends the Hollands joined Heath in celebrating his 5th birthday. Heath got lots of cool goodies including a new skateboard and tickets to the new Hannah Montana 3D concert movie! Woo-Hoo!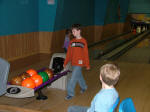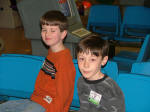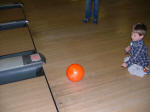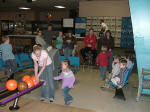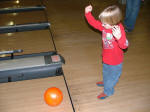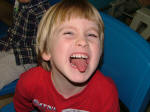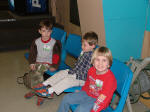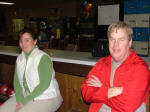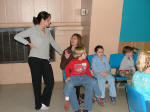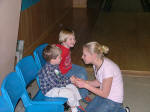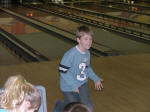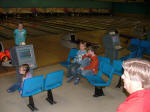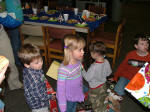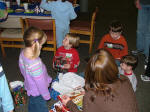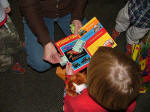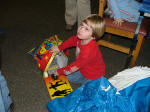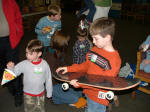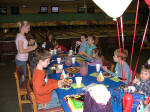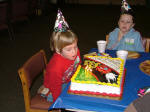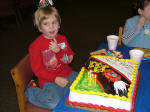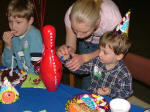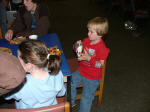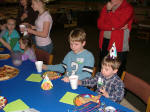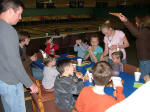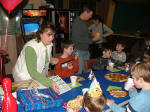 Our Friend Diana's Birthday Party (6), October 20, 2007
For our friend Diana's Birthday party, the girls had a special "girls only" party. None of us boys could go, but it looks like they all had a ball dressing-up like little movie stars. When Lainey got home, she cried when we had to wash the color and sprinkles out of her hair.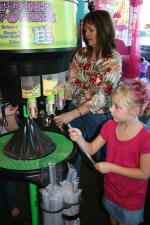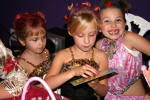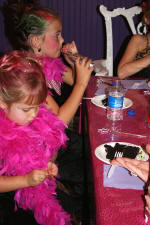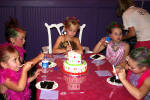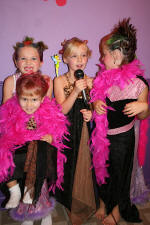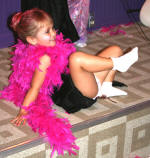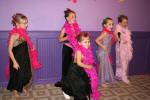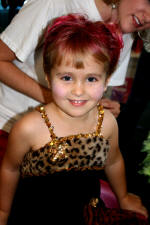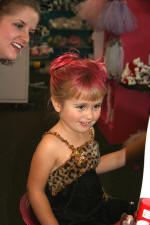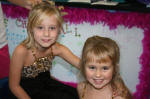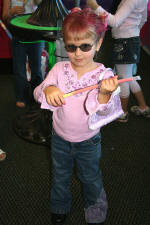 Mother Goose's and our friends Pamba's and Emily's Birthday Celebration, October 7, 2007
On this very nice day, we celebrated the Birthday's of three very special people. We celebrated Mother Goose's 77th Birthday, Emily's 8th Birthday, and Pamba's (it's a mystery) Birthday. Everyone played outside riding bikes and tossing the ball. Then we went in for steaks, crab legs, pork chops, weenie kabobs, onions, taters, and Goose's famous cake. Then the kids played pool and danced (video) until the wee hours of the night (8 pm or so). Fun was had by all, and I'm glad someone finally used our pool table for something other than a storage device.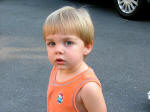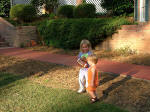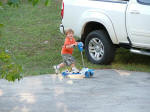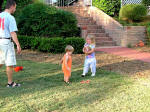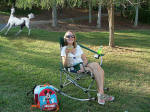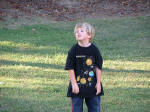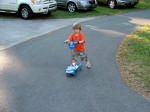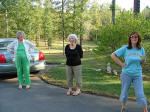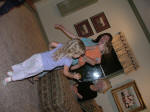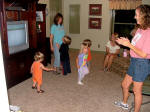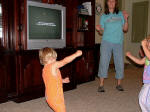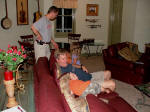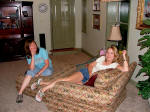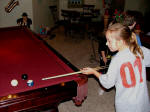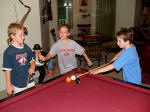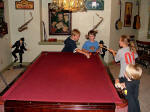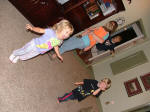 Our Friend Carson's 3rd Birthday, September 29, 2007
We celebrated our friend Carson's birthday at Kid's Play (I think that's the name of the place) in Calhoun. As the pictures will tell, the kids had a BIG time. Lots of sugar was burned climbing and sliding and running and jumping. Dianna and Olivia were there as was Jules and a number of other kids. Lee Thomas was the old one in the crowd. We got to see Ms. Patty for the first time in a long time. She's still one of the prettiest ladies I've ever known. Happy Birthday Carson!
Note: Daddy saw Bigfoot again, but no one believes him.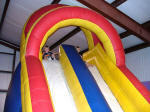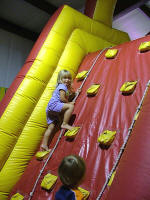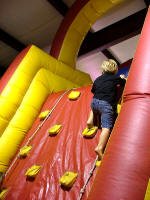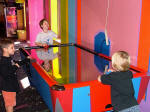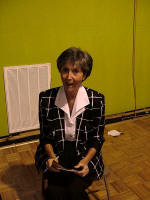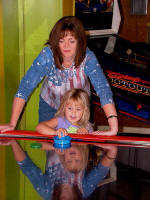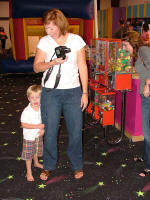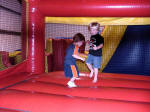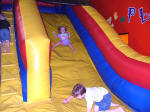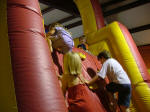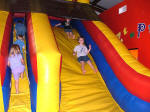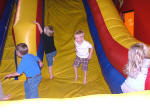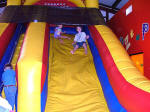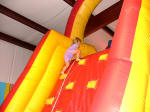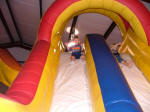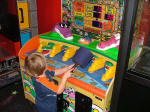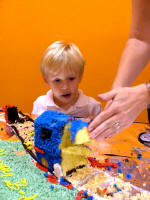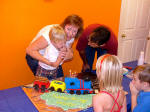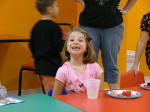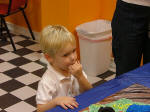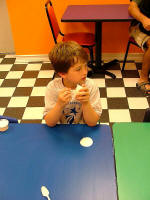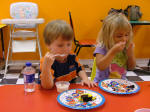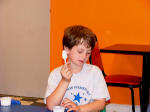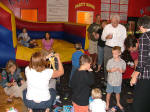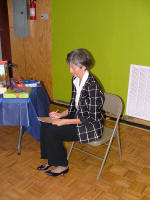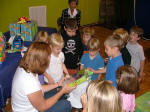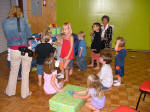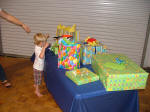 Our Friend Calbert's (Cal) 8th Birthday, July 15, 2007
Cal, Lee Thomas' best friend since birth, celebrated his 8th Birthday with us on a camping trip to Antioch Lake (Rocky Mountain recreation Area, Rome, GA). Cal is like a brother to Lee Thomas and the other kids. We had quite a crowd at the campsite Saturday night (July 14) with the Bishops, Browns, Parkers, and the Driscolls. The kids swam at the beach, played at the playground, and watched a Star Wars movie outside at the camper. We ate tons of hotdogs, s'mores, and birthday cake. Cal spent the night with us in the camper. The kids watched Land of the Lost episodes until midnight.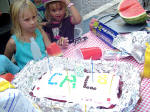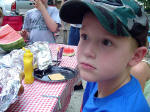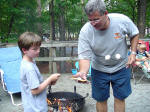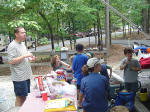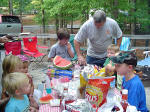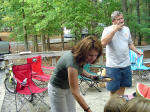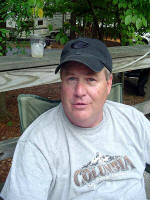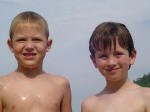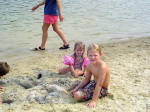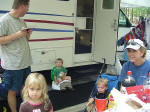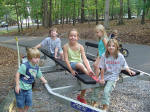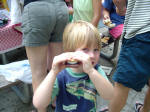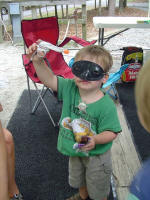 Lainey Grace's and John Micah's 3rd Birthday, June 8, 2007
Well, there wasn't supposed to be a party, but one kind of happened. We had cake at home the evening of Friday the 8th and gave the twins their new bikes. About midday on Saturday, we went up to Nanny's and Paw Paw's pool. Turns out, several friends and family members showed-up to swim and eat Krystal burgers.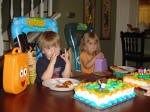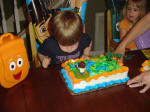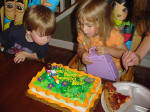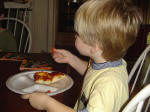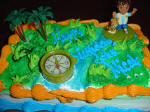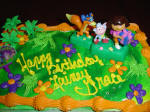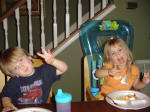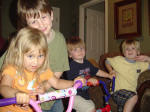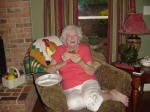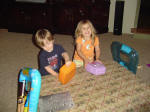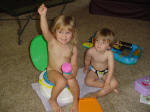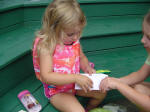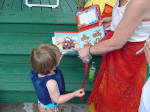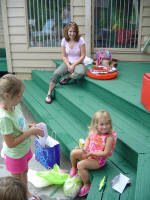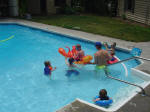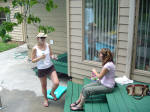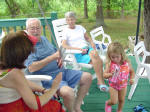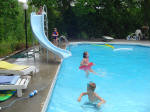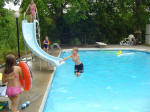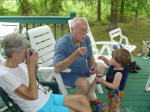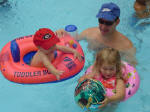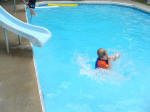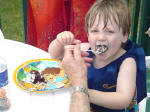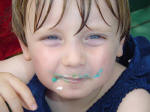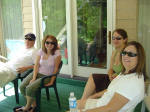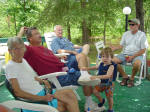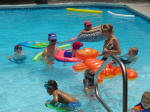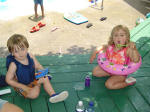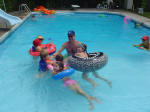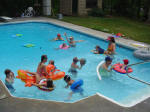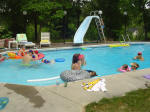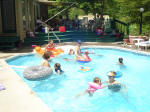 Lee Thomas' 7th Birthday, February 15, 2007
On the 15th we celebrated Lee Thomas' Birthday at home with Pam, John, Cal, Nanny, and Paw Paw.
He received two bibles, 14 4D puzzles (which they worked on till 11 pm), a new bike, a helmet, and knee
and elbow pads. On the 16th, we headed for Dave and Busters for lunch, games, and desert. I never
realized you could blow so much money on games!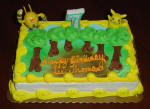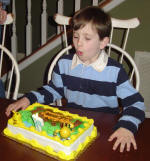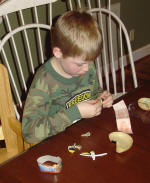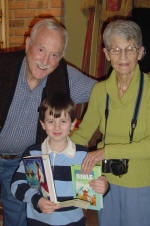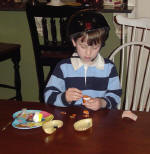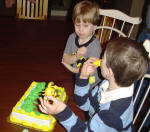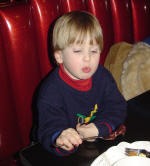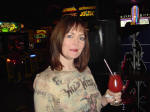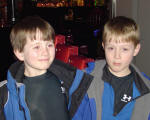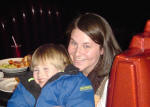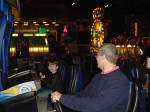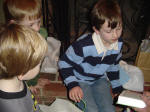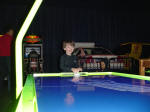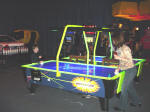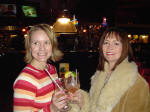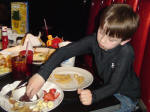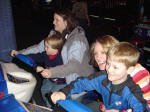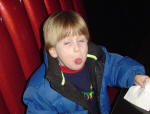 Heath's 4th Birthday, January 28, 2007
First, we had dinner at Logans with a bunch of Rebecca's family where we celebrated Heath's and cousin Lane's Birthdays.
For his "Birthday event", Heath wanted to go bowling, so that's just what we did. Pamba, Parker John, Cal,
and Kimberly joined us for a game, then came over for cake.