August 8, 2008 - John's Mountain Overlook (sorry, no legendary creatures)
For a little end-of -week stress relief, Daddy wanted to take a ride in "Willy B" the Jeep with the top down. John's Mountain is just a short ride for us, but it helps remind us how close to a wilderness area we are, so off we went. I'm not sure if it's the time of day, the temperature, or what, but we saw three snakes on this ride (two of which were rattlers). I hope it helps remind us all about the dangers of sticking your hands in dark places when we're out hiking. The second picture below is of the larger Rattle snake we saw (and, sorry Steve, killed). Needless to say, Mommy wasn't keen on the papooses playing around the deck at the overlook. You can see from the pictures why Daddy likes the overlook. The sunset is pretty intense most everyday, but if you catch it when the clouds are right, and there is some dust in the atmosphere, it's like the sky is on fire. The view is West across the Armuchee valley.













August 16, 2008 - Holly Creek and Fort Mountain (sorry, no legendary creatures)
Daddy's been working hard on the house, and we've taken few breaks this month, so when Super Dave invited us to go for a ride up in the Cohutta Wilderness, we jumped at the opportunity. The Tribe, along with Super Dave's clan and Marky Mark and Olivia, took a ride through the dusty woods. We ended-up at Fort Mountain State Park where we visited Pamba, Calbert, Junior, and Parker John who were camping there. When we got there, the temperature on the mountain was 71 degrees (keep in mind this is August in Georgia). Parker John had a camp fire and we all wished we were camping as well. We also saw Ranger Ruby and her husband Don (who was playing guitar and harmonica in the picture of the bluegrass band below). Ranger Ruby sings with them too. As you can see from the last picture, by the end of the day, we crashed.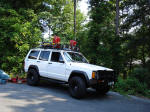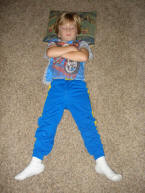 August 29 thru September 1 (Labor Day), 2008 - Cleveland, GA and surrounding area
Friday, August 29:
We headed for Cleveland, Georgia after Mommy and the rest of the Tribe came home from school. Our plan was to meet Super Dave and Parker Jon and their clans in Cleveland. It's not a long drive (distance wise), but there are a lot of curvy roads along the way. We were heading for Gold N Gem Grubbin', a commercial mine just west of Cleveland. Daddy did some research and found they had a campground on the property with full hookups. There was very little information about the campground on their Website, so Daddy called them to ask more questions. The owner, Brian Devan, went to the campground and took pictures with his phone and emailed them to me. I was still a little wary, but my worries were gone when we got there. Some "RV Park" campers" might find the campground a little too rustic. The inner roads are not paved and there's no cable (boo hoo). There had originally been 16 sites, but they eliminated every other one doubling the space for each camper. So, with only 8 sites, it's like we had our own campground. There was a lot of room with our campers almost circled (sites 5, 6, 7) around a campfire and picnic area. My only negative with regards to their campground is that there was no more information on their Website. Mr. Devan explained that they weren't really trying to make a run at being a commercial campground. The intent is to provide an amenity for their mining customers. One thing is for sure, Lee Thomas, Heath, Lainey Grace, John Micah, Dianna, Carson, and Cal sure enjoyed playing the games we brought in the wide open space of the campground.














Saturday, August 30:
Our plans for today involved playing in the dirt and the creek. We got up, ate breakfast, loaded-up and drove over to the main office/gem shack. Mommy and Daddy were pleased with the personal attention the Tribe received from Stacy. Daddy spoke with one of the owners, Brian Devan (this guy has quite a story), briefly about the campground before we all loaded-up and went to the creek for some gold panning and gem grubbin'. This, to Daddy, was the best part of the trip. All the kids looked for rocks and gold while getting downright wet and nasty. We found very little gold, but Lee Thomas found a fist sized amethyst, and Mommy found two almost perfect quartz crystals. Everyone found something to take home, but most of all, they had big fun. It cost this family of 6 only $37.00 for four hours of entertainment. That's a pretty good deal (keep in mind that three of our kids were free because they were under 7).
here is a link to their creek mining prices.


























Sunday, August 31:
We decided to take the top down on the Jeep and go for a ride. We really had no definite destination (remember, it's an adventure), but we had a general idea of which direction to go. We initially headed for Hiawassee by way of Helen, but that idea was nipped in the bud when we were stopped by bumper to bumper traffic a good 2 miles from the little tourist trap (seems everyone else knew it was a holiday, go figure). We turned right at the intersection of hwy 75 and 17 only to find a Sautee-Nacoochee Indian Mound Built by mound builders in 10,000 B.C. according to archaeologists. We then headed north where we discovered beautiful Lake Burton and Moccasin Creek State Park. As usual, we pulled through the campground to check it out. It seemed nice but smallish. If you have a boat, it would be a wonderful place to camp. It even has a playground and some full hookups. From there we went to Dillard where we planned to eat at the Dillard House, a famous Inn and restaurant near the North Carolina state line. After looking at the prices of their food. Daddy (the tight wad that he is) decided to go elsewhere. Instead of the Dillard house, we ate at the Waffle House, and everyone was very happy. We visited Black Rock State Park and toured their campground. It's right on top of the mountain which, as a result, makes the terrain very difficult and steep, and the roads a little narrow for comfort in a big motor home or fifth wheel. Although the view is breathtaking (even more so when the leaves drop), I doubt if we'll be staying there in the future. We visited Tallulah Gorge near Mountain City. Daddy went to camp here as a kid, and learned to rock climb and snorkel here. We visited the interpretation center and walked to couple of the overlooks for the view and pictures. It's still as impressive as Daddy remembers it as a kid. By now, everyone was getting tired, so we headed back for camp, this time with Cal riding with us. On the way back, we got diverted to Blackstock vineyard/winery, one of three wineries near our campground. Mommy and Daddy have been to wine country (Napa Valley California), and they've got nothing on these as far as beauty goes. With the rolling hills covered with curving rows of vines, and the Smoky Mountains in the background, it's a beautiful sight. Eventually we meandered back to the campground and enjoyed the campfire.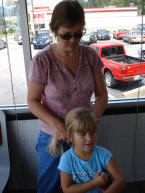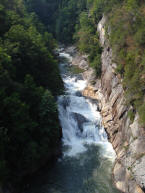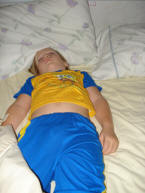 Monday, September 1, Labor Day
On Monday, we got up and started tearing-down camp. One of the owners, Susan Tamburino, told us we didn't have to be in hurry to leave, so we decided to go do some gem grubbin' at their gem shack. Their facility is similar to the other tourist mines, but it is, by far, the nicest we've been to.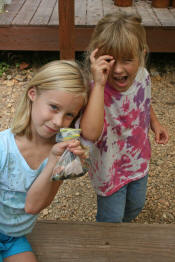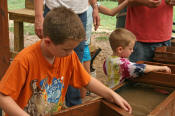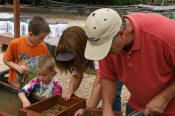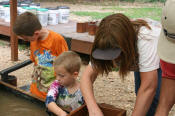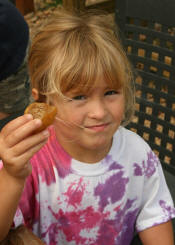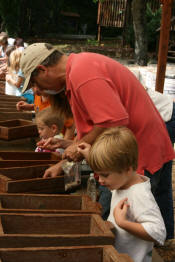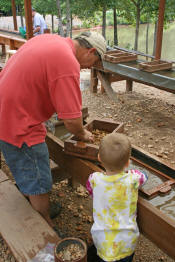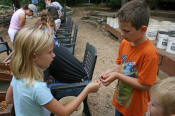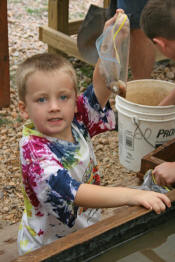 In all, it was a wonderful weekend. There were just a couple of things that went wrong, but nothing so serious it might ruin our weekend. I also have to say that most of our interaction with the staff at Gold N Gem Grubbing was very pleasant, some of our group had a problem with an unhappy employee. We were assured by one of the owners that the employee must have had a bad day because she wasn't normally abrasive. I actually got her to smile at me on Monday when we were gem mining. I'll give her the benefit of the doubt and give the establishment a thumbs-up. I want to go back!