September 14, 2008 - Fossils of Taylor's Ridge - Gore, Georgia
This is a classic PB&J Adventure, reminiscent of the old adventures before we started camping a lot. It was around 4:30pm on a Sunday, and we're about to go to the store to buy some steaks and onions for supper. At the end of the driveway, Daddy took a left instead of a right. Daddy had read about some fossils and small geodes that could be found near Summerville, Georgia and James (Sloppy) Floyd State Park, a place where the Tribe has previously camped and collected agate. The source for the information was the Sherpa Guides website, and it told of a couple of old Forestry Department roads where you can just pull over and look along the road, and that's exactly what Daddy decided we should do on the way to the grocery store (although it's about 40 miles out of the way).

We went to the first site and found several small geodes, and dozens of crinoid stem fossils. There are apparently other types of fossils there as well, but we could only stay for a little while. We collected over 100 specimens in about a half hour. We might have stayed longer, but ripe muskadines had fallen on the road attracting lots of yellow jackets. From there, we rode to the top of the ridge and turned onto another old road. This road is called a "Jeep Trail" on Daddy's GPS unit, but other than being rather narrow, the road was in quite good condition. There was gravel in the tracks and lots of shade and vegetation, so it wasn't dusty at all. We could tell that the view would be great when the leaves fall. We drove several miles until our progress was stopped by a fallen tree. Mommy and Daddy tried to move it, but it was just too big. Daddy should have installed those tow-hooks he bought for the front of the Jeep. He could have hooked up and pulled the tree out of the way. The road appears to be maintained fairly well, so I imagine someone will move the tree very soon. We didn't really have the time to do any archaeology on this trail, but Daddy did find some of the iron ore deposits described in the Sherpa Guide article. Anyway, we had a lot of fun. We still made it home in time to cookout steaks, get our baths, and get the papooses in bed before 9pm. What a great way to end a great weekend.!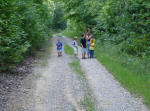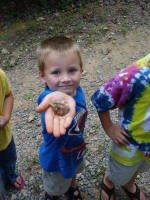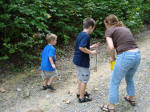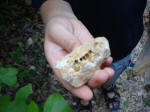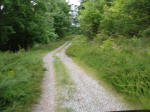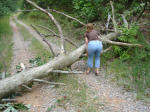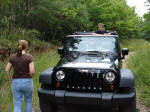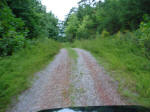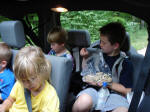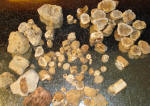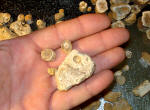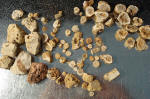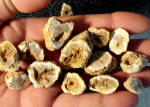 September 1, 2008 - Gold N Gem Grubbin' - Cleveland, GA
Ok, so this is the end of an August PB&J Adventure, but every day is a unique adventure for us. We spent this day grubbin for gems at Gold n Gem Grubbin' near Cleveland, Georgia. We learned about this place by watching "Best Places to find Cash and Treasure" on the Travel Channel. I'm not sure if that particular episode is available anymore, but the host found a large gold nugget and a big chunk of amethyst (as did we). The picture at the bottom shows our finds for the day. The bag (corner at top of of picture) contains rubies. We also found sapphire, amethyst, nicely formed quartz crystals, rose quartz, pyrite, blue topaz, fluorite, calcite, emerald, tiger eye, etc. This is one of the Tribe's favorite hobbies.