NOTE: May turned out to be the busiest PB&J month yet. There are lots of pictures. Please be patient and let them load.

May 30 thru June 1, 2008, Scouts Camping Trip: Fort Mountain (Sorry, no Legendary Creatures this time)
First, let me insert a legal disclaimer here: Technically this was not a Scout camping trip. We had a Scout "day outing" at Fort Mountain State Park, after which, the boys and their parents camped. Had we camped as Scouts, we apparently would have been breaking the rules since none of us has been properly trained to camp with our own children. That said, I think the boys, their parents, and their siblings had a great time.

With the news that the bears were active and had been spotted in the campground, we were very careful not to leave any food, garbage, pets, or small children unattended for long. First, the kids went swimming at fort Mountain's beach for quite a long time. After supper, we took a walk around the lake in the dark. We heard lots of frogs, but I think we scared most of the other wild animals away with our own wild "Bear Cub" sounds.

On Saturday morning, Mommy, Heath, Lainey, and John Micah had to leave to attend a T-Ball game and sign-up Lainey for ballet camp. The rest of the crew visited Ms. Ruby the naturalist in the park's "Naturalist Area" where we all panned for gold and grubbed for Gems. In our opinion, Ms. Ruby is one of the greatest assets Fort Mountain has. She always has something happening to entertain the campers. We got to meet her hubby Don on this trip. He also helps out around the park considerably.

After short ceremony for the kids and lunch at the campsite, we all did our own thing. Some fished, some went swimming, and some went back to look for more gold. Some of the group had to leave Saturday afternoon, but the Tribe, Pamba, Parker Jon, Calbert, Tanner, Ms. Brandy, and Adam hung around for Saturday night. Adam and Ms. Brandy made us a delicious dinner of chicken (of which Daddy ate too much).

A real bad storm came early Sunday morning, and that chased Ms. Brandy and Adam off. We sat-it-out, and left around 11:00 am to head home. The Tribe invited Calbert for some swimming at nanny's and Paw Paws pool for the remainder of the day (they stayed in the pool for about 5 hours). We were especially pleased to see Nanny and Paw Paw enjoying their pool. Daddy spent most of the afternoon cleaning out Homer, getting him ready for our next adventure on July 4.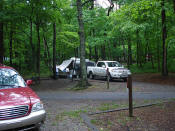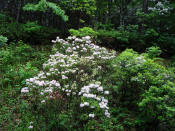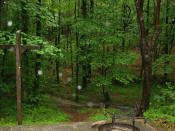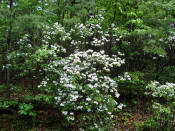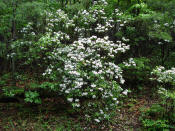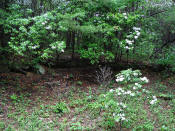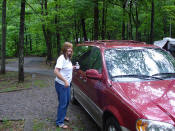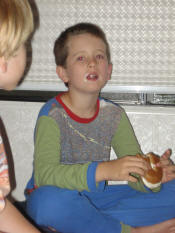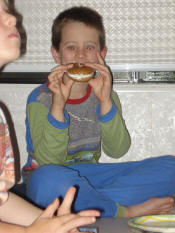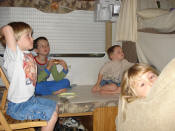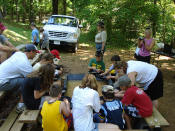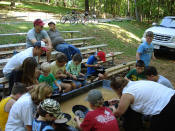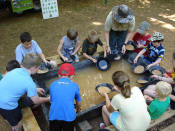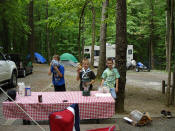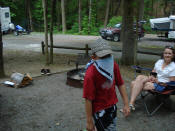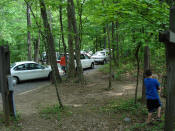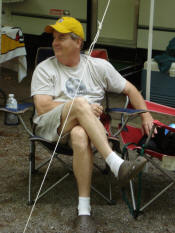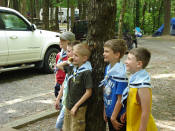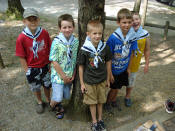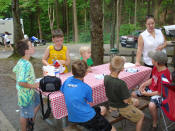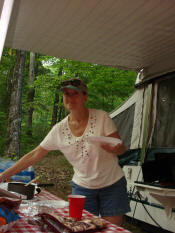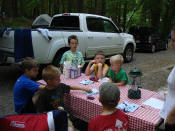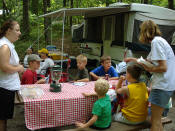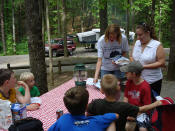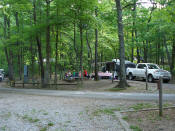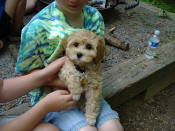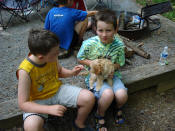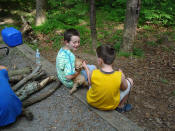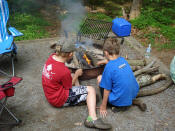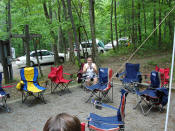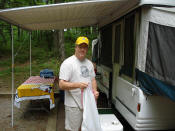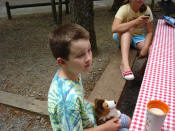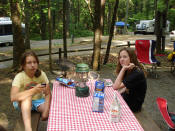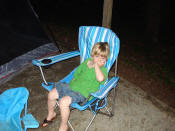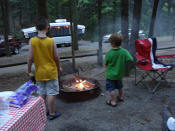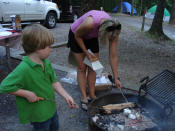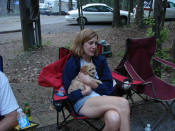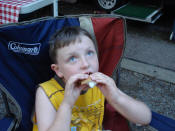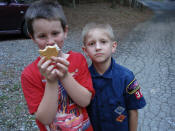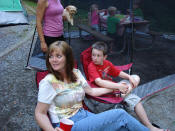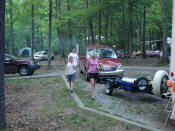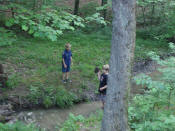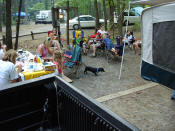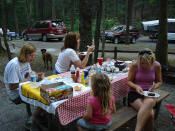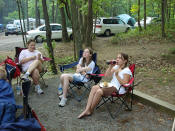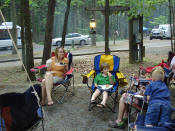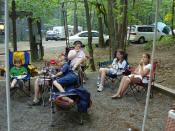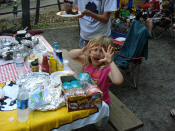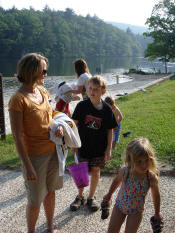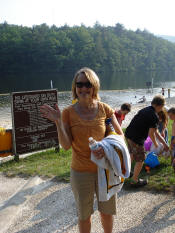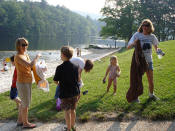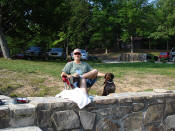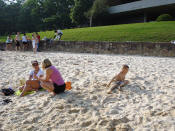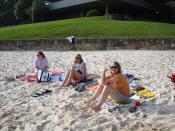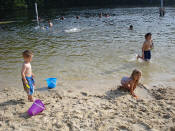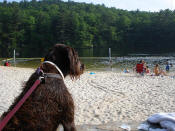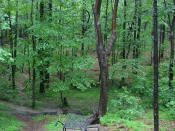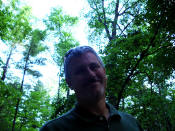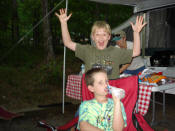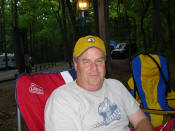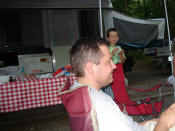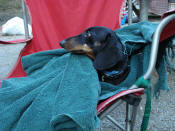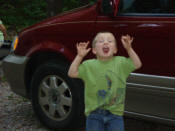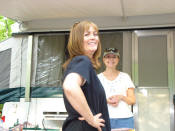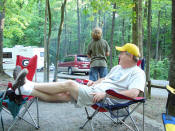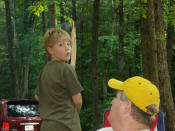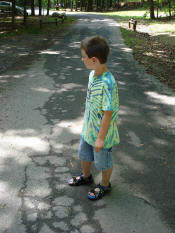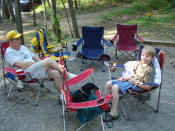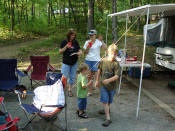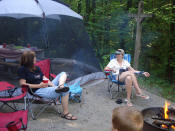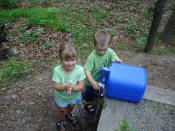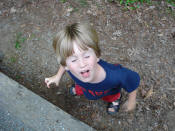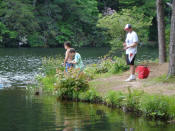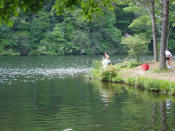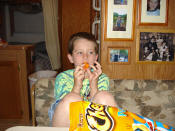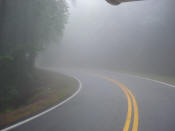 May 23 thru 26, 2008, Memorial Day Weekend: Stone Mountain, Georgia (with 5 Legendary Creatures)
The last time we visited Stone Mountain with Super Dave and his clan, we made reservations for this weekend because it's the first weekend after school's out for summer, and because it was a long weekend for Daddy. This time, in addition to Super Dave, Carly, Diana, and Carson, our camping group also included Parker Jon, Pamba, Calbert, Charlie Brown, Jules, Olivia, and Buster. John, Suzanne, Emily, and Luke also joined us for part of the weekend, but they stayed at the Marriott's Evergreen Resort instead of camping.
Our plan was to leave around 2pm to beat the Memorial Day weekend traffic, but we ended-up leaving at 3:15. A drive that should have been a little over an hour turned into 3 hours. It's ok though, because it rained right up until we got there. Parker Jon and Super Dave were almost set-up by the time we got there. It wasn't long before the kids were riding their bikes and playing along (and in) the water. As the sun set, we visited around the fire and made plans for Saturday.

Saturday morning was beautiful. We started the day with a visit to the pool, along with a lot of other people. The pool at the campground is really nice, but the water is cold. The kids had fun. They also had a small RV show, and we enjoyed fantasizing about winning the lottery and moving into one of the big coaches full time. Mommy really liked the trailer with four bunk beds in the back. Daddy really liked the 31' Class C with the slides. After drying off and getting dressed, we hopped on the Water taxi and headed for the park. We rode the gondola to the top of the mountain, enjoyed the view, and bought some Slushies. After a train ride and some other activities, we headed back to camp for more bike riding, fishing, campfire, and mussel collecting.

Sunday was a PB&J picnic day for us. Some of the group rode the Ducks while our part of the group had a picnic on the large lawn in front of the relief sculpture. This is where thousands of people gather nightly throughout the summer and watch a spectacular laser and firework show. We walked to the plantation, but discovered we had to pay to get in (we had not turned-in our second day's tickets and gotten our arm bands yet). We decided to save our tickets for another visit. Anyway, we headed back to camp for yet more bike riding, fishing, campfire, and part of a movie at dark. With the days getting long, I'm not certain the outdoor movies will ever be watched in their entirety. Around 10pm, we gathered at the dock area to watch the fireworks over the water and discuss how glad we were that we were not on (or leaving) the viewing lawn with 30,000 other people.

Monday morning was pack-up and move-out day. We got out of the campground around 11:30 and headed North. That afternoon we visited Nanny's and Paw Paw's pool, then we went to see the new Indiana Jones movie. Everyone loved it, but Heath slept through the second half Needless to say, everyone was exhausted by the time we got home.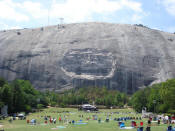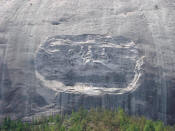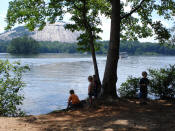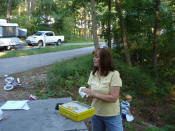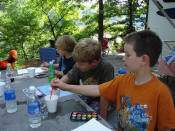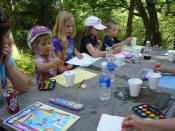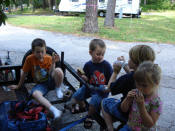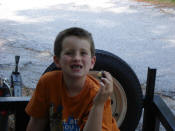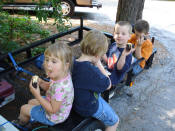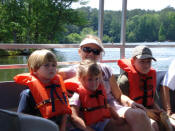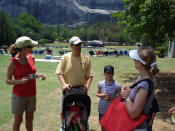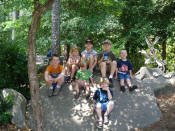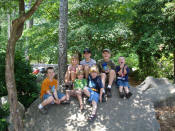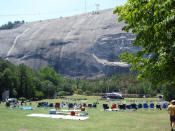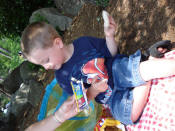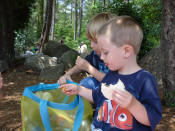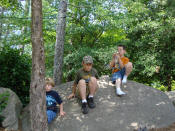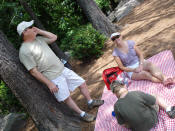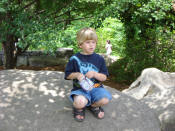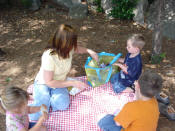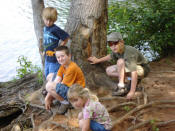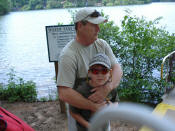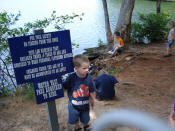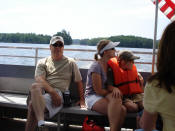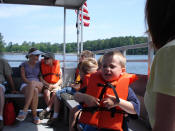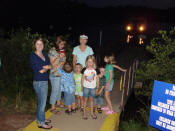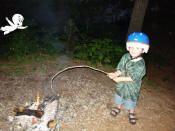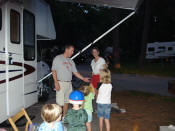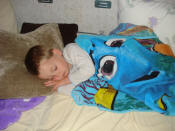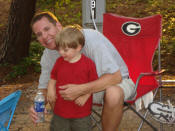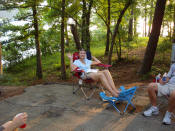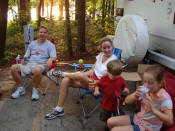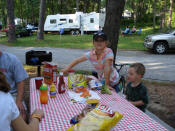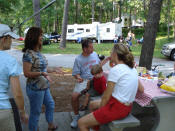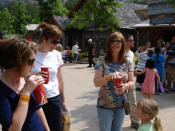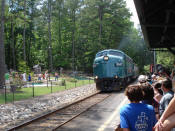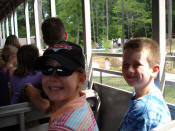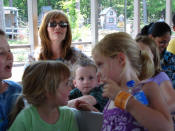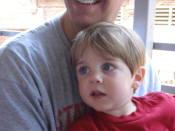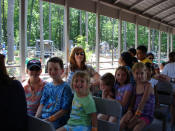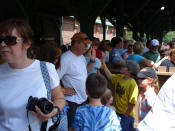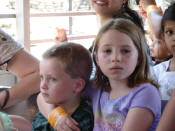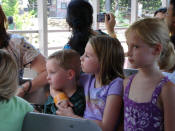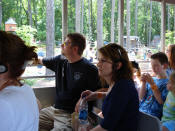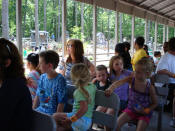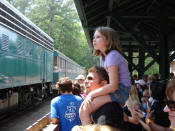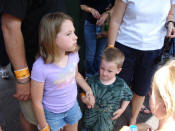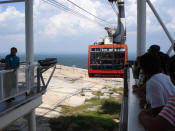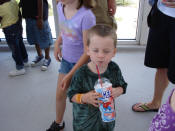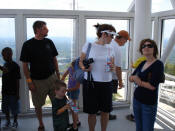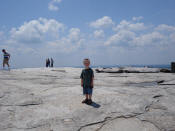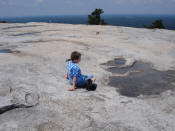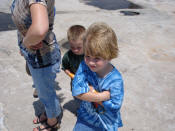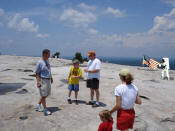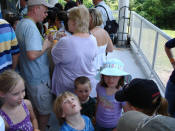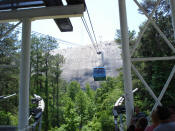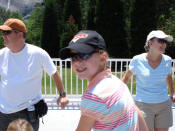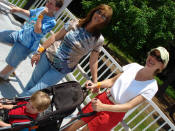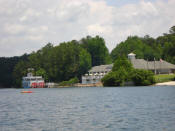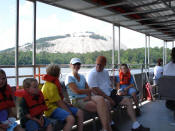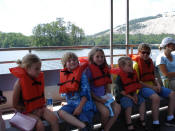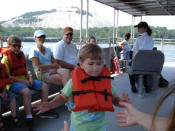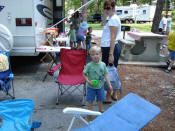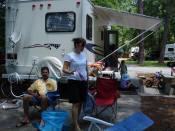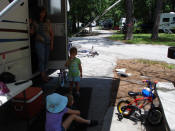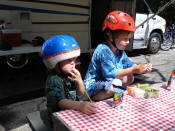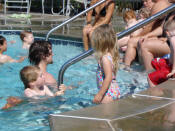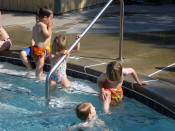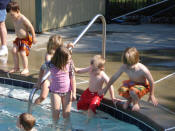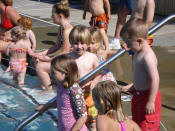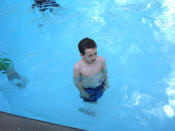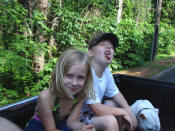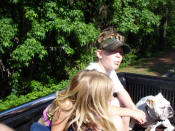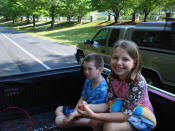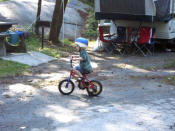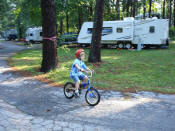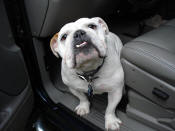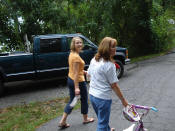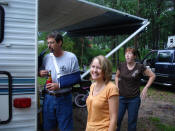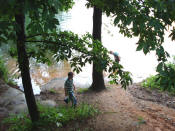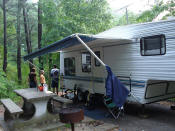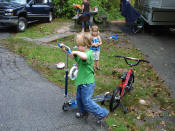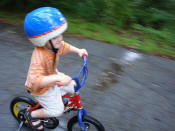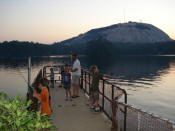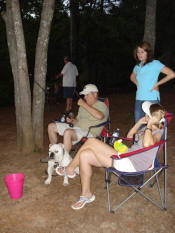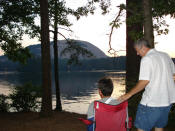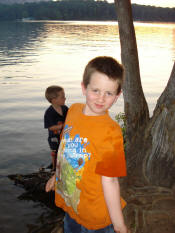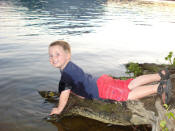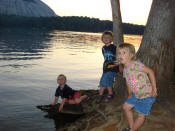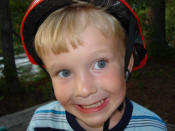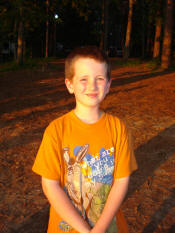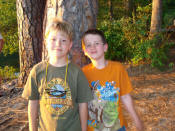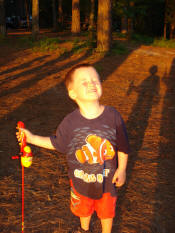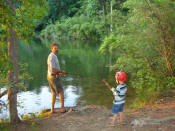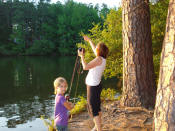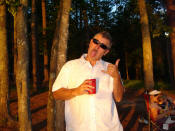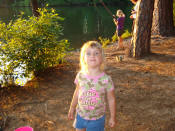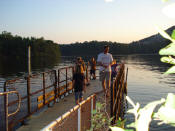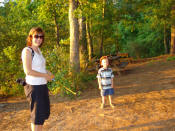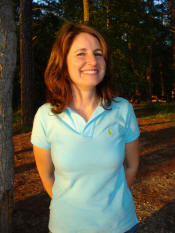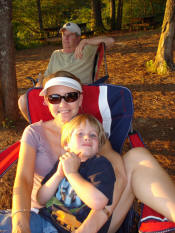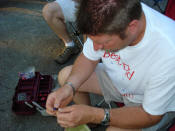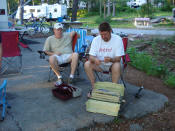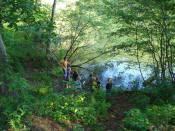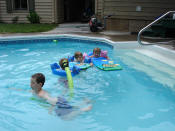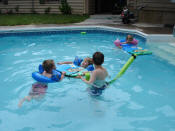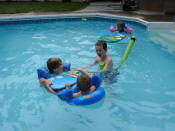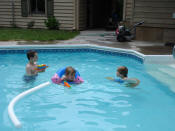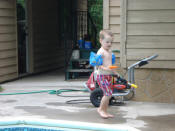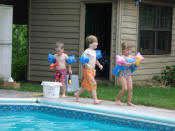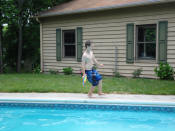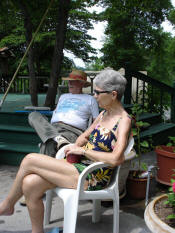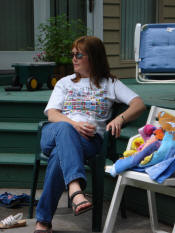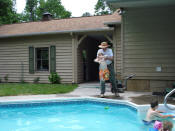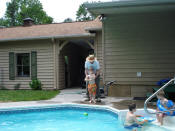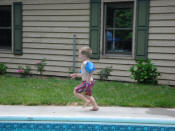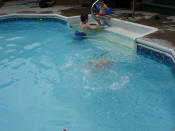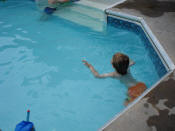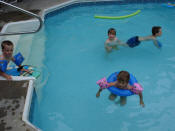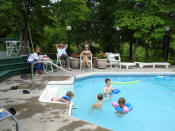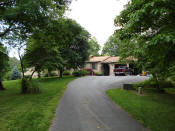 May 17, 2008: B&B Farms and various other places...
This day was full of events, mostly good, one or two not so good. We started the day with a T-Ball team photo-shoot at 8am. From there we went to Cracker Barrel for breakfast, then home to load-up Herbie on the trailer behind Willie B (the Jeep) for a trip to B&B farms in the afternoon. But first, we had a T-ball game at 1pm. After the game, and a couple of hours of play at the farm, we went to a end-of-year festival for Gordon County employees in Sonoraville. That was a lot of fun, especially for the kids. After eating our fill of free hot dogs, Mayfield Ice Cream, and cotton candy, we headed back for the farm and more fun rides on four-wheelers and Herbie. We stayed until about 10pm. Unfortunately, the day wasn't without accident. Super Dave (AKA Disco Dave), briefly forgetting his age, almost broke his collar bone on his four wheeler. After a visit to the e-room, it looks like he may be just fine (or at least as good as before).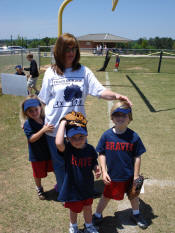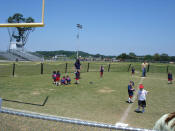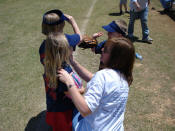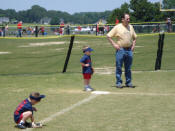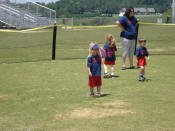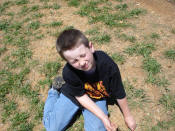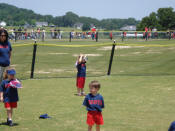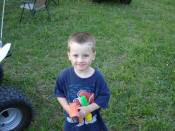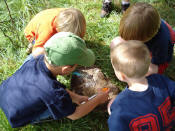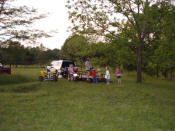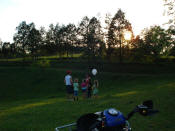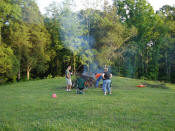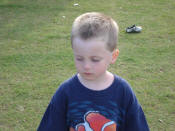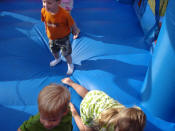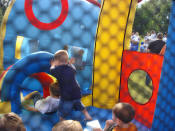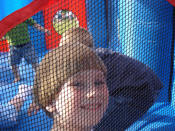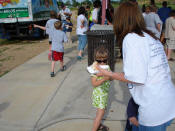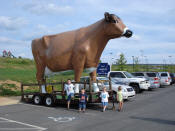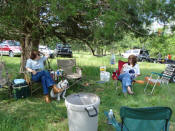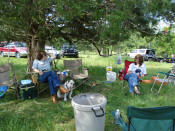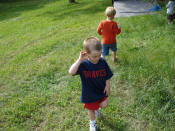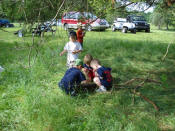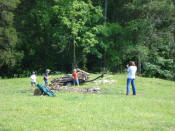 May 9 thru 11, 2008: Fort Mountain State Park, near Chatsworth, GA
The current price of gas is but one of reasons Fort Mountain State Park is quickly becoming our favorite state park to visit. Homer gets less than 10 miles per gallon, and Fort Mountain is close, so it saves us a lot of money. There are many other reasons to love Fort Mountain. They have a wonderful campground (no full hook-up though, it's a state park), a beautiful lake, a beach, boats, miniature golf, lots of hiking trails, history, and mystery.

On this particular PB&J Adventure, Pamba, Calbert, and Parker Jon joined the Richardson Tribe for a fun-filled weekend of camping. What you can't tell from the pictures is Daddy, Lainey, and John Micah had a 10am Saturday T-Ball game to attend (Heath had a suspected case of something contagious and couldn't go) Daddy also had a wedding (Nephew John Mark) to go to Saturday afternoon. Also, a bad storm was predicted to hit late Saturday night. We chose to ride-it-out, and I'm glad we did. It was beautiful till well after bed-time, then it began to rain hard with some lightening (nothing too close), but there was no real wind. The kids slept straight through it. I'm not so sure Jon and Pamba slept quite as well. I'm sure that rain was a lot louder on the top of their pop-up.

While at the park, the kids got to swim and play on the beach, and go on a hike around the lake. During their hike, Mommy ran into a friend that was working with a group of people placing signs along the trail. The signs identified certain plants and sometimes their medicinal/therapeutic purposes as used by the Cherokees. Volunteers like these contribute significantly to the state parks here. Most residents and visitors have little idea of the value of educational & recreational resources like this and Georgia's other state parks. We visited the parks so many times last year that we decided to purchase the yearly family membership. Benefits from the purchase pay for the membership almost immediately (free camping or golf, 10% discounts on camping/lodging and gift shops, a free train ride, no parking/entry fees for the year, etc.).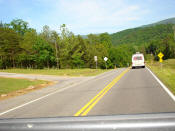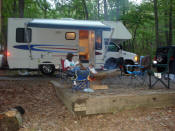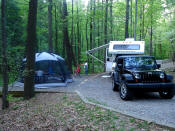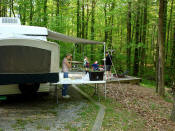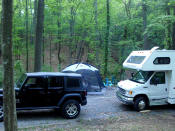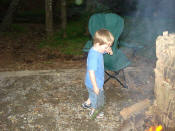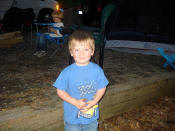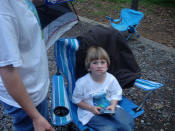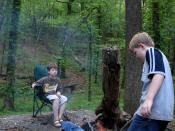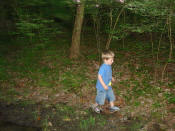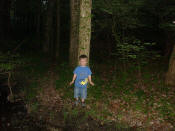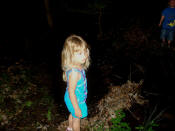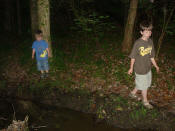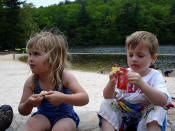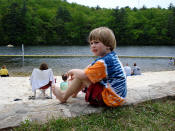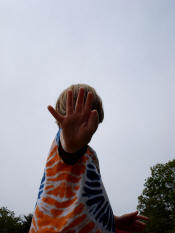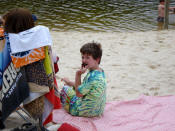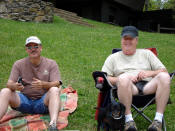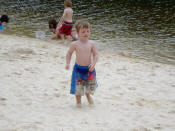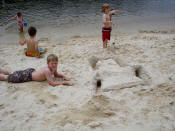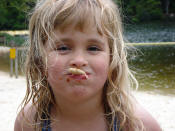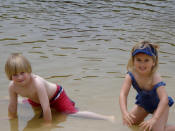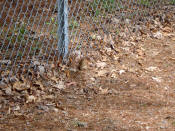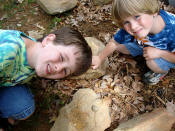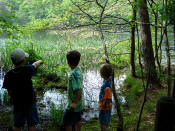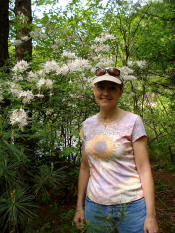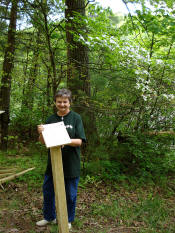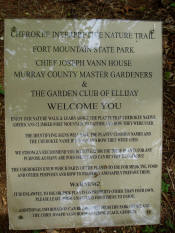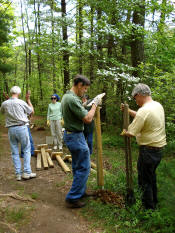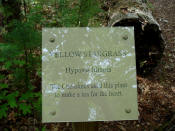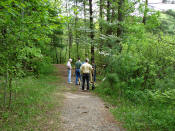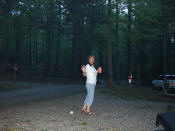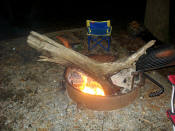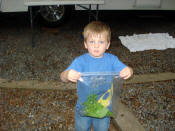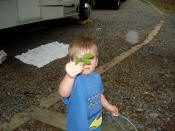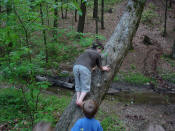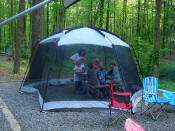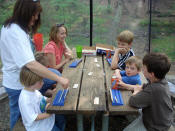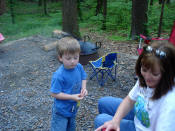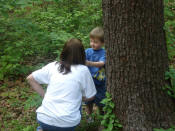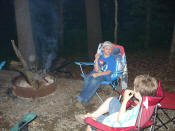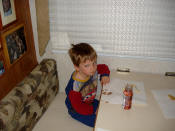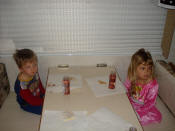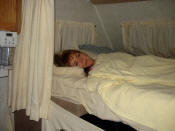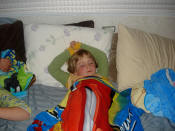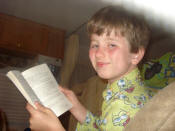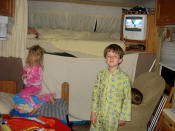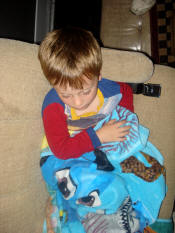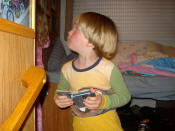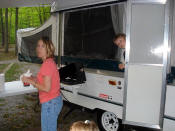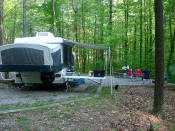 May 7, 2008: Centennial Park/Hard Rock Cafe', Downtown Atlanta (Sorry, no Legendary Creatures)
Some people race cars, others sky dive, we walk around downtown Atlanta at night. In reality, the Centennial Park area feels very safe. It's well lit, and very much a family atmosphere. Mommy was attending a reading conference at the Georgia World Congress Center, and was staying at the Embassy Suites Hotel just a cross the street. So, after school on this fine Wednesday afternoon, Daddy loaded up the papooses and headed for "Big A Town", Hot'lanta, Funk Rock Georgia, the capitol of this great state!

The Tribe spent the afternoon playing in the Centennial Park fountains, then swam in the pool at the hotel (We were disappointed it wasn't a little cleaner). After cleaning-up, we headed-out for the Hard Rock Cafe'. The kids have never been to one, so they really loved the music and the memorabilia, especially Elvis' Harley Davidson Sportster. Exhausted and full, we headed back to the hotel. We came across a playground in front of the World of Coke (which closes at 5:00 pm?). It's just as well because it was going to cost around $70 to walk through a live Coke commercial and gift shop. Anyway, once we were back in the suite, we watched National Treasure 2 until Midnight. The kids were troopers getting up at 5:30am to make the journey back to school. We all paid with a little sleep, but the kids will remember it well.

Note: One thing of interest here is the apparent damage from a recent tornado that ripped through here. Check out the windows in the Peachtree Plaza and CNN Center. I'm very surprised they're not repaired yet.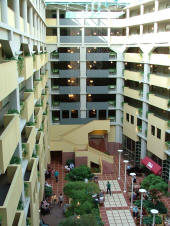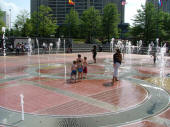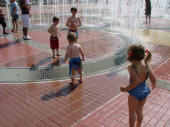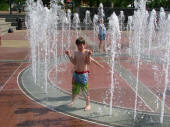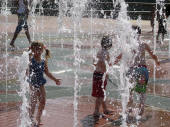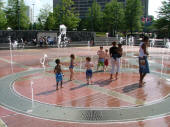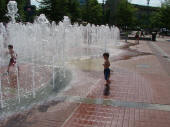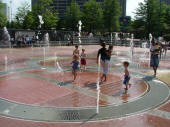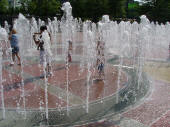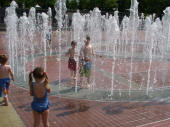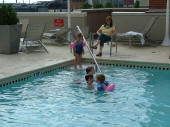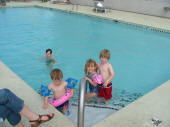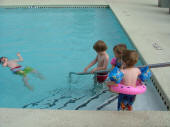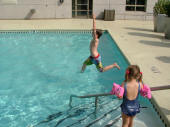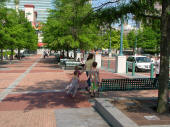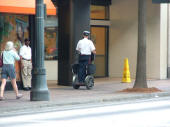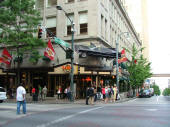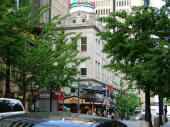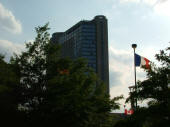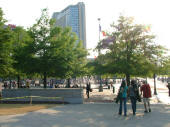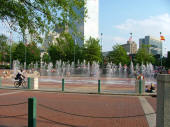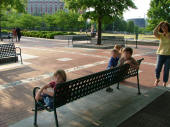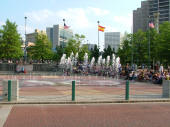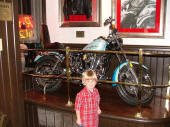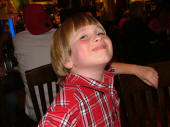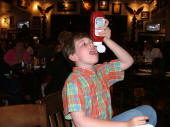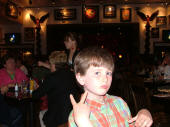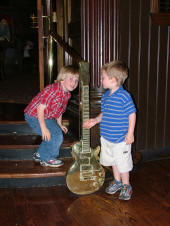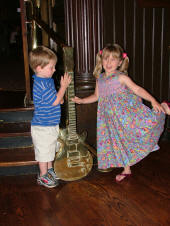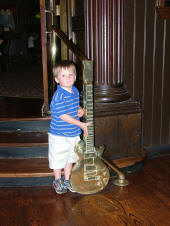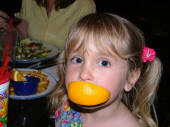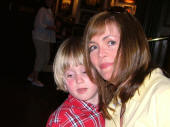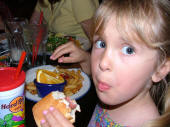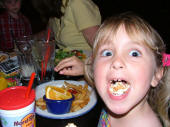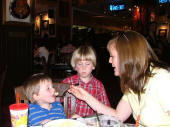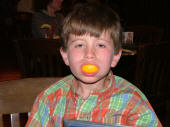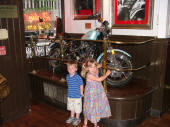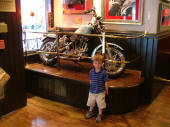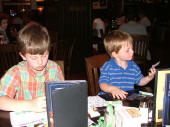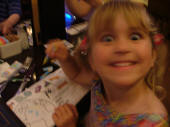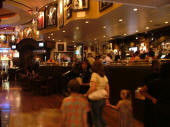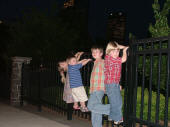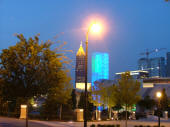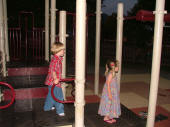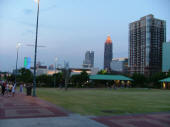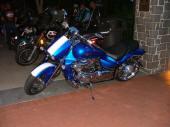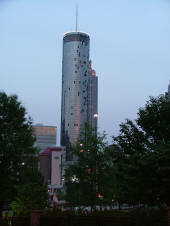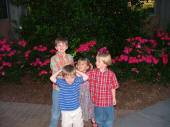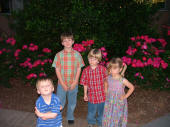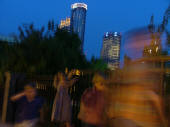 May 5 (Cinco de Mayo), 2008: Dunaway Gap, Near Armuchee, Georgia (Sorry, no Legendary Creatures)
The tribe hasn't been able to go exploring as a family in "Willy B" the Jeep. Unfortunately, the third-row seat Daddy ordered is not due to be shipped until May 19. On this particular week, Mommy had to attend a conference in Atlanta, which meant the remaining Tribe members would fit in Willy. Daddy loaded-up the papooses and took them for an adventure.
In the olden days, Daddy, Charlie Brown (Olivia's Daddy), and Super Dave used to ride motorcycles all over the pocket area and Floyd Springs/Everett Springs Roads. There's an old petroleum pipeline that cut's across a ridge that Daddy used to ride on. One day Daddy, Uncle Mark, and Charlie Brown (Olivia's Daddy) almost "bought the farm" on that pipeline, International Harvester Scout, backwards, downhill, no brakes, rocks, sweat, white knuckles, whew! Anyway, there's a great view to the East and West at the top of the ridge, a great spring for a cold drink of spring water, and the beautiful Cherokee foothill farmland in the Armuchee creek Valley.

As we continued North through Armuchee Valley, Daddy noticed a road named "Richardson". This is near where Paw-Paw grew-up. Maybe we can find a cemetery with some relatives in it near here, but no luck today. We called Mommy on the way home. We sure missed her on this adventure, but soon we'll have the third-row seat and we can all go.