May 17: Zoo Atlanta, Atlanta, GA
We have been members of Zoo Atlanta for several years now. For about what it costs to visit twice, you can get a family membership for all year. From that point on, it's a free place to take the kids year round. It really is one of the nicer zoos in the country. There's a train, a carousel, a rock climbing wall, and a great playground for the kids, a great gift shop, and, oh yeah, there are lots of animals.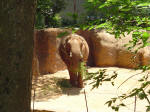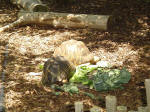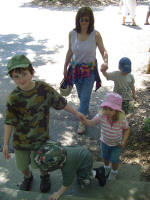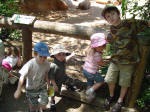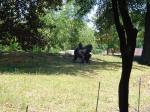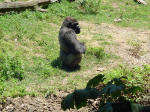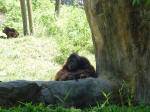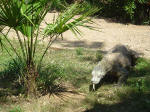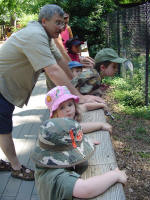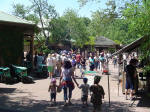 May 11-13 Smoky Mountain Trip
May 11-12: Pigeon Roost Cabin, Pigeon Forge, TN
It's been a while since we stayed at Nanny's and Paw paw's cabin in Pigeon Forge. It's for sale now, so we decided we'd better go up while we still can. Mother Goose, Justin, and Jillian joined us on this trip. Upon arrival, we discovered that there had been a little problem in the downstairs bathroom which made using the basement impossible. No problem! We gave Jillian and Justin one of the upstairs bedrooms, pushed the beds together in the other bedroom for Goose, Mommy, Lee Thomas, and the twins, Heath slept on two chairs pushed together, and I slept on the sofa. The sofa is one that Rebecca and I bought right after we got married, so I'd slept on the couch before, and felt right at home. On Saturday, we got up and headed for Pigeon Forge just in time to see a Shriner parade. The kids had a lot of fun with that. After eating lunch with Justin and Jillian at No Way Jose's, we stopped at the "the Gem Mine in Pigeon Forge to look for gem stones. It's not really a mine. You can buy a bucket of sand and rocks (which are from all over the world and added to the sand). It's a lot of fun for all of us. We got lots of quartz, smoky quartz, and Garnet. After that, we decided to check-out the "ghost town" of Elkmont. That was a beautiful drive and a very unusual place to visit (read the plaque in the picture). What was most appealing was the campground. We've been looking for some good places to camp this summer, and the Elkmont campground has sites right on the river. The water is just a few inches deep with lots of white water. It's a great place for the kids to play. The only problem, NO HOOKUPS! I guess we'll just have to "self contain", and stay for just a couple of nights.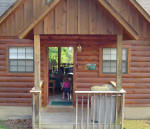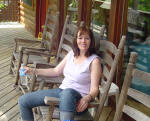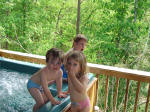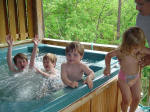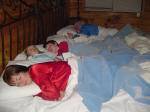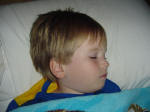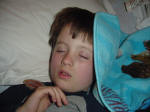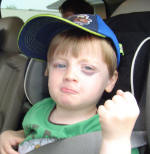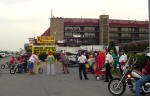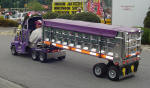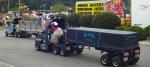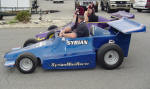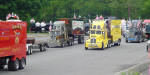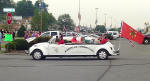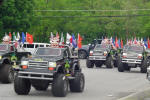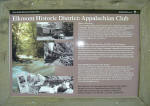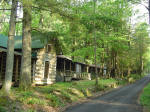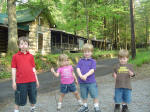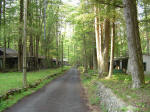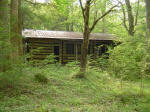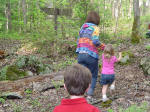 May 13, 2007: Coker Creek, TN - MOTHER's DAY!
As soon as they were out of Bed, the boys and I gave Mother Goose and Mommy their Mother's Day cards, hugs, and kisses. After packing-up and leaving the cabin, we headed home with a new PB&J Adventure planned on the way. Thanks to Google, I had found a little festival in the tiny community of Coker Creek, Tennessee, about 12 miles south of Tellico Plains. There's not enough room to go into the history of this place, but it's worth reading about. Follow my links to learn more. Anyway, it turned out to be a lot of fun. They had live demonstrations on broom making, carving (whittling), china painting, weaving, yarn spinning, and lots more. They also had some awesome Gospel and Blue Grass music, hot dogs, Bratwurst, lemonade, Mayfield ice-cream, and of course, some Gem grubbing. This time we even got Mommy and Mother Goose involved. I think Mommy may have gotten a little of the fever when she found a ruby about the size of the end of her thumb. We also found some black onyx, garnet, smoky quartz, a real nice clear quartz crystal, amethyst, and some other unidentifiable items. The guy said one rock we found was an emerald, but I kind of doubt it. What do you think an emerald the size of a baseball would be worth? The twins got so dirty and wet we stripped them down to their PulI-Ups for the ride home. It was a very nice diversion from the normal trip home, and it seemed the highlight of the trip for the kids. We got home early enough to run Nanny's Mother's Day gift (bird house) and card up to her.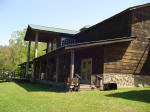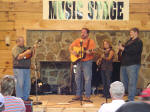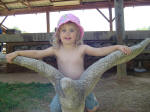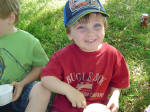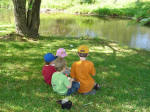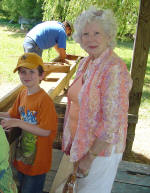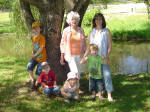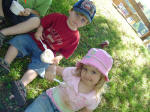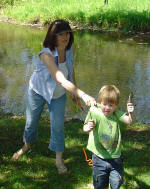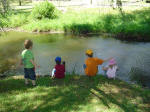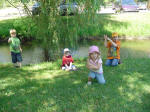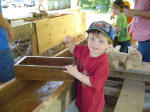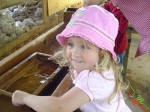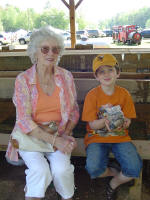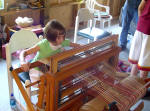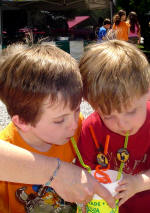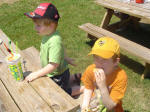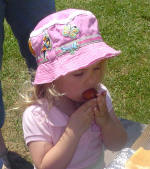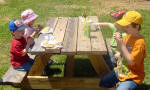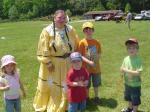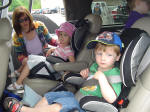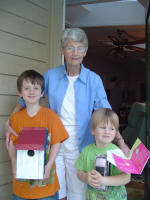 May 4-6, 2007: James H (Sloppy) Floyd State park, Summerville, GA
We decided to return to Sloppy Floyd State Park for a number of reasons. We have been here twice before on PB&J adventures, but we had never camped here. In addition, on previous visits, we had not had the opportunity to partake in some of the activities available at the park. The warmer weather has made fishing and boating more enjoyable. Also, we have become more interested in rockhounding since our previous visits, and this park is a rockhounder's paradise. It's hard to determine what kinds of geological events have happened to cause so many unique rocks to be scattered across the ground, but we're loving the results (lots of agate and quartz). The park is very close to home, so we had some visitors this time. On Saturday, Justin, Jillian, and their dog Georgia came and spent the night in their tent. Mother Goose (Rebecca's Mom), Aunt 'Nett (Rebecca's Aunt), and their dog named Charlie Brown visited on Saturday as well. Heath and Lee Thomas seemed to take an interest in photography on this trip, so some of the pictures were taken by them. I also want to make sure Rebecca gets the credit for the beatiful portraits of the kids in the woods.