July 25 thru 27, Camping at Fall Creek Falls State Park - kinda near Pikeville, TN (sorry, no legendary creatures)
Fall Creek Falls is a great place to camp, and unlike most other state parks, they have full hookups and you can reserve specific sites. They have some great paved bike trails, a lake with boat rental, a recreation center (where we saw a presentation on owls), a big pool, a golf course, horseback riding, falls, tennis courts, and more. With all these amenities, it would be a great place to come for several days.

On this visit, the kids rode their bikes almost constantly. Lee Thomas, Heath, and Cal rode the full lake trail and the falls trail(almost 5 miles). The twins rode to the falls and back to the car (about a mile), then rode in the doodle bug behind Daddy for the following 4 miles (Daddy's legs are still tired). After we got back to the campsite, they continued to ride, and ride, and ride. Heath had three little girls swooning over him at the campground, but they were very sweet to Lainey too. They have no bears at Fall Creek, but there were almost always dear around. They would almost walk right into our campsite. They have no shortage of squirrels and chipmunks either.
Note: There are some negatives with Fall Creek Falls' campgrounds. While many of the sites have been updated, some are kind of run-down. For instance, our sites were, for the most part, bare dirt. That sure makes it hard to keep a camper's floor clean. Most of the sites are not level either. You can probably see from the pictures how much jacking and shimming was necessary to get Homer close to level, and the Parkertops had even more of an issue with their camper. One thing that struck me was how much time and money they have spent upgrading campground A. It's beautiful. New landscaping, a new playground, and a nice smooth cap for all the inner roads. the clincher is that the sites still slope off like a barn roof. Yeah, we like Fall Creek Falls, but we still think that Georgia's parks rule!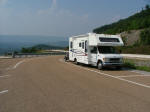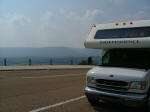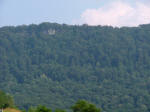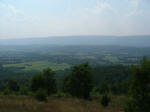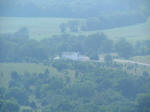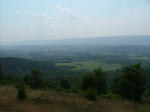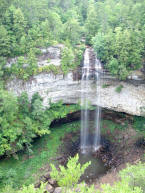 July 10 thru 13, Camping at Fort Mountain State Park & Cal's B'Day (Sorry, no Legendary Creatures)
Here we are again, at Fort Mountain having fun. We celebrated our friend Cal's birthday on this trip, and Daddy kind of took a vacation from the camera. Ranger Ruby was there, so we were able to pan for gold for a while. As usual, the weather was a little cooler on the mountain, and a few rain showers helped cool it off even more. On Sunday, after we broke-down camp, we went for a ride on Grassy Mountain in Willy B the Jeep. It's so green and crisp on the mountain after a rain.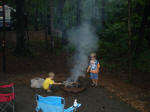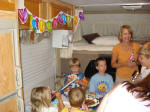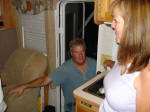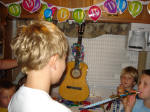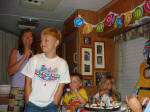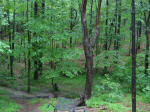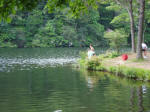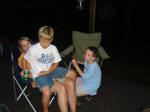 July 2 thru 6, 2008, Camping near Gatlinburg, Tennessee (sorry, no legendary creatures)
This trip originated because our very good friends Dixie and Larry finally decided to tie the knot. Some people go to Vegas to get married, around here, people go to Gatlinburg. We enjoyed the trip although we didn't do a lot of the things Gatlinburg and Pigeon Forge are famous for. We walked through town, bought goodies and candy, and did a little gem grubbing at one of Gatlinburg's indoor "touristy mines". We rode up to Newfound Gap with the top down on the Jeep. It's amazing how much the temperature drops going up the mountain. This is July, and the kids needed blankets to keep warm. All in all, the time we spent there was enjoyable. We had dinner at the Alamo Steak House after Dixie's and Larry's wedding. It was a lot of fun to visit with their families.

The campground, uh, RV park:
Unlike most of our camping trips, we stayed at a commercial RV park as opposed to a state park. There are trade-offs in both scenarios. At state parks, the sites are usually large and very "woodsy", you know , like you're camping. However, with very few exceptions, there is no full hookup (sewer) available. Commercial campgrounds, on the other hand, offer full hookup sites, but they try to crowd as many people into the campground as possible resulting in very tight "RV sites" (notice I didn't say "camp sites". On this particular trip we stayed at a place called "Camping in the Smokies". Let me first say, the RV park was meticulously maintained. The pool was clean, and the people there were extremely helpful and friendly. On the negative side, the sites were extremely narrow which means our neighbor's sewer hose was about 3 feet from our picnic table which was about 3 feet from the side of the camper. There's a creek that runs along one side of the campground, and we had one of the creek side sites. The kids played in the creek the first day, but after spotting snakes several times, they tended to keep out of the water. We scouted out several other campgrounds while we were in the area, and found one or two that we might consider on our next trip. One in particular is a campground formerly called the "Crazy Horse", but it is now owned by "Adventure Bound Resorts". This campground has all kinds of things to do like a water slide, pool, game room, and a trout pond.
Now, the bad part! We left the campground in Gatlinburg around noon, and got home after 5pm. That's because we were stuck in bumper-to-bumper traffic from the beginning of Pigeon Forge, through Sevierville, all the way to the Interstate 40. It took 2 hours to travel about 20 miles. I recommend coming through Townsend and Wares Valley. We didn't this time becasue we were pulling the Jeep.