July 28- Gordon County Parks and Recreation Facility East, Sonoraville, GA (just outside Calhoun)
Lee Thomas learned how to ride his bike without training wheels while I was in Kentucky (see below), and I wanted to see him ride. Mommy suggested that we go out to the new recreation facility located by the new Sonoraville High School. The facility is very nice with two very nice playgrounds, a football field, softball/baseball fields, tennis courts, and lots of other nice amenities. It was overcast, so we were the only people there with the exception of a couple of kids on skateboards. The facility is very very nice (although the water fountains didn't work and the grass hasn't really taken hold yet). I'd really recommend using this facility before everyone else discovers it!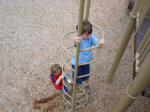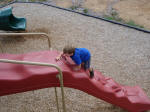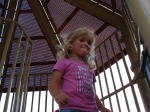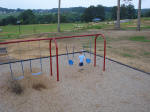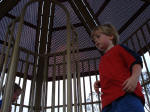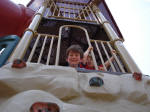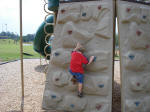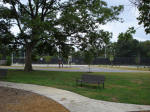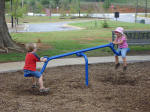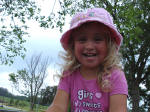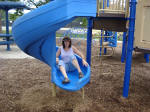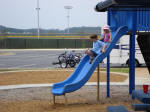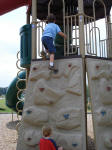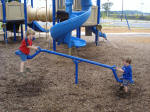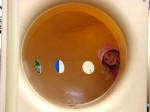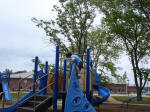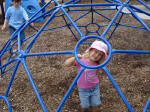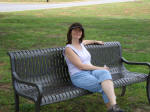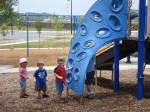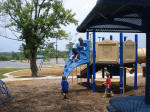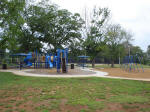 July 22-25 -Daddy's PB&J Scouting Trip- Cave City and Louisville, KY and Charlestown, IN
I took Homer on this business trip because I'm tired of hotels and I wanted to investigate possible PB&J sites for future trips. It's really difficult to judge a campground based on a website description, so I wasn't certain where I was going to stay until I got there. I had researched Charlestown State Park in Indiana, but the website had no photographs and a terrible description. What I found was very interesting. It's about a half hour from downtown Louisville, Kentucky, and it is relatively easy to get to. When I got to the park, I was surprised to find hardly any other campers there at all (see pictures), but then, it was a weekday. Actually, the closest neighbors I had were a couple of wild turkeys. The park borders the Ohio River and is part of a several thousand acre former National Guard arsenal. Prior to that, it was all farm land. The trees are all relatively small since reforestation has only been taking place for a short time. There may be old tree stands, but I didn't cover the entire park. To make a long story short, I felt like I was in the wilderness with only the sound of coyote pups, wild turkeys, and various other wildlife in the evenings. Other than a bath house and a boat ramp (distant), there really are no other amenities there. There is fishing and hiking though, and Louisville (Kentucky Derby, Louisville Slugger Museum and Factory, etc.) is relatively close by for day trips. The inner roads are very level which means the kids would have an easy time riding bikes. I really enjoyed the place and would love to take the family back for a PB&J Adventure. Also, being about 6 hours from home, this would also make a good waypoint for a longer trip up north. All in all, a big thumbs up from me, I hate crowds! (see my review of the next campground I stayed in below).



320 degree panoramic view from my campsite - Charlestown State Park, Charlestown, IN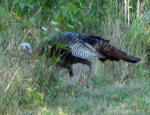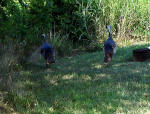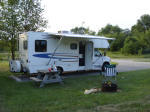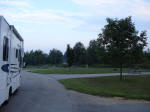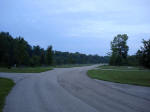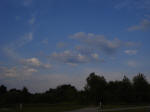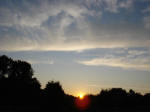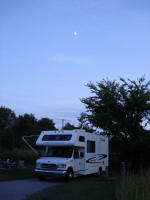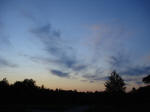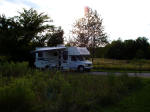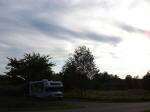 Jellystone Park near Mammoth Cave National Park, Cave City, Kentucky
I wanted to check out the Mammoth Cave National Park for future trips. I stopped in Cave City, KY and stayed at the Jellystone Park campground. When will I ever learn! Cave City is kind of neat, like a Pigeon Forge from 30 years ago. Go carts, Dinosaur Park, gem grubbing, rides, it has all the stuff the kids would love. Jellystone is probably not where we'll stay when we return though. It has lots of amenities for kids. A pool, fishing pond, game room, hey hey hey rides (get it, Yogi), horse carriage rides, movie rental, etc. You can even rent golf carts there. The negative? It's a typical crowded RV park/campground with poorly maintained roads and sites populated by run-down trailers and lots of kids. I wasn't there long enough to really check out other campgrounds or Mammoth Cave National Park. There certainly are lots of caves in the area, cool rocks, fossils, and a national park making it worthy of a future visit.


320 degree panoramic view from my campsite - Jellystone Park, Cave City, KY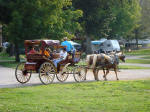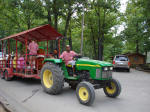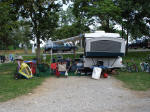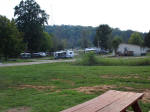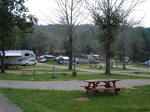 July 13-15, 2007- Antioch Lake-Rocky Mountain Recreation Area, Rome, GA
We found this great little park while exploring on another PB&J Adventure. We had driven by the sign several times on the way to Sloppy Floyd State Park, and decided to investigate. It is co-owned by Oglethorpe Power and Georgia Power, and they use the lakes (Heath and Antioch) and a reservoir on top of the mountain to generate electricity during peak hours. The campground is relatively small but very nice. If you're lucky enough to get a lakeside campsite, you can pull your boat up on the shore right behind your camp. They also have a playground and a beach. The paved inner roads are relatively level, so the kids could ride their bikes as well. We started off on Friday without Lee Thomas because he was going to a birthday sleepover at Calberts. It was strange not to have LT with us, and Heath as especially sad. we decided that this would be the weekend that John Micah finally gets potty trained. We used the "treasure chest" rewards method, and it worked well. I think he spent as much time on the potty as he did doing anything else. On Saturday I got up and put Paw Paws boat in the lake. Pamba and Parker-John brought Lee Thomas and Calbert early in the afternoon, and the Driscolls came soon after. We fished in the boat and swam at the beach all afternoon. When we returned to our campsite, we were pleasantly surprised to discover that the Browns and Bishops had also come to visit for the evening. Now we had a nice little crowd (20) to celebrate Calbert's 8th birthday (Sunday, July 15). We ate hotdogs and s'mores until we could eat no more. We headed home on Sunday.

Note: Super Dave and his family went on a scouting expedition to check-out Fort Mountain State Park for future PB&J Adventures. They delivered a sparkling report and we intend to camp there sometime in August. We have actually camped at Fort Mountain before, but Lee Thomas was only a few months old at the time.