NOTE: March '09 - March was filled with showers of flu, strep, and pneumonia with some scattered fun, but nothing that would really qualify as a PB&J Adventure, so we skipped straight to April.
April 24 thru 26 - Fort Mountain State Park
There's not a lot we can say about Fort Mountain that we haven't already said. It's a beautiful park with a great lake, beach, miniature golf, trails, and campsites. Ranger Ruby isn't working yet, and the concessions and boats aren't open yet, but we still had a lot of fun. Daddy, Cal, Lee Thomas, and Lainey (for the most part) rode around the lake where they saw two non-venomous snake. Everyone else walked and missed the snakes cause Daddy and the boys scared them away. The kids went to the beach and swam in the very cold water, and got a little toasty too (shame on you Daddy). We spent time at the playground where we met some new friends that played "freeze tag" with us. we spent a lot of time playing in the little creek behind our campsite looking for salamanders and frogs. Our friend Pamba made some yummy breakfast (mountain man breakfast. wasn't clear if there's real "mountain man" in it or not) and later some really really good peach cobbler in the Dutch ovens. After we packed up and went home on Sunday, we all loaded in Willie B (Jeep) and went for a ride through the pocket area. BEEEAUTIFUL DAY!

April 18 & 19 - Bug-a-Paluza and Chester frost Park - Chattanooga, Tennessee
Well, we'd planned on skipping a weekend before camping again, but Mommy learned that the annual Bug-a-Paluza was happening this weekend, and we couldn't really miss it. We packed up Homer, threw Herbie on a trailer, and headed out. we originally set-up camp in the parking lot at Camp Jordan, the location of Bug-a-Paluza, but changed our minds pretty quickly. Aunt Donna suggested we check out Chester frost Park north of Chattanooga. S, after meeting-up with Super Dave, Carly Sue, Diana, and Carson and eating a hardy lunch at Logan's Roadhouse, we headed for the park (Congratulations to Diana who has won like the Intergalactic Supreme Super Duper Cheering championship, or something like that!).
Chester Frost was awesome. Unfortunately, the battery on the digital camera was dead, so Daddy was only able to take pics with his Blackberry, but trust us, it was really beautiful. A real bonus was the abundance of fossils and shells which the Tribe's yunguns like to collect. They also have a beach, wonderful playgrounds, nice sites with a view of the lake, etc. Only negative (not counting no sewer) is the fact that they do not take reservations. How can we ever plan a camping trip here when we don't even know if we'll have a place to park our camper?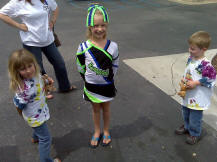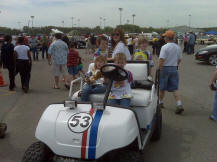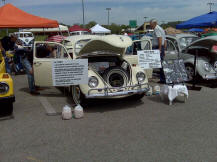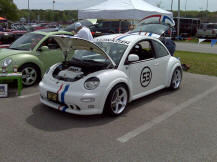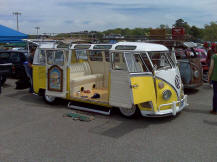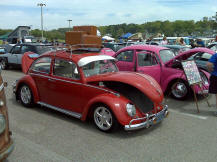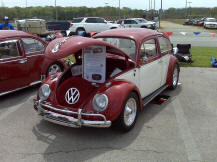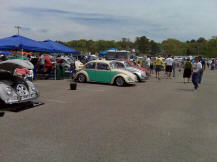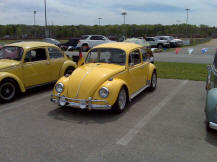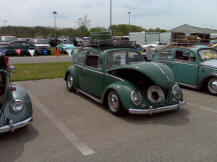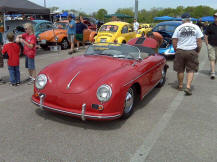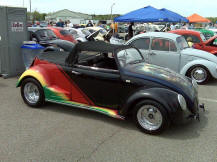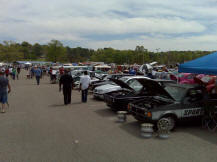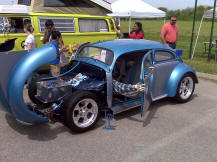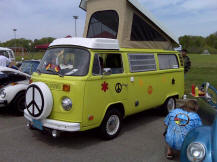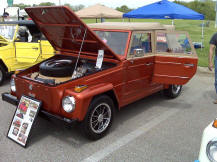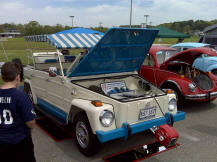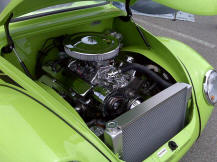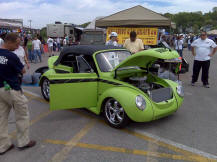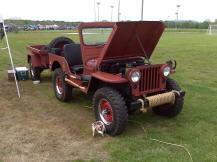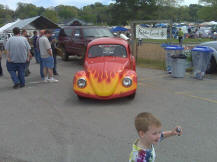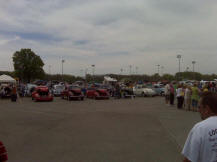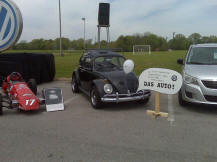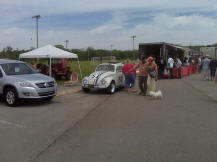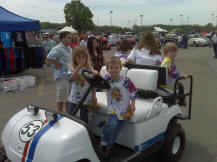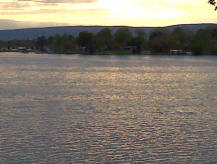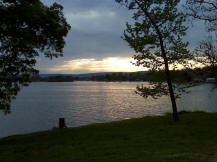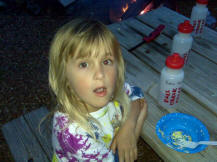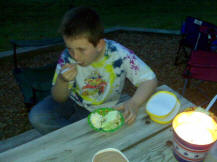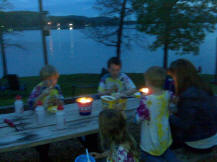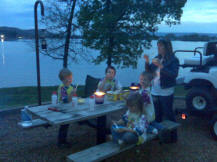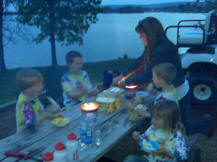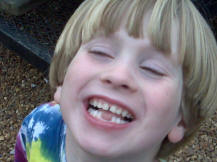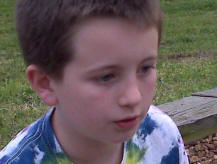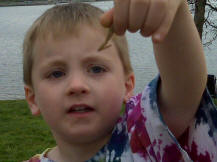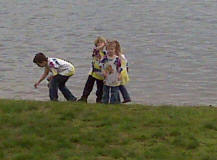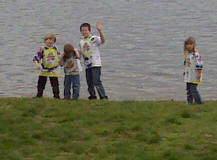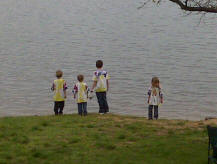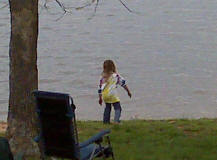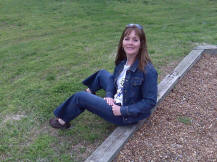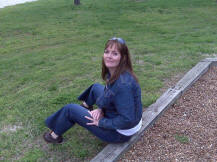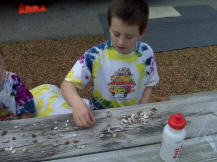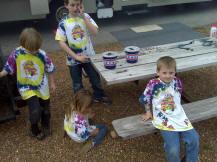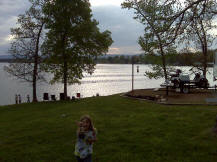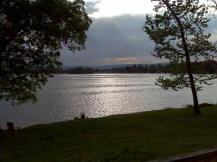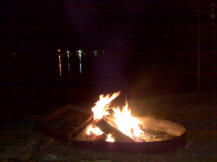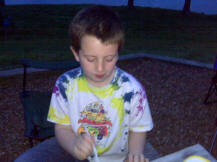 April 8 thru 12 - Spring Break (including Easter Sunday) - Desoto State Park, Mentone/Ft Payne, AL
Well, we had a new Homer, and Desoto had a new campground, so we put the two together for a weekend of fun. Pamba, Parker Jon, and Calbert joined us for the weekend that included a drive through the "Little River Canyon", cooking by fire, dyeing Easter eggs, riding bikes (a lot) and Easter egg hunting It was our first time staying in (even seeing) the campground at Desoto. we have plans to come back, but now we know where the good sites are (we weren't real happy with our pull-through site this trip). We also enjoyed crouching down in the country store waiting for the tornado to pass too!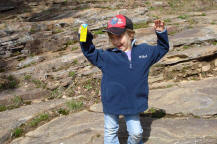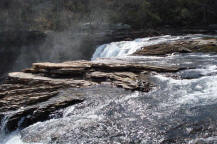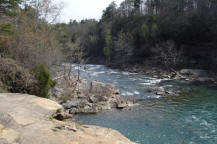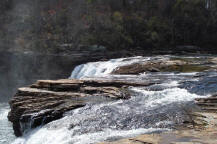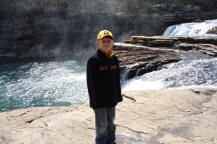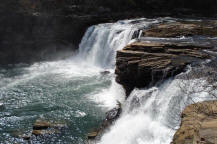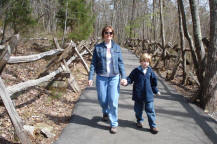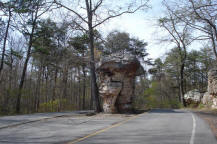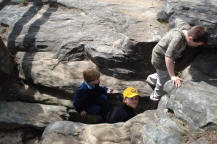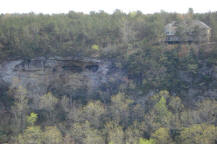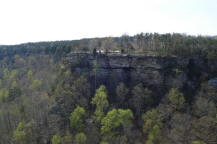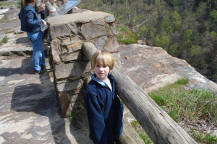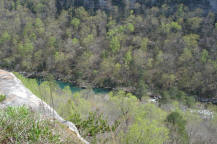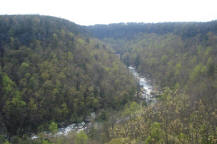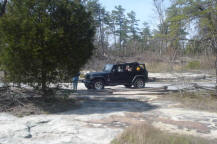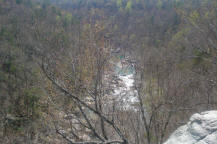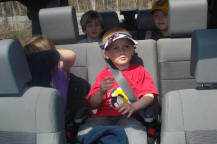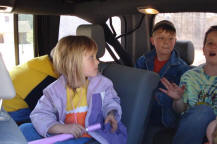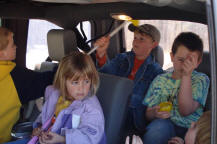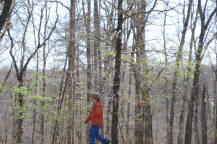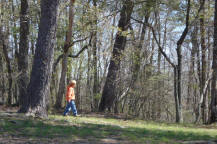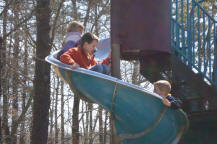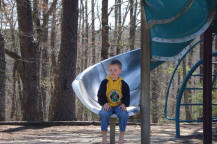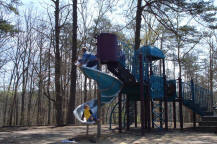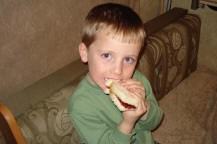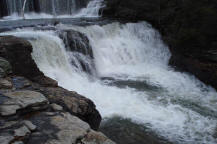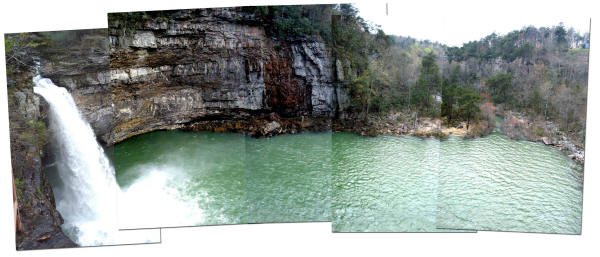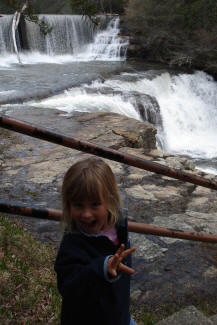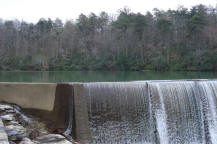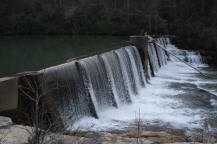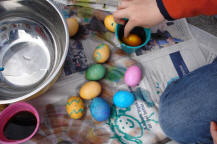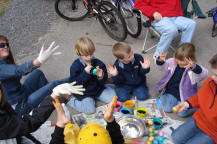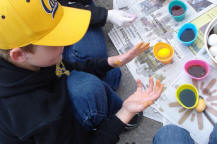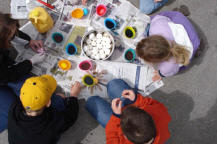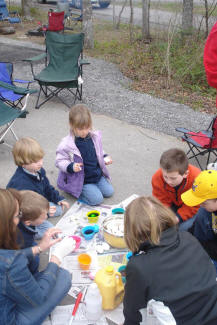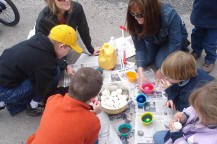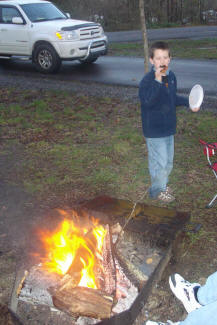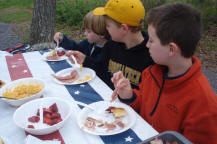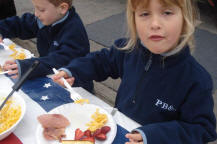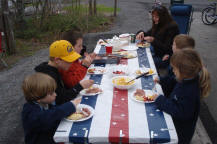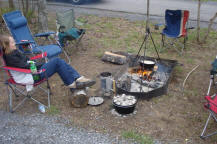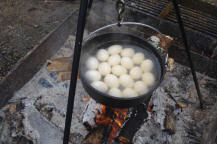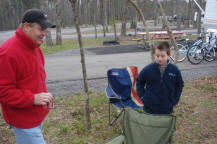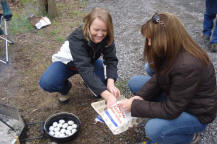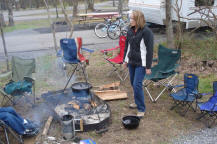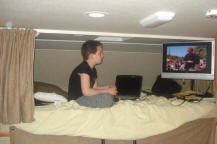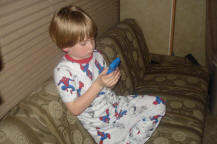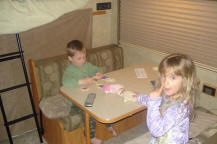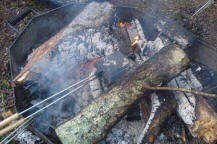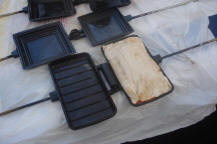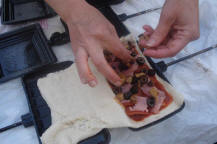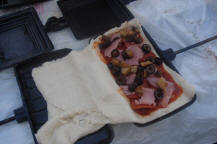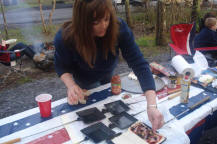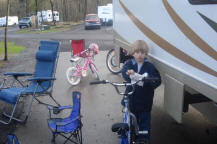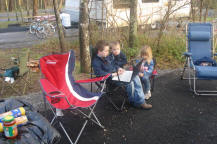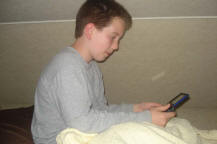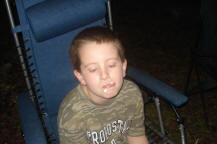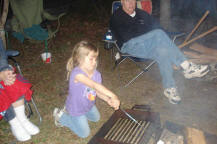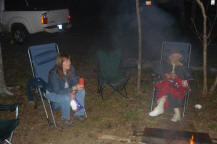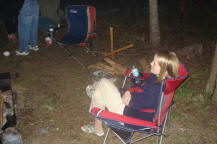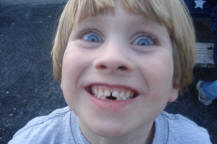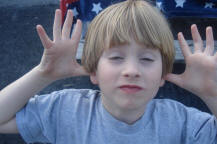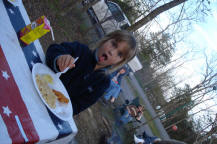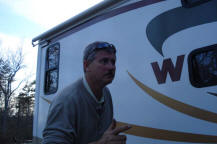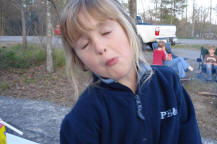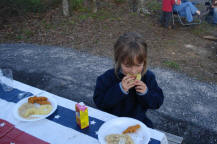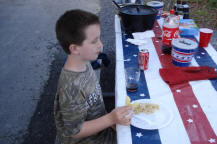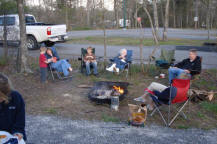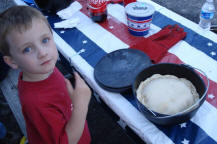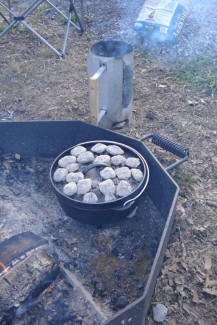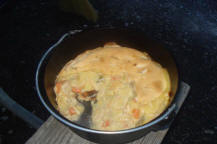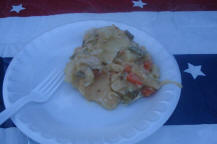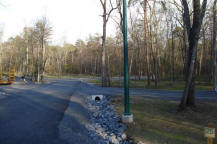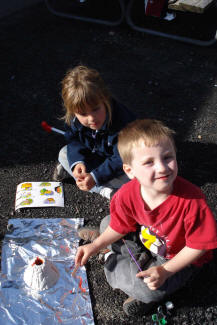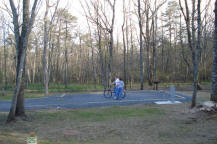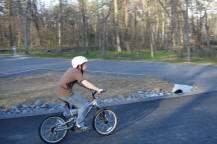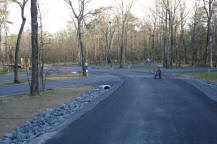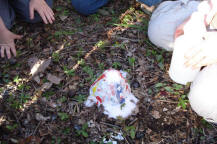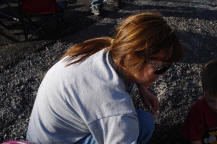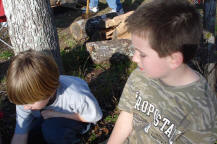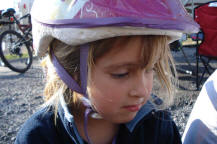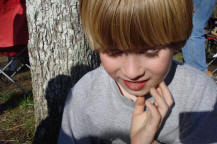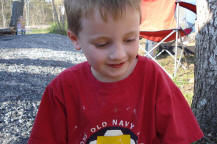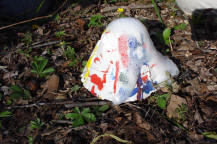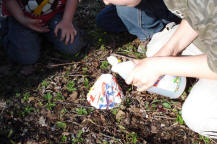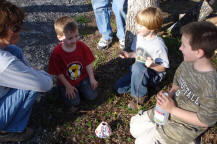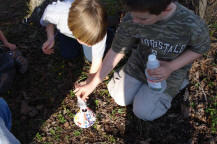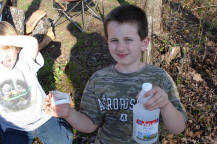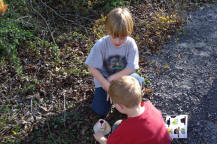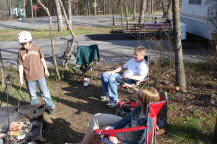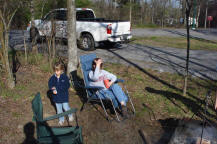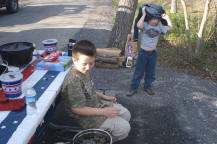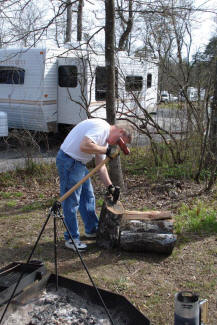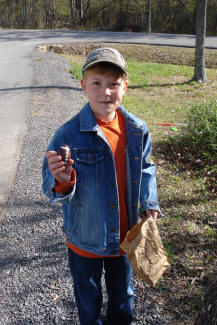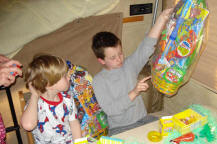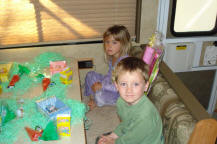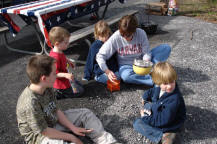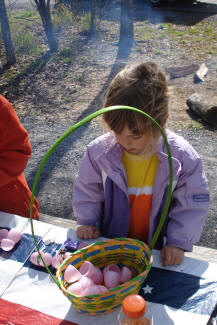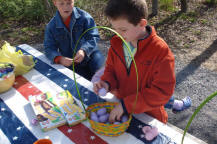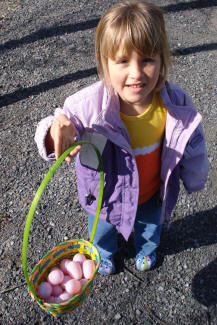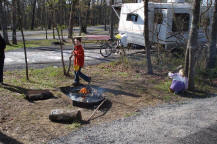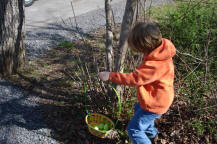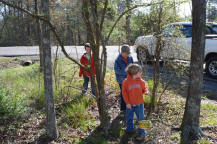 April 3 thru 5 - James H (Sloppy) Floyd State Park - Summerville, GA
Note: LT accidentally erased the pictures from Sloppy Floyd, so all Daddy has left are the Blackberry Pictures. This was our first real camping trip (Daddy doesn't like to talk about the KOA adventure), and it was an adventure. We've been here many times before, but this time was extra special. Almost everyone had a new bike, and they wanted to ride a lot. we also went for a nice ride/hike around both lakes, and to the old marble mine too!