November 27 thru 29- Sloppy Floyd State Park
After eating Thanksgiving lunch with the extended Richardson Family, the Tribe headed for James (Sloppy) Floyd State Park near Summerville, Georgia. Friday was beautiful, but Lainey had gotten sick during the night, and Mommy had to take her to the doctor. The rest of the kids played at the campground while we waited for Mommy and Lainey to return. Our campsite was great! We had a nice long driveway back to our site located just behind the playground. We could literally sit by the fire and watch the little guys play. The park is located on the West side of Taylors Ridge which is rich in geological and natural history. The ground is covered with agate, and a variety of fossils and geodes can also be found. We spent the afternoon picking up fossils on a nearby fire service road with Pamba, Calbert, and Parker Jon (also camping with us). We bagged hundreds of specimens between us. That evening we had a wonderful "left-over" Thanksgiving supper (better the second time around). We prepared our ham in our biggest Dutch oven, and it smelled great at the campsite! We watched "Meet Dave" on the big TV outside the camper (under the awning) and turned-in as the rain began. It rained all night, but we decided to try to stick it out.
Saturday morning we took a drive up to Mentone, Alabama, then over to Desoto State Park near Fort Payne. They are in process of renovating the campground, and it looks like it's going to be awesome! Full hookups with cable. Man, we like to rough it eh? On the way back to our camp site, we stopped in Mentone and had coffee, hot cocoa, and cake at the Wildflower Cafe. A very talented man was pickin' and singing mostly 70's ballads, very well I might add. I noticed a framed photo on the wall, then noticed lots more, all by Paul Shoffner, a very (very) old friend that Daddy used to play in a band with. Daddy had to call Paul and let him know we saw his work.
The rain continued, so we decided to pack-up and head home Saturday evening. That was ok, because we'd had a very fulfilling trip, and we really needed to decorate for Christmas.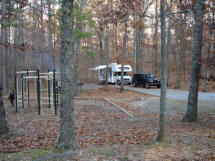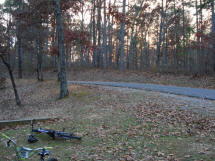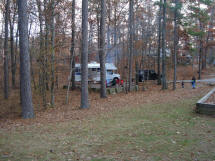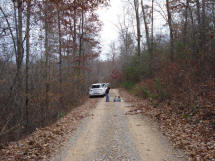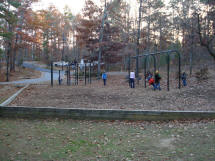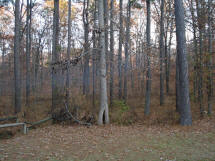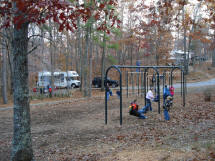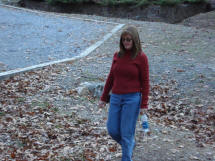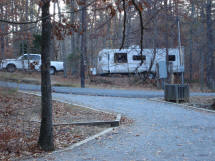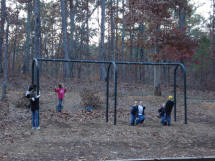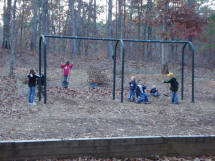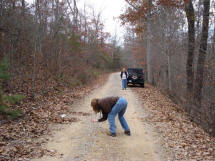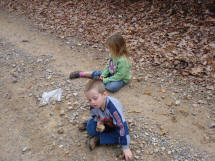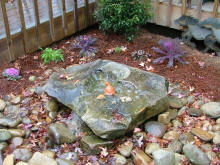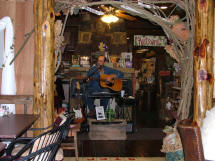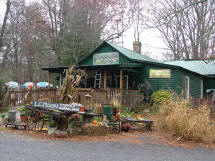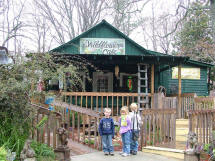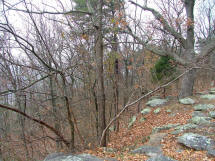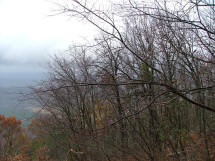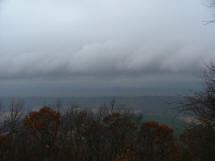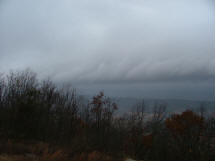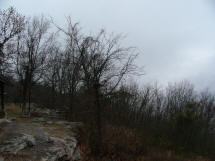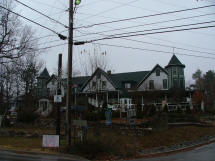 November 21 thru 24- Enota Mountain Retreat - Hiawassee, Georgia
We heard about Enota from one of Mommy's friends at work, so we decided to check it out. It's located near Hiawassee, Georgia, home of the Georgia Mountain Fairgrounds (and some more great camping sites). Enota is a privately owned non-profit preserve, formerly a Scout camp and YMCA camp, Overall, this was an awesome place. Some of the old abandoned buildings, cars, and campers need to be removed, and some of its features need to be updated, but otherwise, we give it a 10.

The RV sites are on a beautiful little creek and feature full hookups (no cable) and a private deck. It was around 10 degrees when we woke-up on Saturday morning, so the edges of the creek and surrounding vegetation were all icy. We put on our long-johns and layers and went to the lodge for a hot breakfast. The lodge was a little chilly, but the breakfast was yummy! We were one of just a small number of families camping this weekend, so we got a lot of personal attention. There are a number of rescued animals, including a couple of squirrels that the owner showed the kids. The retreat grows its own organic veggies in the summer, and the milk you drink in the lodge comes from their cows. For the kids, there are ground-level trampolines and a play set. All need some maintenance, but the kids didn't care. We drove into Hiawassee for some supplies, an extra space heater, and to check out the Georgia Mountain Fair campgrounds. They look great! When we got back to camp we hiked to a beautiful waterfall. See the pictures of the falls with ice...beautiful!
On Sunday, we drove to the top of Brasstown Bald, then headed for Helen for supper at Paul's Restaurant. The service was awesome, the food was ok, but two steaks, tea, and kids food shouldn't have cost $100.00. We paid $10.00 just for the kid's drinks. At any rate, we really enjoyed walking through Helen for a change. It looks like a lot of remodeling has happened recently, and the tacky little town is actually getting kind of nice. The architecture enhanced by the Christmas lights was a very pretty sight.
Note: If you're used to staying in "RV parks", this place may seem primitive. It can handle a big rig, but barely. The inner roads are dirt and rock, so bikes for little kids are tough. If you like good hikes, clean air, good company, convenient location, and a "Tree Hugger" (no offense) atmosphere, this is the place for you and your VW bus, or 40' Gulf Stream.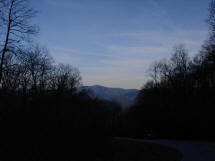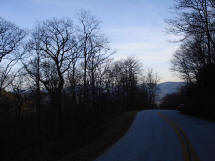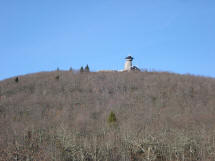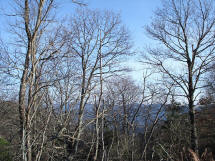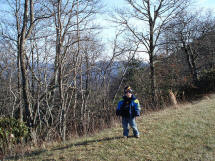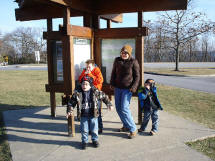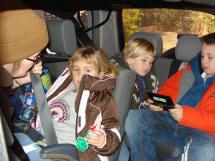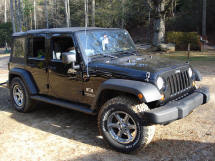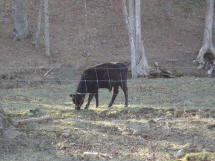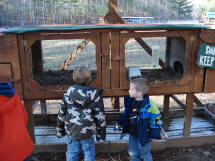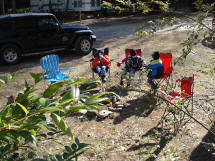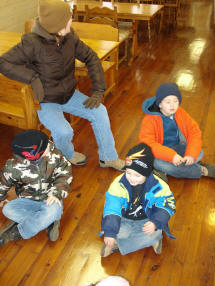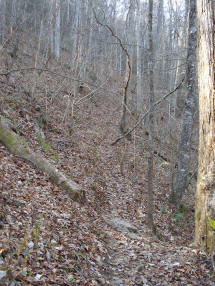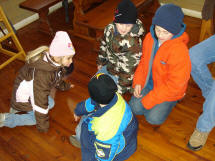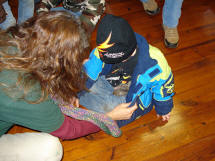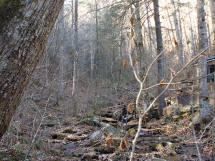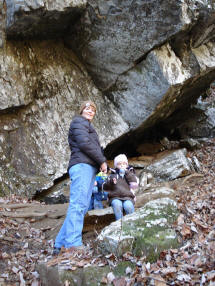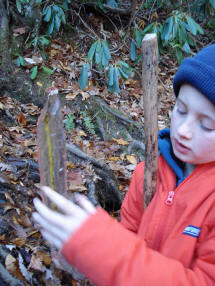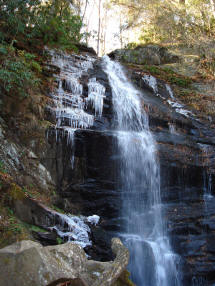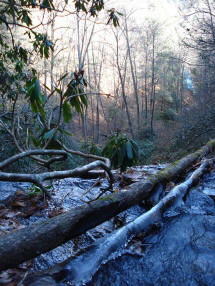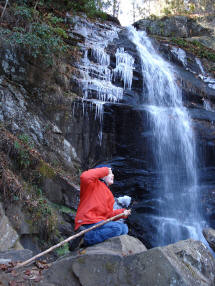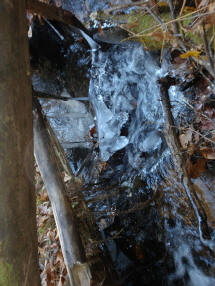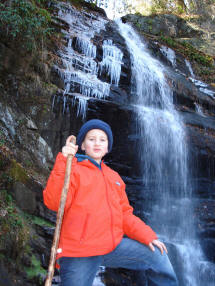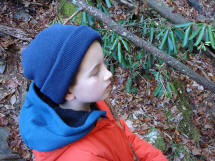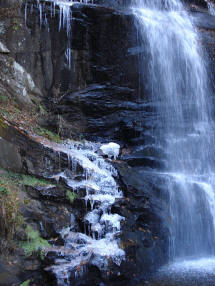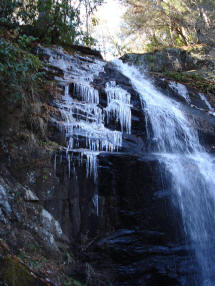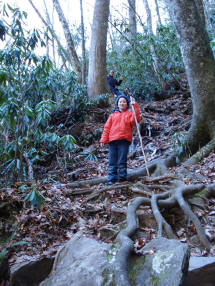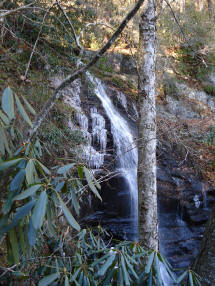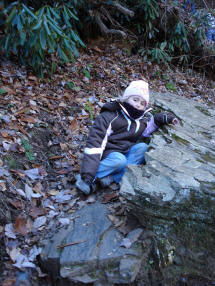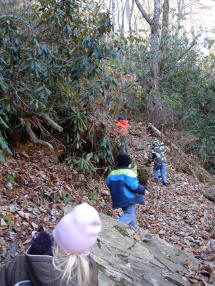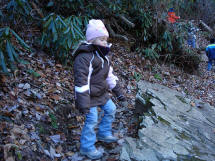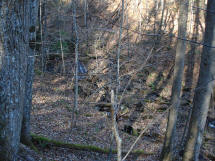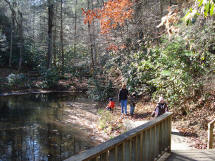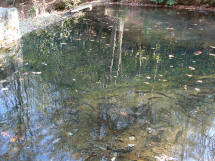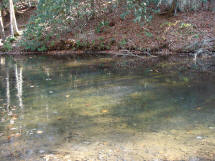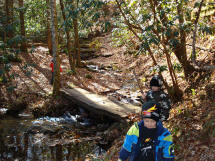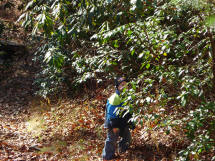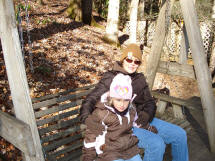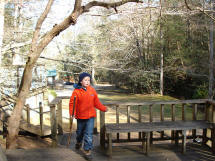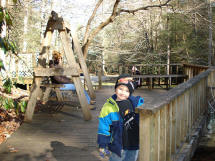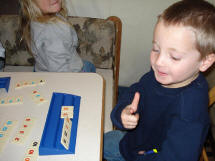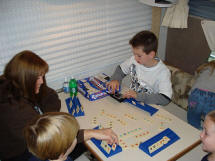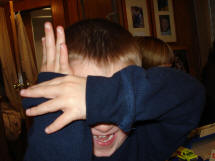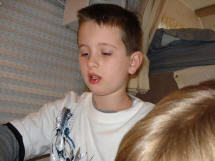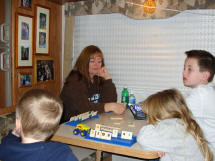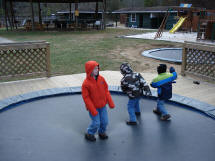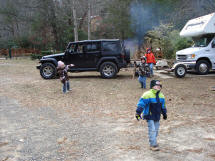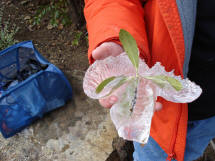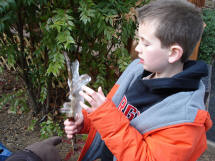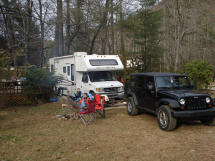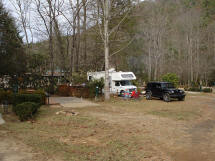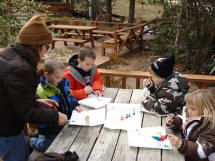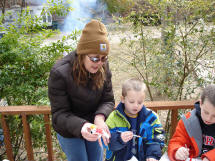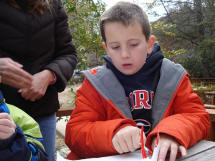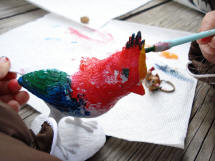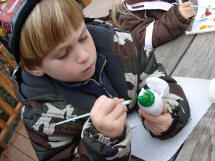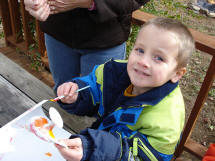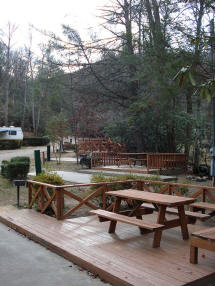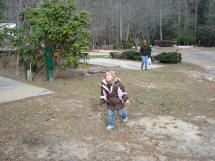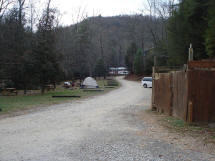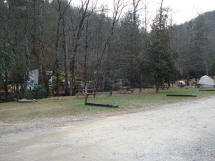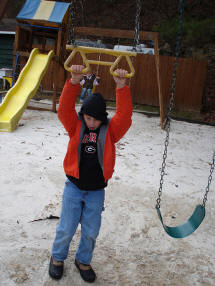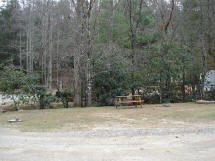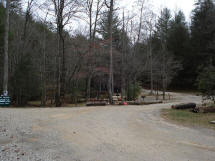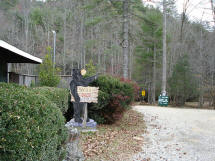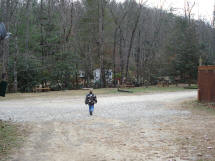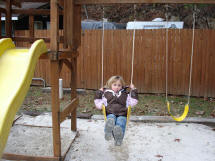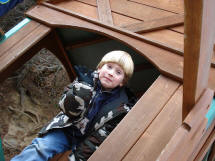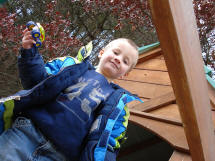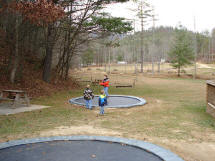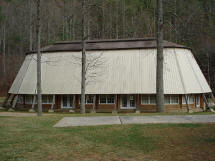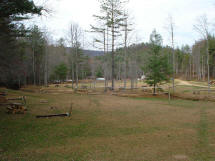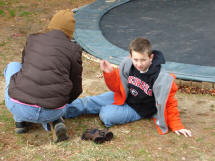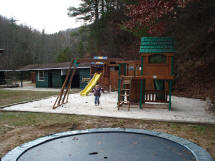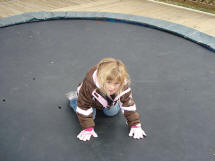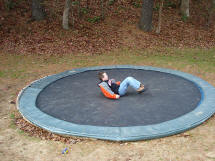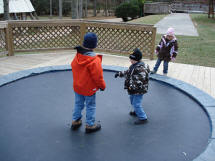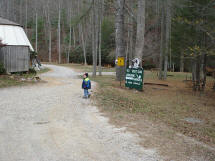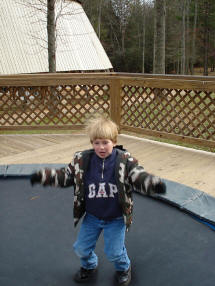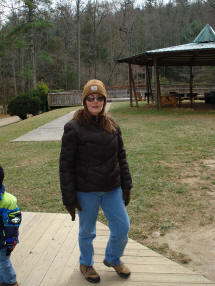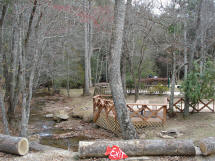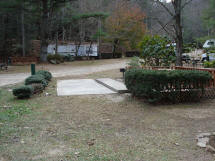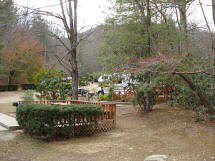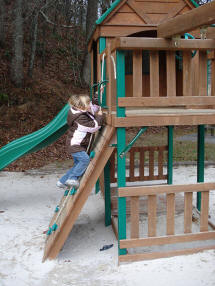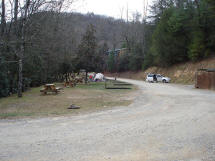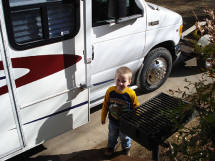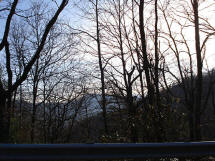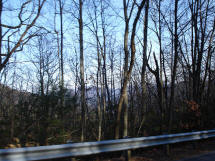 November 1 thru 2- (See October 31) Halloween Camping at Fort Mountain State Park - Chatsworth, GA
Well, as usual, we had a wonderful weekend of camping, hiking, eating, and generally decompressing at Fort Mountain. The weather was clear and sunny with the days peaking around 67 degrees and the nights dropping to the 30s (prefect for a rip-roaring fire). Pamba, Calbert, and Parker Jon joined the Tribe for camping and Halloween fun on this fine weekend, and Aunt 'Net, Eleanor, Mother Goose, Nanny, and Paw Paw came to visit on Saturday, just in time to enjoy our first Dutch Oven desert (apple crisp). The kids Trick-or-Treated in the campground which resulted in a lot of candy consumption. We went on a couple of nice walks, and hiked a trail we've never been on; Big Rock Nature Trail. It was a relatively short, but brisk hike with lots of great views. There is a 400' cascading waterfall (in non-drought situations). Daddy noted that the cracks and crevices in the ancient creek bed may have some gold lodged down in them, so next time...