August 25 - PB&J Adventure - Rockhounding for Agate - Summerville Rock Quarry, Summerville, GA
We bought our friend Calbert a rock tumbler for his birthday, so we invited him, Pamba, and John to take a short trip over to Summerville for some agate hunting. There's really not much hunting to it. It's everywhere. We also took our new dog along for the ride. We were trying to come up with a name that reflected our love for rock hounding. We came up with Roxy.
We wanted our friend Emily to come too, but she couldn't today. She's going top come swimming tomorrow at Nanny's and Paw Paw's though.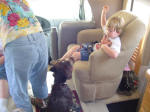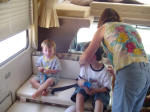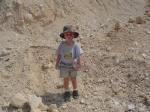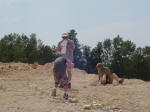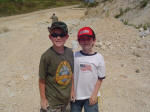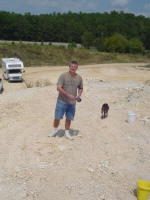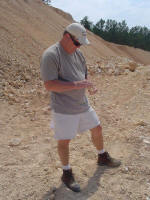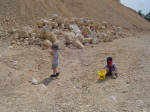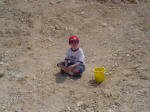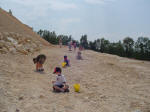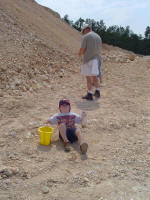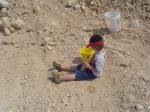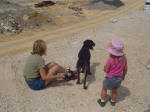 August 17 thru 19- PB&J Adventure - Fort Mountain State Park - Chatsworth, GA
With daily temperatures over 100 degrees, I wanted to head for a higher altitude. Fort Mountain is not far from home, and the park is a couple thousand feet up, so it looked like a great short weekend adventure. On average, the temperature on the mountain is about 10-12 degrees cooler. Super Dave and Carly Sue, along with their yunguns camped in the next site over. We had the best sites on the lake. Mark and Olivia came up to visit as did Mother Goose and Aint 'Net. The kids got to see a snake presentation, we heard live music, we played at the play set, we went to the beach. we hiked around the lake, we rode bikes, we did lots! But we just didn't have time to do everything. Fort Mountain is another of Georgia's wonderful parks with sooo much to do. We really want to make the trip again soon, perhaps in a month or so when things are starting to cool off. We want to hike to the wall and tower, and see the other overlooks. We want to pedal boat and fish some more. There is horseback riding right down the road, and miniature golf right there at the park. As usual with Georgia parks, the campsites were huge, well spaced, clean, and level. There is electricity and water (no sewah), and that's just fine for 2-3 days at a time. we had an almost private grassy area and nothing between us and the lake except a few trees and a path. The cozy outdoor theater that hosts music, a naturalist, crafts, and a Sunday morning service was just around the corner from us.
Note: Hey kids, see if you can find a legendary creature in the pictures!