Scroll down for more
or click link

Silver Sands 2007
Smoky Mountains 07
Silver Sands Summer Vacation - June 12-22, 2009 (this is our 22nd summer at Silver Sands) -
We changed it up a little this year for our annual Florida vacation. We drove Homer 2 (the motor home) and pulled Willie B (the Jeep). We stopped in Eufaula, Alabama and camped at Lake Point State Park the first night. The lake is beautiful, and the stay split the drive up over two days, making it a little easier on Daddy. From Eufaula, we cruised on to Silver Sands, Nanny's and Paw Paw's place on the beach. The Parkers were camping nearby, so they joined us daily at the beach. While there, the Tribe ate at Margaritaville, Jimmy Buffet's restaurant in Panama City Beach. That was a lot of fun! We also had the obligatory lunch at Bayou Bill's crab house, which was also as good as usual. One morning we rode our bikes to Rosemary Beach where the kids played in the fountain, then ate breakfast at the Donut Truck. After the full week at Silver Sands, we migrated to Topsail Hill Preserve State Park to camp for a couple more days.
More to come...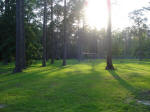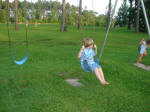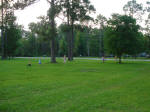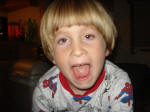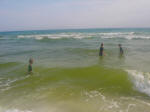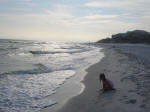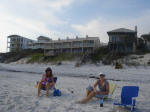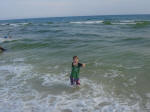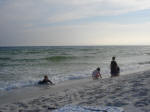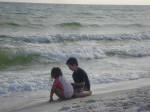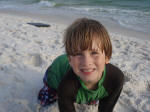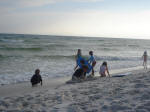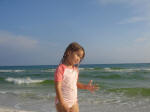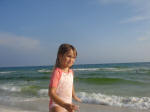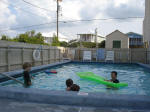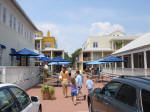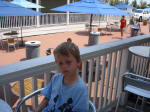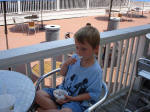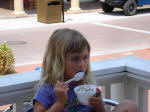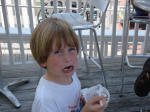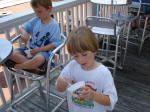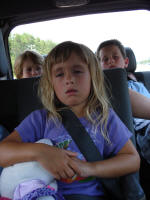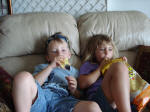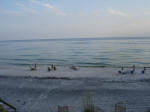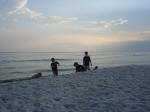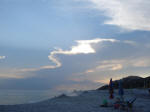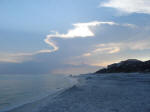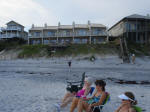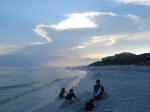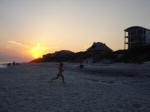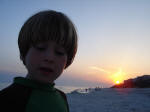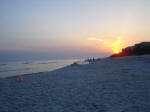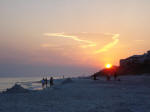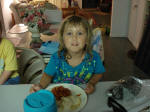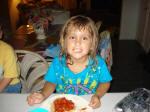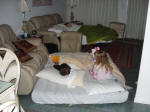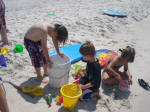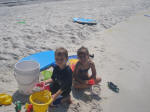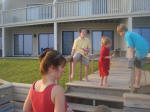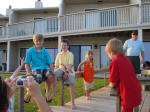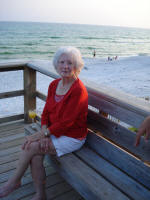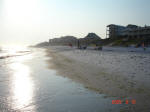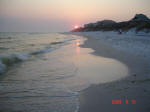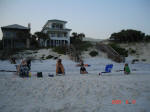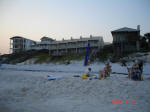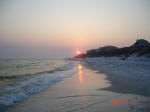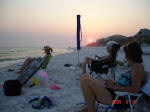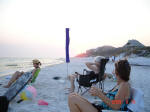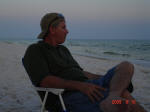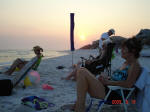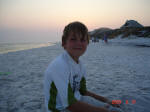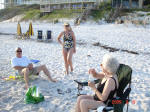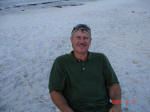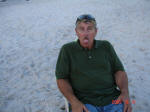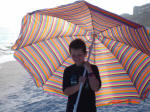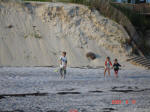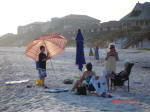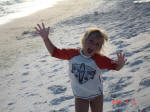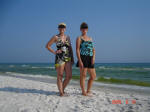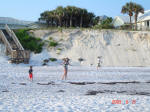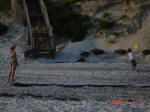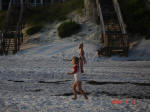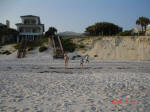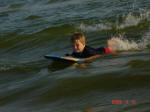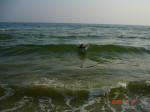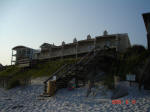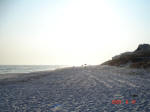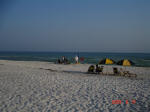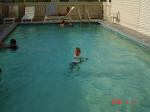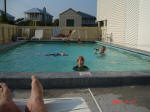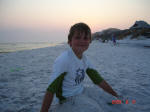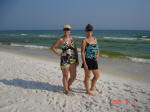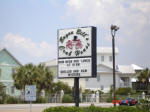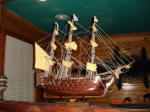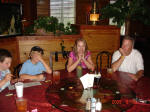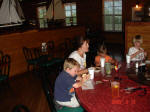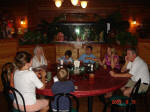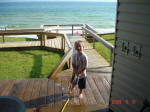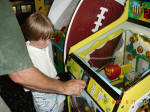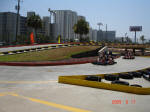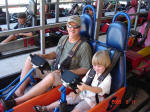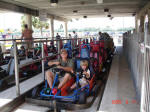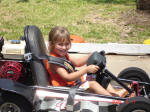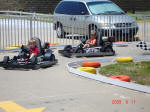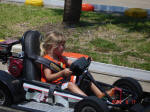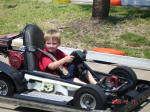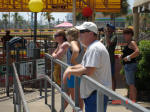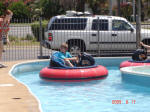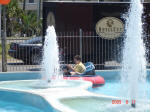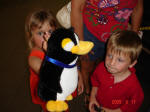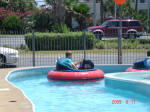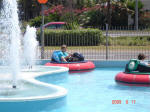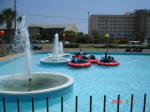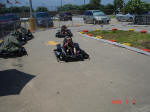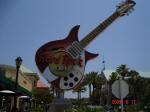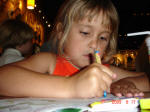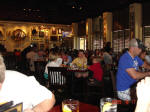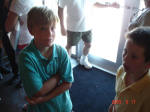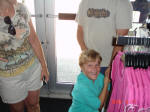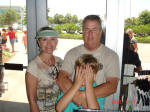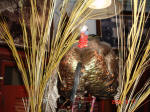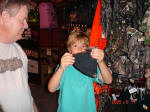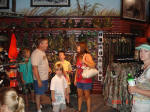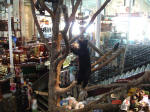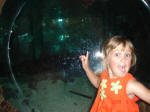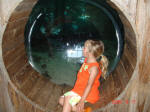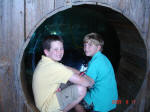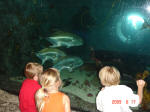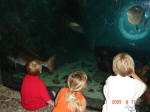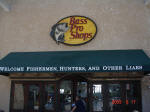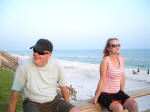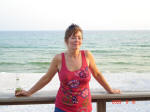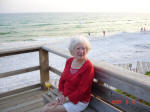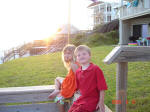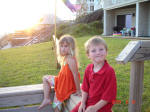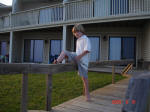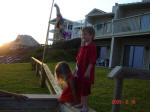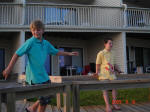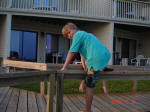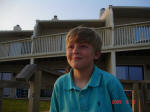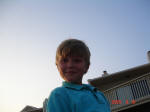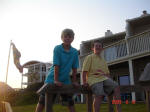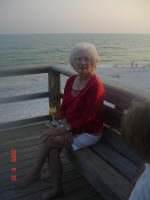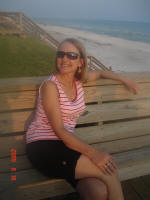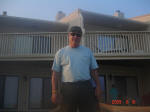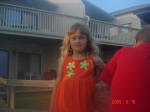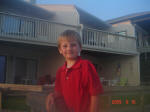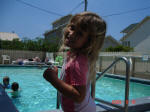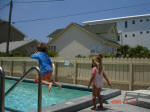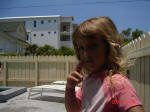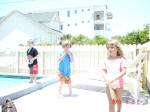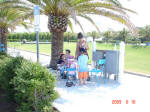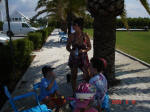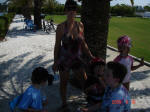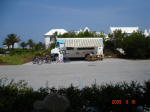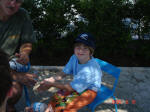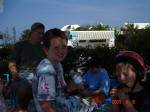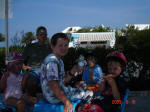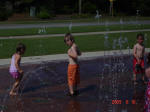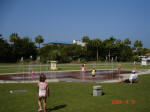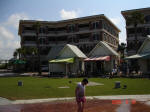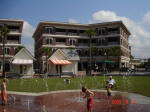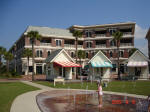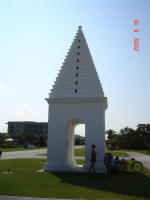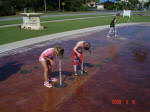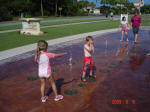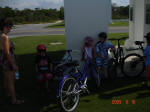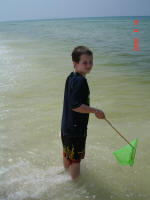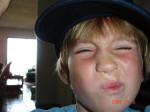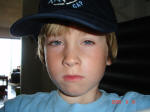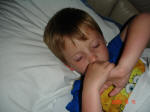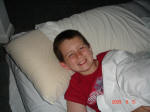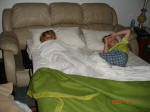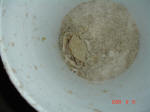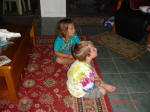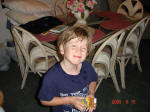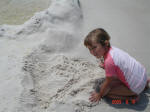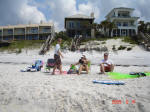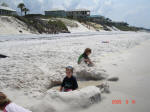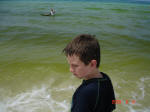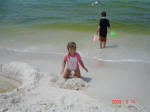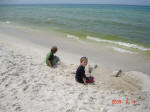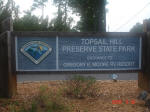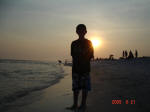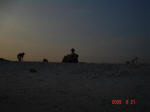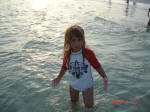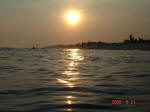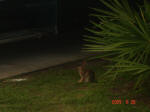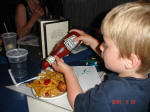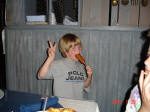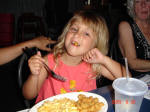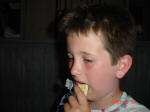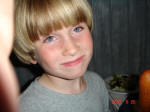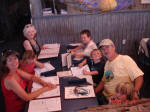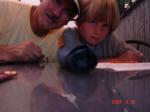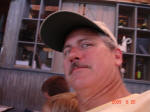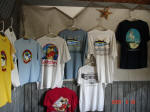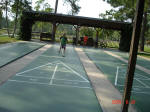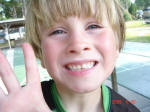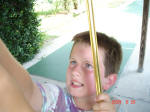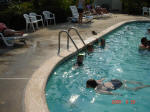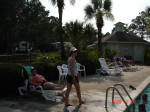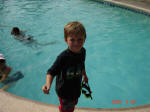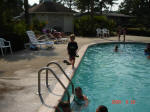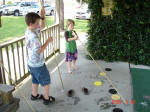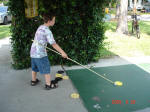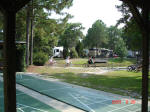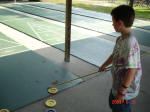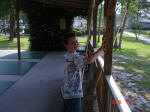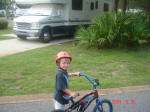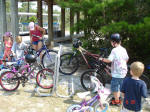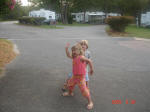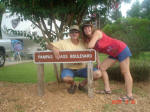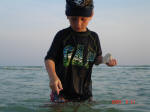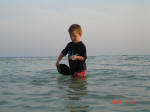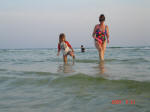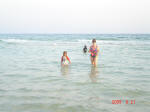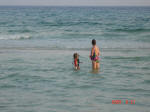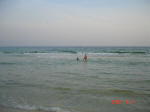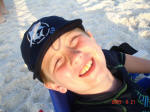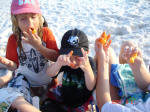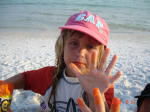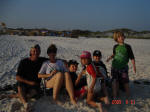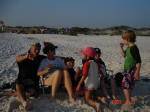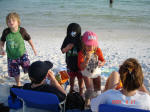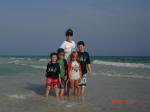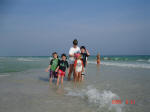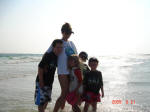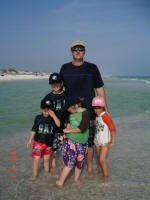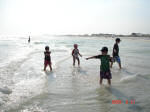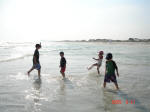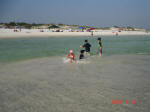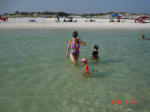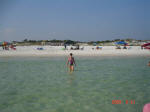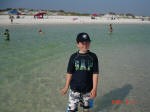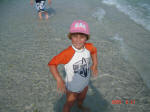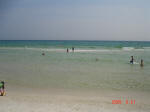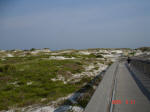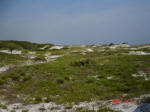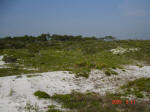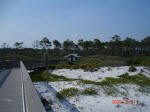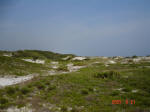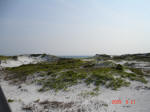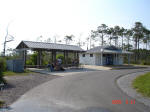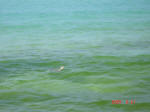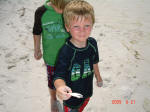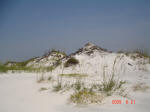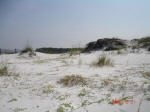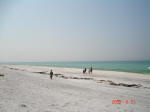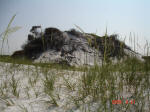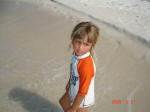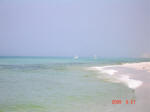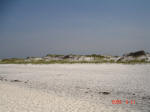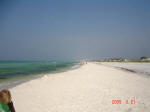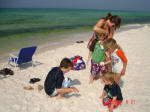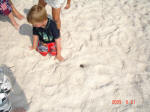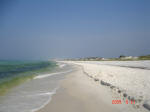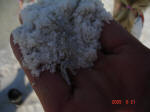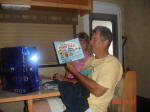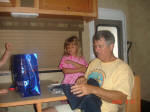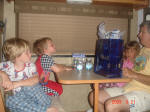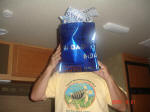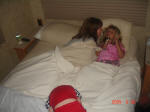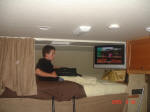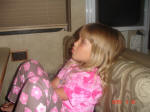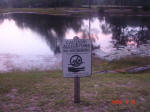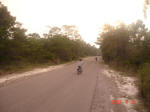 Silver Sands Summer Vacation - June 14-22, 2008 (this is our 21st summer at Silver Sands) -
Every summer the Tribe heads to Silver Sands, Nanny's and Paw Paw's beach house located between Panama City and Destin, Florida. We've been coming here so long, it's like home for us. Last year we drove Homer (our motor home) down for the convenience of the kitchen and bathroom. This year, with gas being in the $4.00 neighborhood, we decided to drive "Willy B" the Jeep. Mother Goose and Aunt Mary also came down, but they drove Goose's car.
This year at Silver Sands was exceptional because the water was warm and crystal clear most of the time. In recent years, the wildlife has been very sparse on the beach. Several hurricanes had hit the coast and eroded the beach significantly which I think depleted the crab population in the area. That wasn't the case this year. We saw more fish in the water and more crabs on the beach than ever before. We stayed on the beach a lot this year and went crabbing almost every night. We ate out only once, and that was lunch at Bayou Bills (which was very good again this year).
We met some new friends this year too. We met Wake, Tori, Cole, and their Mommy and Daddy. All the tribe liked having more kids to play with. We also went on the Pirate Cruise again this year. Cap'n Phil and the crew did a great job as usual. The dolphins were very active during the cruise this year, and we were able to watch them for a very long time. The cruise took us out of St Andrews bay this time, and right down the PCB coastline in the Gulf of Mexico. The water was clear and as smooth as a lake.
We also rode go carts one day. Heath and Lee Thomas drove their own, and Lainey and John Micah rode with Mommy and Daddy. It was a real blast! Having the jeep with us also allowed us to take lots of rides with the top off. One day we rode through a section of Washington Point State Park near Grayton Beach. It was like traveling through time to see what the Gulf coast looked like before it was settled. The road was sand, and I was thankful for four-wheel drive more than once. It would have been good to have a machete to hack away some of the low branches as well.
When we asked the kids what their favorite part of the trip was, they responded with many different answers. I think we all agreed that the nighttime crabbing was at the top of everyone's list. Lainey seemed to really enjoy the boogie board a lot and John Micah thought the Pirate Cruise was the highlight of the trip. Daddy's favorite part was the drive down and the drive home. He liked it so much in fact, he's considering spending the extra cash for the gas to drive Homer next year.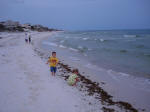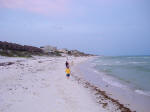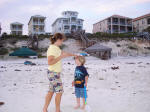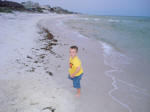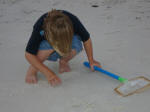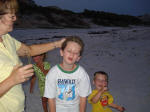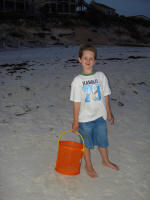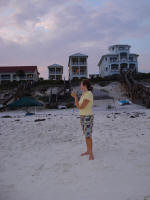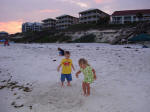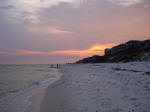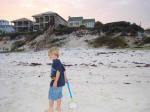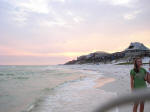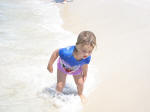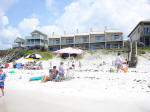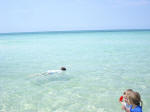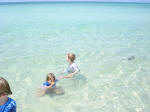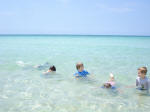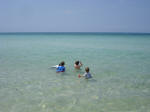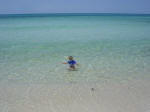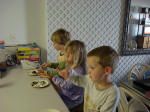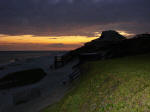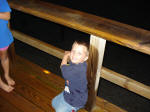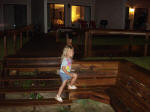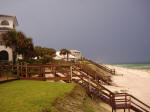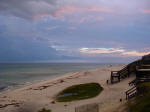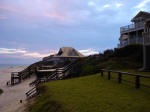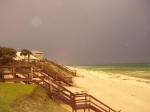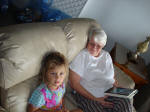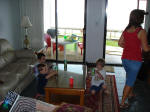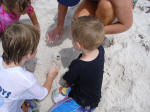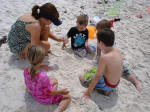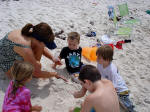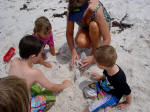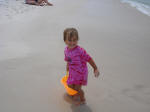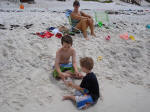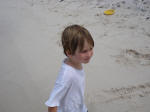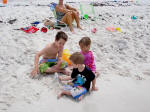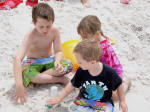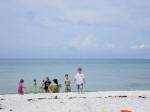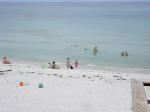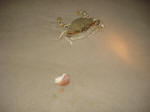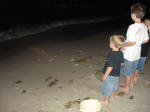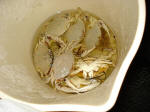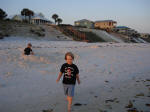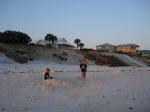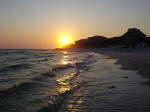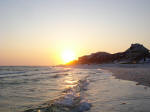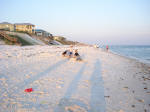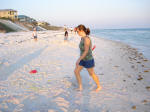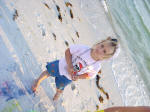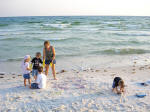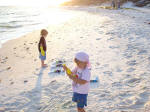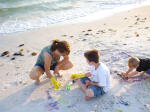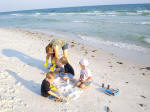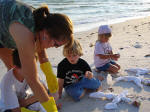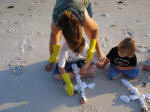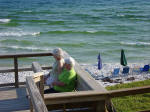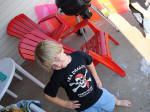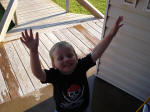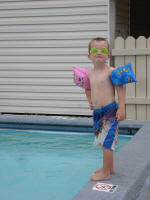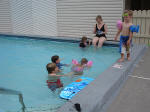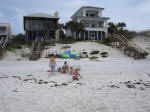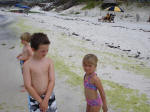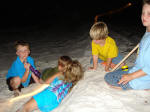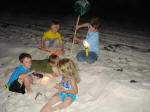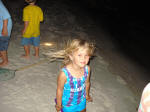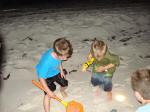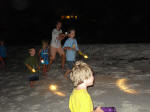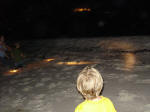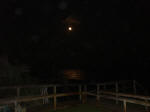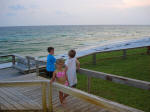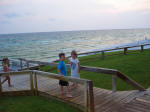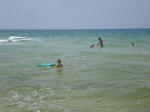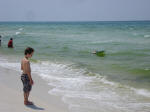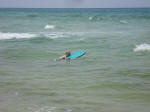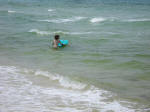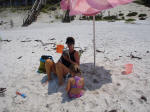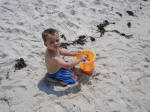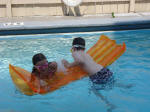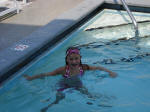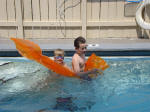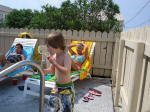 Spring Break 08 - April 9-13, 2008: FDR State Park and Pine Mountain, GA
Spring Break! This one was special because we had a great PB&J Adventure planned, and Pamba, parker John, and Calbert were to join us, staying in the pop-up camper the recently purchased for such things. On this trip to central/West Georgia, we rode (and rode and rode) bikes around Callaway Gardens where the Azaleas and Dogwoods were in full bloom. We camped at FD Roosevelt State Park where we fished, rode bikes (and rode and rode and rode), and watched movies at our private outdoor theater (a sheet and projector). We once again visited the Wild Animal Safari, but our camera didn't work for that. The park's walk through zoo has expanded and it's great! You can see animals there that you won't see elsewhere. Mother Goose and Ain't 'Net joined us for a couple of days too. I think they really enjoyed the animal park, the Little White House, Callaway Gardens, the Little White House, our outdoor movies, and not camping. They stayed at a hotel!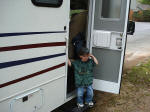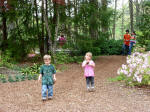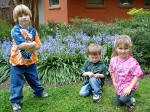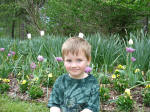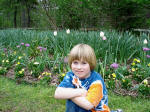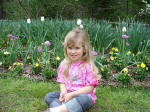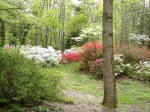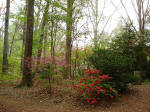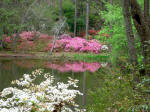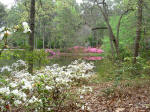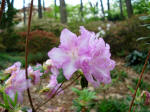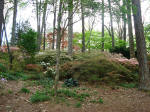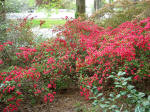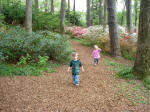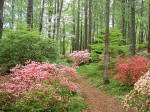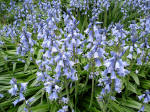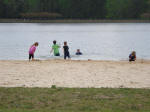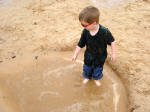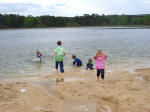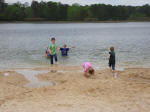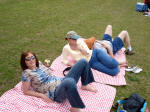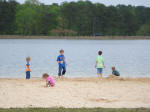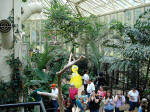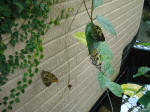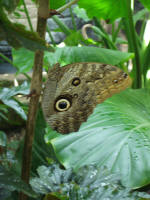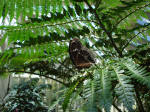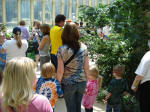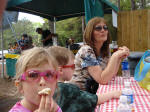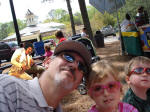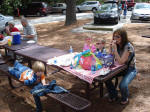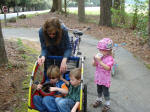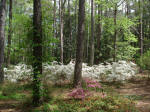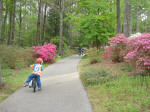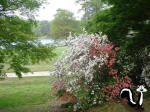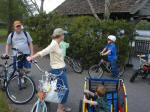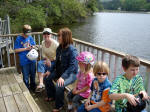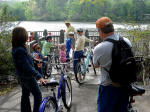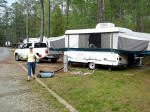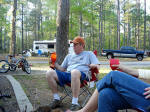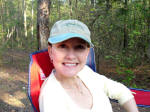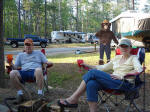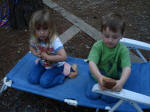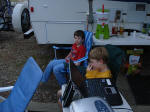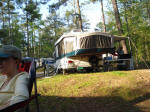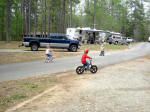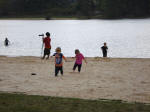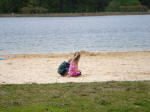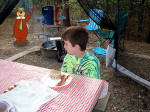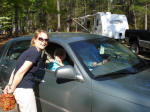 Smoky Mountains Vacation- June 22-30, 2007 (see also PB&J Adventures)

June 22-25: Camping at Jellystone Park, Cherokee, NC
We arrived in Cherokee late Friday afternoon and were greeted by two elk at the welcome center. All I can think about when I see these horse-size deer is what it would be like to hit one on a motorcycle, or even a car. We were excited about staying at Jellystone Park in Cherokee. They advertised a wooded environment with lots of activities for the kids. When entering the campground, we drove by crumbling homes with trash and junk in their yards. Our site had a dumpster on one side and a set of hand-made pens housing lots of dogs and a cow on the other. The sites were narrow so our view was of the next camper's sewer hook-up.
Luckily, we were able to move to a site on the river the next day which was much better. The kids were able to ride their bikes on the gravel inner roads, and they swam in the pool until we spotted a little brown floater. It was like the scene from Caddy Shack with everyone piling out of the pool. Unfortunately, it wasn't a Babe Ruth bar, so the pool was closed for the duration of that day. We played ping pong, caught a crayfish, and fished for trout. It rained (hard) on Sunday, but it didn't dampen our spirits. Then came the gypsies. Two or three trucks with 15' trailers loaded to the gills with coolers and containers. They started moving the big rocks that divided our campsites and pitched three huge tents next to us. It took them hours to establish their camp, but they had plenty of booming music to accompany their efforts. The only positive was that the billowing black smoke from their 30 or so tiki torches kept the bugs away. Although we had paid for the fourth night, we packed-up Monday morning and headed for Maggie Valley and Ghost Town in the Sky. I'd like to point out that Jellystone did not offer a refund for the last night, and when asked about a refund, they refused. I'm quite certain that they rented the site that night, so they made double their money. Perhaps that's how they can make a little extra cash. I know that a campground has to make a profit, but our experience with these commercial campgrounds is that the sites are half the size of what they should be. They try to cram as many sites into their limited space as possible. Positives- Pool, WiFi, cable TV, good roads for bike riding, and the river. Negatives- too crowded (we love kids, but GEES!), poo in the pool, sites too narrow, and a loud PA system that cranked-up first thing in the morning blasting kids music all over the campground. We wouldn't recommend Yogi in the Smokies, but there are attractions locally that we would recommend. The Oconaluftee Indian Village and the outdoor play Unto These Hills depicting the events that led to the trail of tears.
Note: While I wouldn't recommend Yogi in the Smokies, I'd like to point out that we didn't see anything else more appealing. Perhaps you should visit Cherokee while en route to another camping destination.
An added note: With no cellular access at the campground, pay phones are are the only method of making a call. We used one for four calls totaling about 15 minutes. The bill on my credit card was just over $91.00. American Express worked with me and refused the charge. I called Yogi about this and they were shocked. They'll be posting signs warning campers of the excessive costs charged by the phone company/crooks.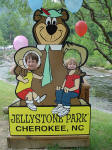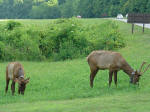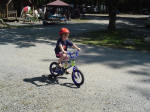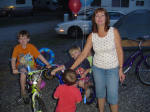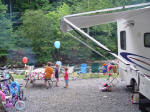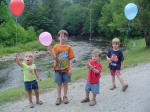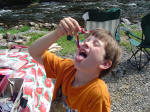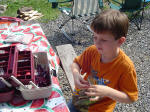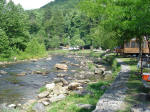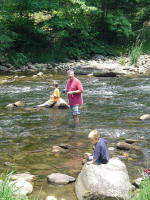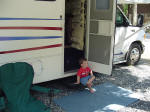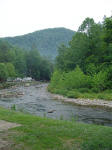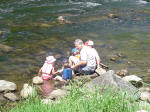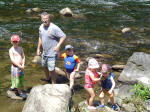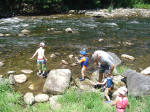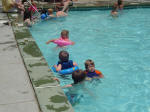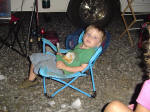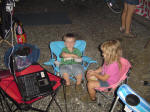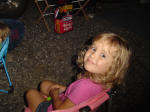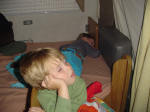 June 25-27: Maggie Valley Camping and Ghost Town In The Sky - Maggie Valley, NC
You know, I have passed by Maggie Valley many times in past years, but I'd never actually visited. It's really a cool little town. There are lots of restaurants and things to do (including skiing in the winter). We stayed in a quaint little RV Park called Stone Bridge. Although the sites on Jonathan Creek are kind of narrow, there was plenty of room behind the camper for the kids to play. There's a pool and game room, and a very nice clean laundry. The roads are paved and very level, so the kids could ride their bikes a lot. My only complaint was that the site was kind of muddy after the rain, something that could have been remedied with a few dollars worth of gravel or mulch. Otherwise, we loved Stone Bridge. The people there are really friendly (there are quite a few full-timers there). We have already booked two sites on the creek in October, and it looks like "Super Dave", "Carly Sue", Dianna, and Carson are joining is for the long weekend.

Our first stop in Maggie Valley was Ghost Town in the Sky. The theme park, which has been around for over 45 years, has been closed for several years pending sale. This year it has reopened with a fresh coat of paint and a new crew. Some of the rides have not opened yet, but those that were open were very nice and clean. The shows such as the gunfight on main street, and the Silver Dollar Saloon are very well done. The music was great at the Red Dog Saloon, and everyone enjoyed the Indian dance and blow-gun demonstrations. Unfortunately, it started raining hard that afternoon, so the chair-lift closed and they had to shuttle everyone (and I mean everyone) down the mountain in passenger vans. I heard someone say they had six vans, but I'd say it was closer to two. It took two hours to get out, and we were some of the last to leave. We saw Ghost Town as a real Ghost Town. Positives, fun kiddie rides, clean, fresh, professional shows, great view, good prices (once in the park). Negatives- Not all rides opened, bad transportation/evacuation plans, charged full price although some rides were unavailable. It is a bit pricey, especially with four kids. I believe it cost us around $140.00. Fortunately, we got a rain check and are planning to go back in October. Hopefully they will have opened the rest of the rides by then. Even with the negatives, we'd still recommend Ghost Town in the Sky.
Note to Ghost Town management: Don't advertise your "thrilling roller coaster" before it's open, and you should make it clear that not all attractions and rides are opened at the base of the mountain before you take the customer's money. You've got a good thing, don't spoil it!.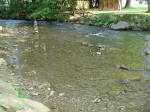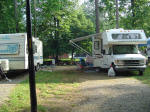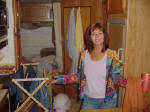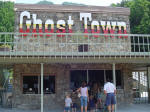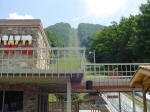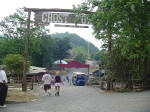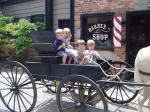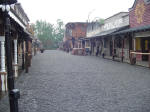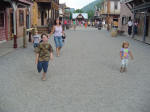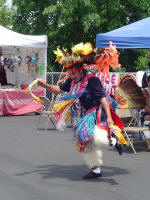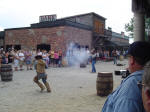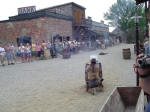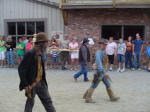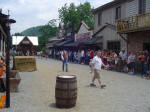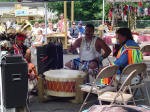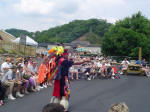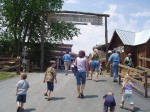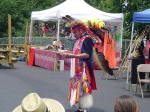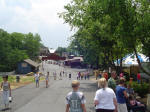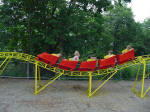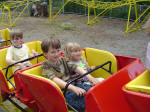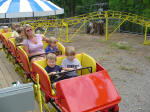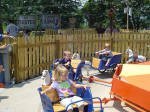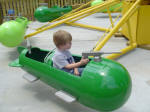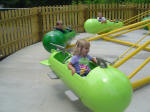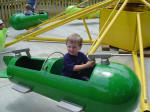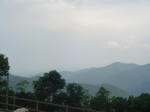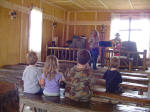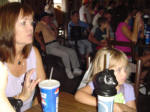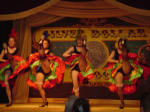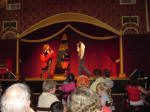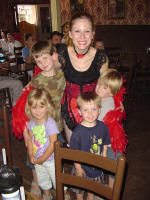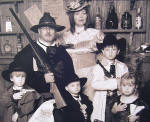 June 25- Biltmore House/Estate, Asheville, NC
While camping in Maggie Valley, we took a day trip to Asheville to visit the Biltmore Estate. We spent over seven hours exploring the house (we plugged it as a castle to the kids), gardens, farm, and winery. I followed the advice of the lady that sold me the tickets, and played a game of I-Spy as we toured the house. I'd find some object in a painting, engraving, or sculpture, then have the kids try to find it. It kept them entertained enough to make the house tour much more enjoyable. Once again, it decided to rain on us, but we didn't care, we just kept on going. At the farm, the kids got to pet some of the animals and saw a chicken lay an egg. The attendants let the kids collect the eggs, and as you can see from one of the pictures below, John Micah had a little accident ( I believe that boy could break an anvil). On the way out of town we stopped and visited Dianne, a good friend and co-teacher of Rebecca's that was visiting her mother in the hospital. By the end of the day, we were tired and ready to head back to camp. We did, however, stop at the Maggie Valley Rock Shop to browse and do a little gem grubbing. When we got back to camp, the kids rode their bikes and watched a movie before calling it a day.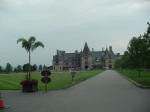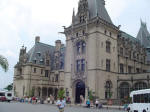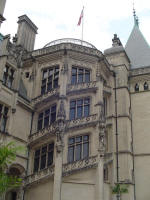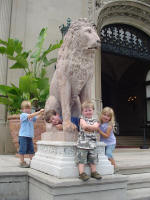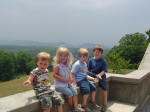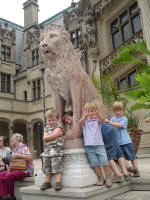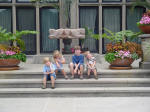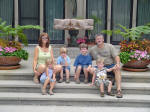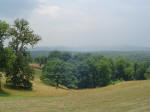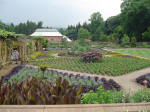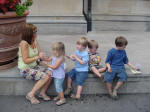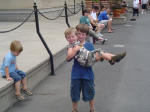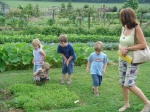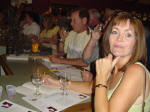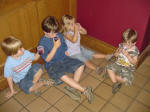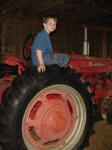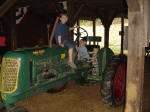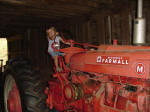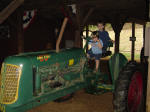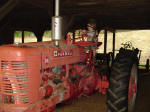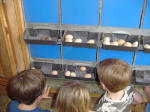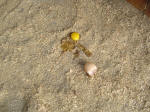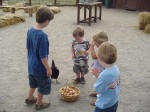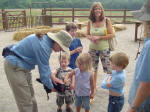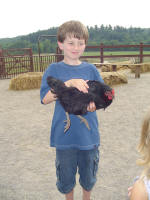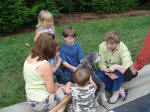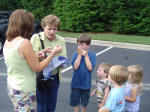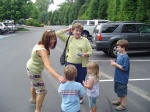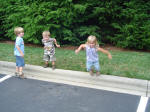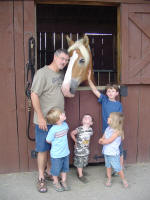 June 27: Sheffield Ruby and Sapphire Mine- Franklin, NC -
On Wednesday we went gem grubbing at the Sheffield Mine in Franklin North Carolina. Mother Goose and Aint 'Net met us there.
Although we had very little luck, we really enjoyed ourselves. Aint 'Net found a tiny ruby, and the kids found lots of other semi-
precious stones in the enriched buckets, but otherwise, it was a bust. One thing that makes the Sheffield Mine unique is the rubies and sapphires found there are actually from that location. The dirt you screen is dug from that site, and it is possible to find a real valuable stone, what they call "honkers". Although the visit was a little pricy with the number of kids we have ($10 for adults, $8 for the kids), I'd recommend this activity to others because the kids enjoyed playing in the mud very much. Take a change of clothes!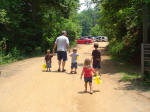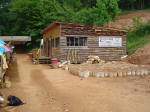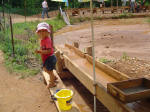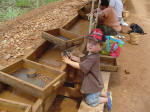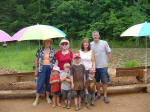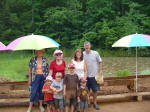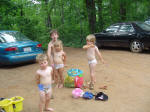 I'd like to add that many of the rocks the kids (mostly Lee Thomas) found in the enriched buckets are polishing-up quite nicely. They had a good variety of rocks and crystals mixed in with the dirt.

Vogel State Park - Blairsville, GA & Helen, GA - June 27-30
Vogel State Park in an awesome place! We were very lucky to get a big creek-side spot this week because many people reserve spots a year in advance for the 4th of July festivities. The site was very nice an clean. The park has a lake with a beach and peddle boats, a miniature golf course, and falls that you can hike to. There is also a CCC museum where you can see how the young men that built this and many other parks across the country lived and worked (for a dollar a day). The only negative is that the laundry room is way too small with too few washers and old dryers that do not work well. Also, there is no full hook-up (no sewer), but that's pretty standard for state parks. The roads are a little too hilly for our kids to ride bikes, but older, more experience riders would have enjoyed it. A bear visited our site early Thursday morning, but we were sleeping late and missed it. Personally, I think this is the nicest state park we've been to thus far. Its only a couple of hours away, but it's really secluded. It's close enough to attractions for day trips like Helen, Uniquoi State Park, gem mining/grubbing, Tallulah Gorge, Dillard, Frankiln, etc. We'd give it six thumbs-up.

While camping at Vogel, we took a day trip to Helen, GA, an alpine village (tourist trap) located in North Georgia. We didn;t spend much time there because Lee Thomas wasn't feeling well, but I'd like to note that we ate lunch at La Cabana, a wonderful Mexican restaurant with very good food. The owners/management were very nice and treated the kids like their own. It was also very reasonably priced with food and drinks totaling about $5.00 apiece.

I'd also like to mention a barbeque restaurant we ate at on the way home on Saturday. If you're ever in Blue Ridge, Georgia, stop by Blue Ridge Mountain BBQ for lunch. I think it was some of the best barbeque I've ever had! The service was great too!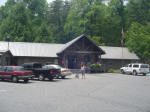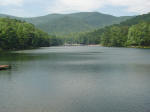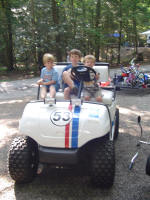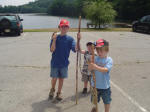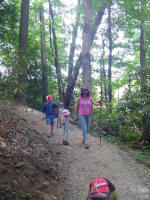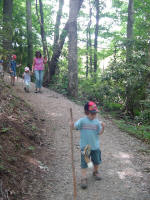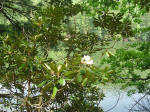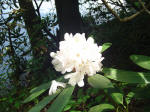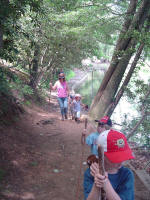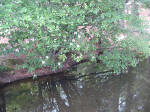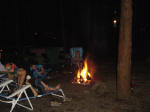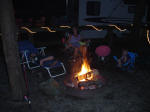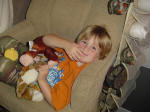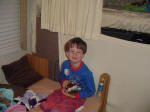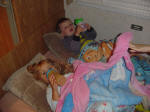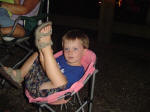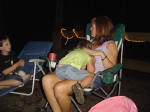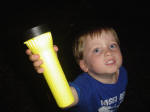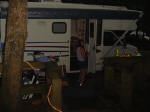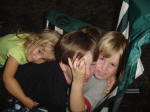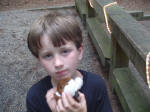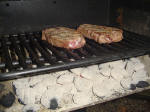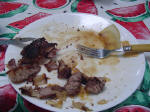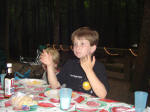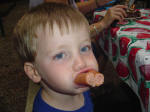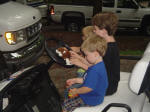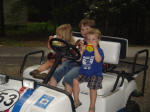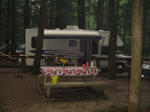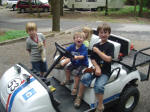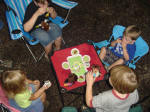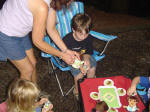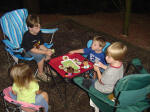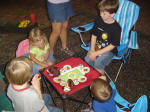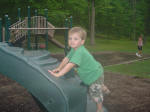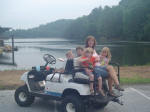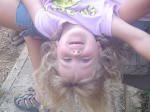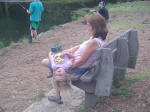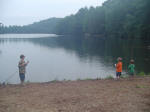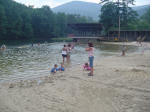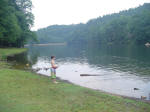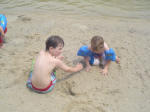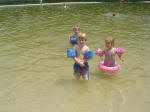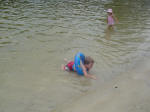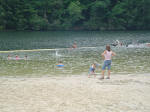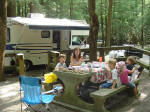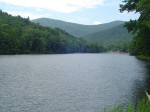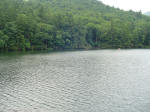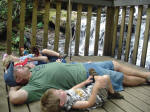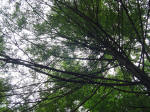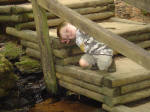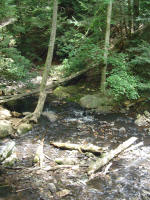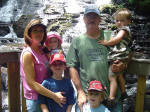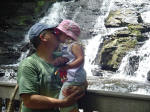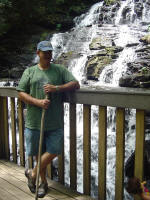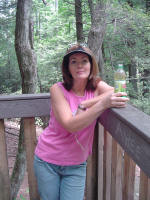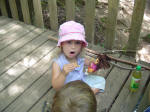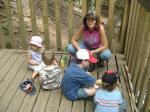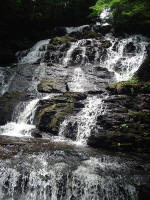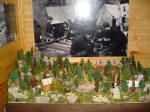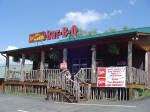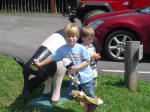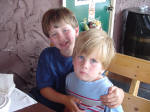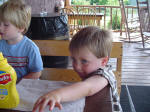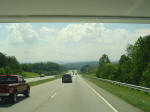 Silver Sands Summer Vacation - May 25 thru June 3, 2007 (this is our 20th summer at Silver Sands)


Every year that Rebecca and I have been together, we have spent a week or more at Nanny's and Paw Paw's place at the beach on Florida's panhandle. It's truly like home away from home for us. Now that we have kids, it's even better. Also known as the Redneck Riviera, this area is (or used to be) one of the best-kept secrets in the south. The growth is incredible now though. I guess someone let the cat out of the bag. Still, the panoramic view I created by pasting shots together was taken on possibly the busiest day of the year. We've been spared the crowds so it seems.

We drove Homer this year because, with Mother Goose, there were seven of us. I justified the additional gas by not stopping to eat and visit restrooms on the way. The tribe ate and pottied in Homer which made the trip much more enjoyable. We started the week with just the family, but the Parkers joined us on Thursday. On Saturday, the Peels and Gibsons came down. I had to get back to work, and Rebecca had a class to attend, so we headed for home on Sunday. Check out the song!

Panoramic view from landing. This was Memorial Day, late afternoon!



The kids loved playing in the tidal pools. There was a red flag out constantly (rip currents), so our time in the gulf was limited. It calmed down a little bit by Friday and Saturday, the kids could play with their boogie boards real close-in.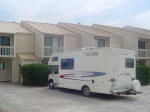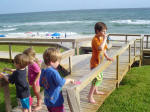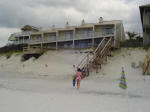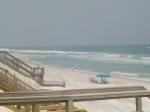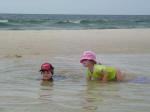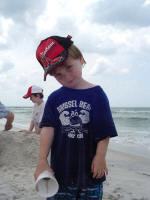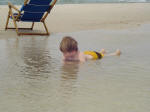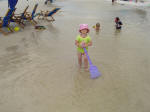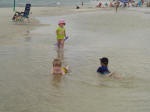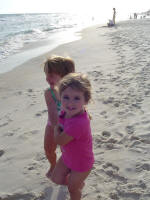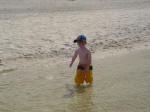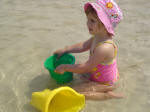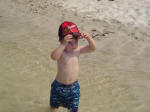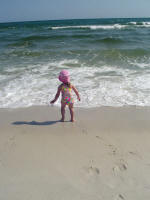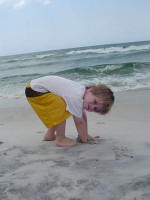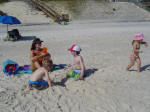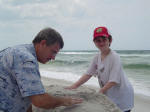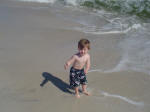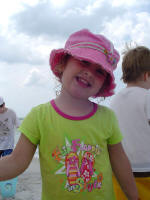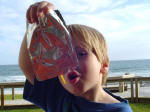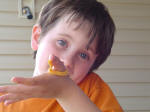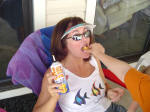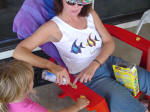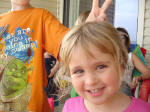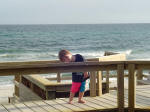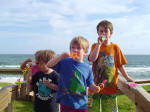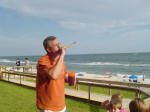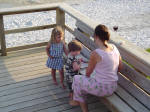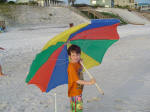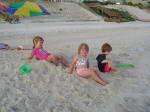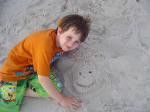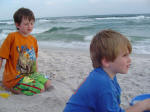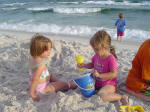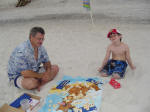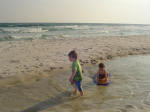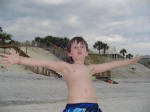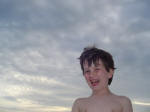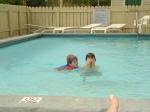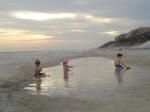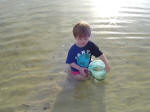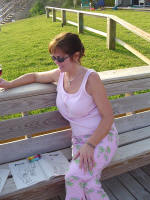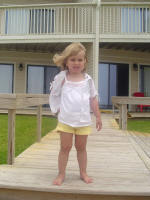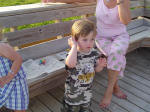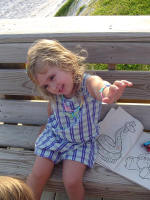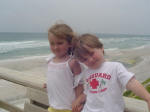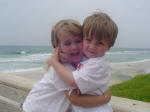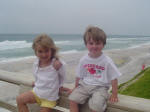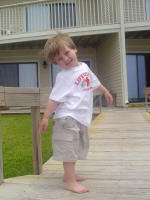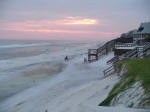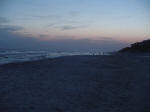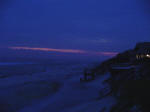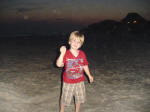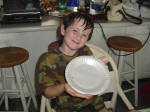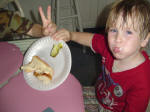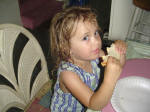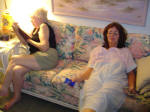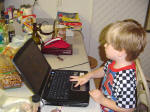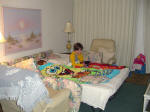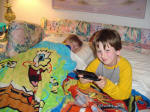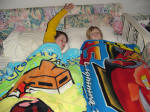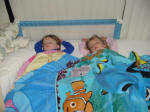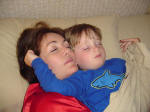 Bayou Bills' crab legs were exceptional this year. I honestly don't recall having better.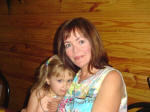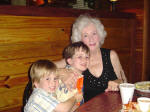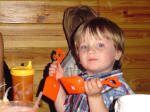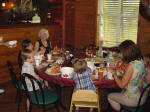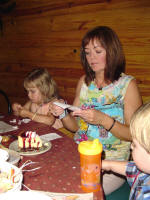 Seaside Florida wasn't much more than a concept when Rebecca and I first started coming here, but it's always been one of our stops. We look around in the shops, especially in the book store. We usually don't buy much more than a slushy or a paperback.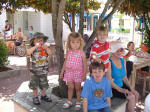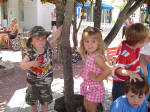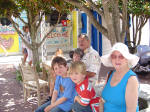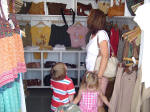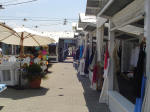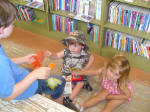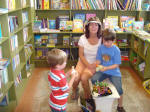 On Thursday, the Parkers moved in next door. Lee Thomas and Heath were so excited about having Cal to play with. Over the next couple of days those guys dug in the sand and played in the water.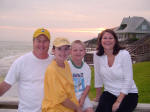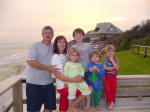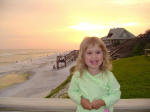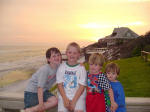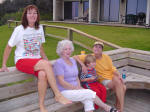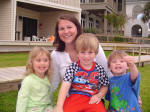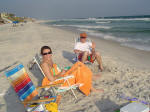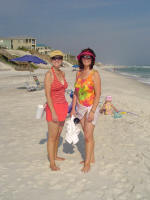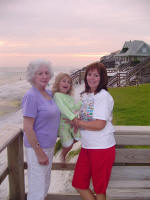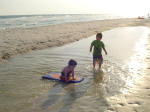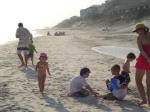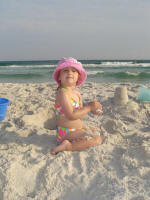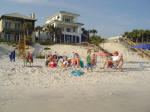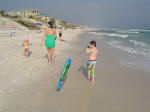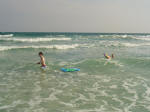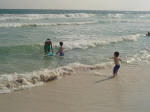 On Saturday, the Peels and the Gibson's came into Silver Sands #2, and we moved into Homer. We had reserved a camp site at Topsail State park several days earlier, but we stayed parked at the beach house as long as we could.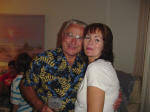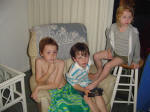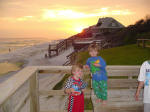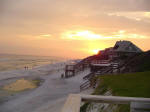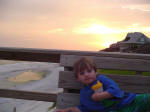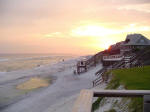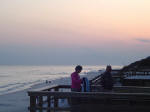 Bye bye Silver Sands.... See you next time,
PS. Here's a little song I wrote about this year's vacation at Silver Sands.
The Ballad of the Richardson Tribe's '07 Silver Sands Vacation
Copyright 2007: the Homer Deever Bullet Band and Small Appliance Repair LLC.
(to the tune if the Beverly Hillbillies theme - The Ballad of Jed Clampet-Lester Flatt and Earl Scruggs)
Come and listen to the story 'bout Rebecca and John,
and four little kids with the last name Richardson.
Come one day they were headed for the sea,
With a pottie and a kitchen and some kiddie DVDs.

Homer that is, black tires, no CD.

Well the first thing you know we're cruisin' down the road,
The V-10 slurpin' fuel with a really heavy load.
We don't have to stop for a rootin' tootin' thing,
'cept to buy a lotto ticket, ding-a-ling-a-ling (sorry, couldn't find a good rhyme).

Well the last thing you know the salt is in the air,
I think Mother Goose is pulling out her hair.
Over seven hours sealed up in a big tin can,
watching Herbie movies with the bug's biggest fans.
In just a few more minutes, we're headed for the sand,
With chairs and toys and sun block, to the beach we ran.
In breezy little swim suits, and bare little feet,
This year's the first that they all know that SAND IS NOT TO EAT!

Come on down, set a spell, check them pull-ups, what's that funny smell?
When the day is over, and the sunset's come and gone,
night-time is here, so off to bed you run.
We'll place on our pillows our sleepy little heads,
And wonder how we got so much grit in our beds.